It is not only fine feathers that make fine birds.
~Aesop
Another really great paddling day so I headed out to the Wacissa to see what I could see.
Lots of great blue herons, for one thing! (Or possibly the same few great blue herons spotted several times...) This one was posing at the river's edge: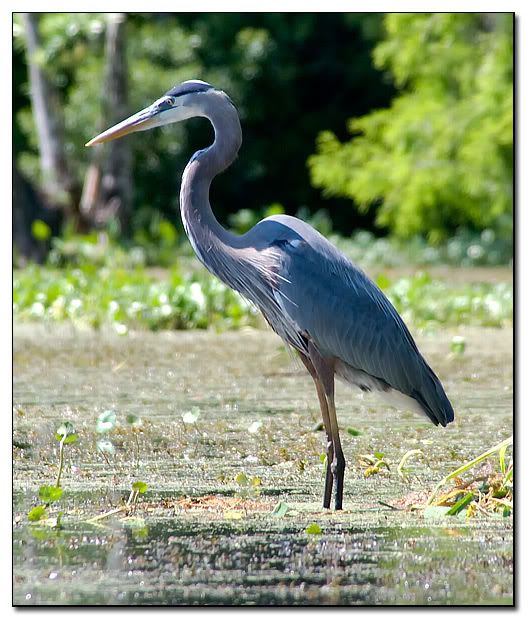 Complete concentration--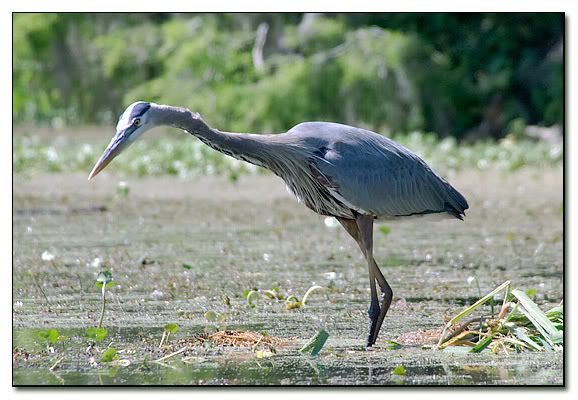 However, he grew tired of my presence and left.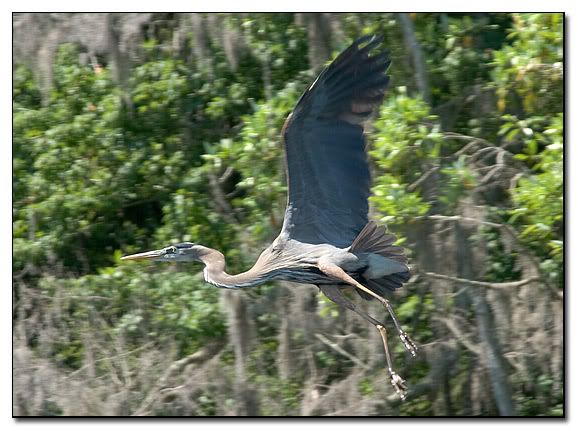 I paddled into Blue Spring. The water was very bizarre on this day--extremely cloudy and murky, you could not see more than a couple of feet into the spring. I've never seen it like that. We recently had very heavy rain, perhaps that has something to do with it.
On the way out I saw a yellow crowned night heron perched overhead in a tree:
...and then it saw me...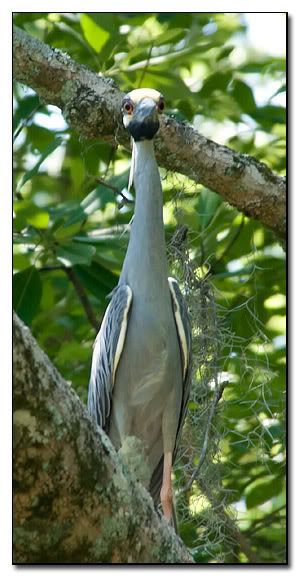 ...and left. I continued on downstream. I was purposely ignoring the egrets, but then saw this one in a tree. Since it was in the shade and taking a quick photo would not require changing any camera settings, I went ahead and got one. Its left leg is hanging down but I don't think this is injury-related. I took this a bit on-the-fly as I drifted by, but I seem to recall that the egret was getting itself settled on the branch at the time, and moving around a bit. Could have been just stretching.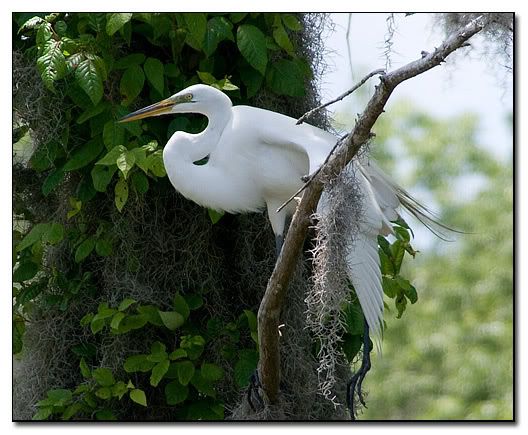 I got about two and a half miles downstream before I decided to turn around. At about that time I heard very quiet peeping coming from a tussock in the middle of the river, so I paddled over to see if I could locate the source.
Baby purple gallinules! And larger than I expected since this is my first sighting of any on this river. One adult and several babies were in one grassy clump, and another adult was with a single juvenile in another tussock about six feet away. I parked in the surface growth to keep from drifting away and concentrated on the single baby. Here it is with the adult--the white arrow points to the young'un: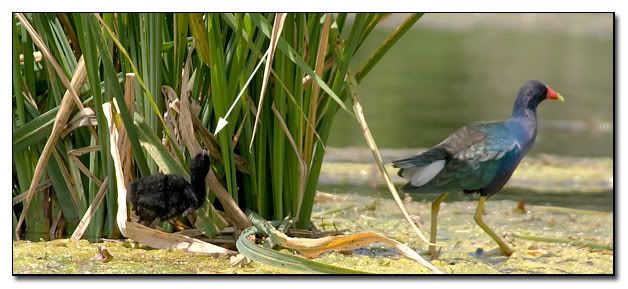 Well, that adult flew off to the far edge of the river after I took that, leaving the little one all alone.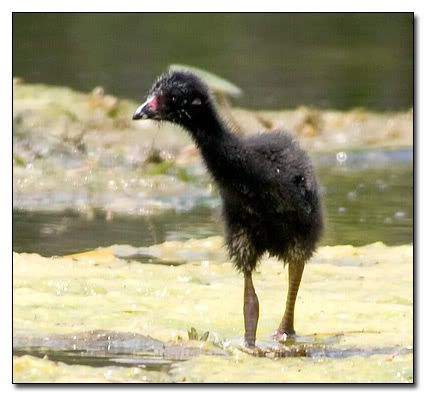 It decided to make its way across the water to join the rest of the family.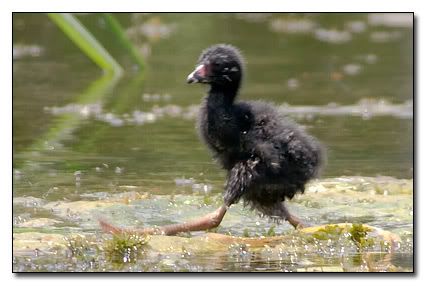 Whoops! Deep water!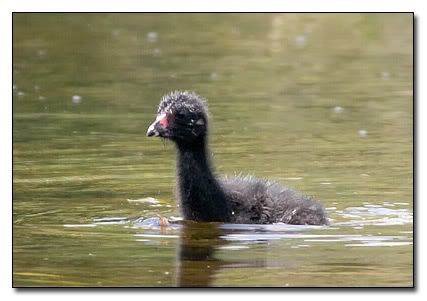 It made it just fine and I moved on to leave them in peace.
A tricolored heron watched from a tree branch.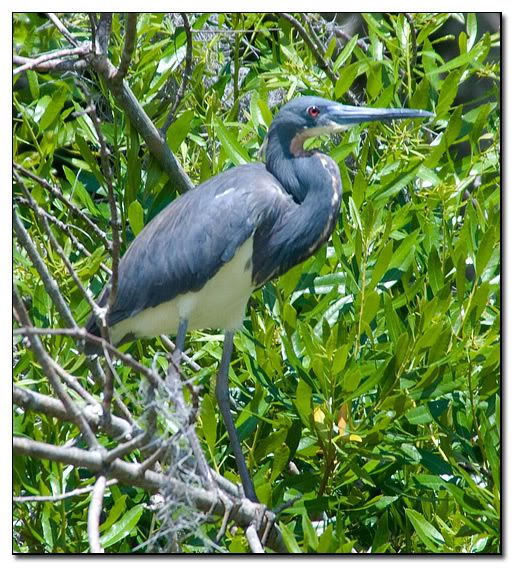 I continued upstream. For the first two hours of this paddle, I had not encountered any other humans at all, which was strange but delightful. I did pass other paddlers as the day went on, though.
Another great blue heron.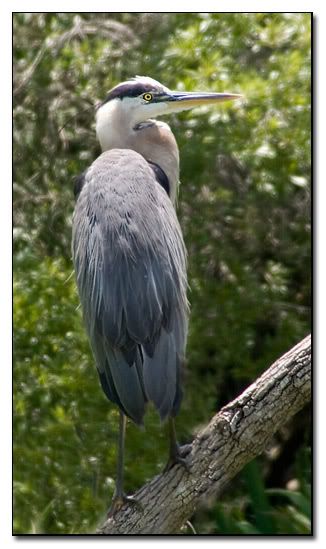 As I paddled upstream, I spotted a pair of wood ducks crossing from one side of the river to the other. I got too close for the female's comfort and she took off, leaving the male (you can see the splash that resulted from her exit directly in front of him).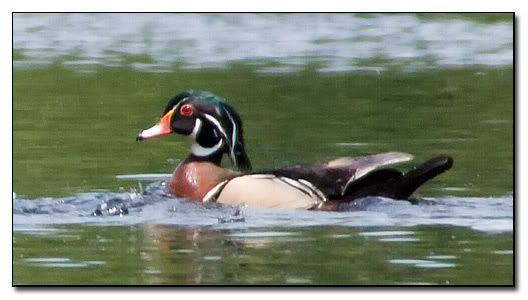 He decided to join her and took off as well.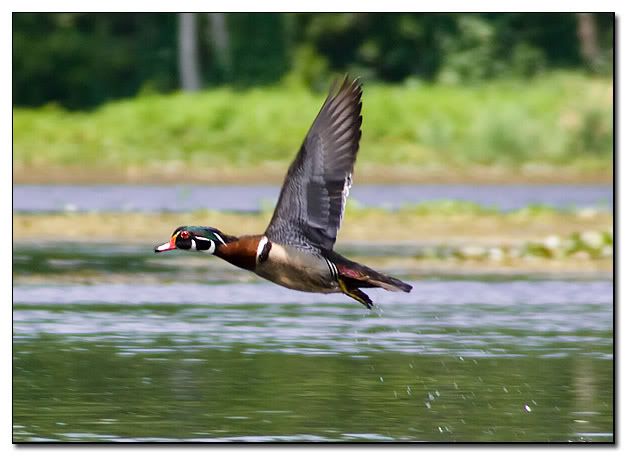 I continued upstream. Blue Spring was busier this time so I did not linger there. Back in the main river, I decided to take another lotus photo. Once I get these lotus photos home, I can't seem to leave them alone. Last time I applied a soft focus filter to it. This time I was going to post it after the usual processing....but on the way to doing that I ended up checking to see how it would look as a black-and-white. And so once again, a tweaked lotus.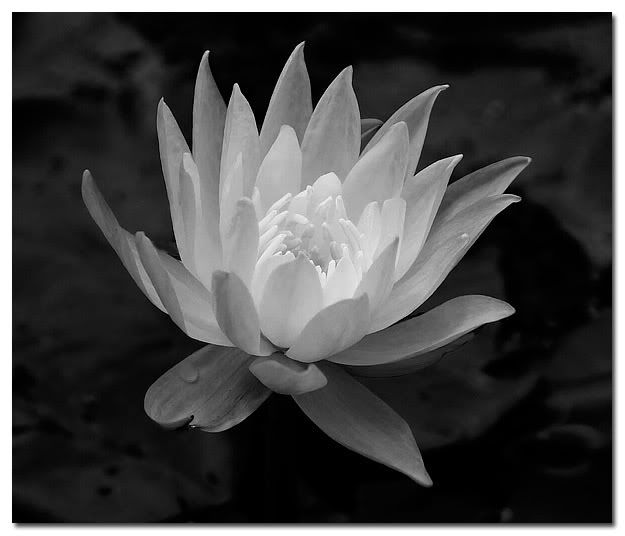 They continue with the changes to the ramp area and now have set concrete posts in the ground to prevent vehicle access to the canoe/kayak launching area. The ramp was completely blocked by a group of FSU students collecting samples of something. Later in the summer, the ramp will be completely blocked by small children swimming, adults, and dogs (the new sign prohibiting dogs from this area is having no effect and will continue to have no effect since there is no one there to enforce it. I love dogs at all times except when I am in the kayak). I lucked out on this day since I spotted someone I knew in the grassy area and so could pull up to the old access and get help carrying the boat to the car.
I hope this wonderful weather continues for a while! Stand by.