Warm summer sun, shine kindly here.
Warm southern wind, blow softly here.
~Mark Twain
It seems best now to go as early as possible to avoid the midday heat. I have never been much of a morning person so leaving home at 8:00 is about as early as I get. That put me on the water before 9:00, and it was quite comfortable. I like the river at that hour; maybe some day I'll see it even earlier.
We are back in the pattern of seeing many snowy egrets in the first half-mile of river and today was no exception. I saw this one in one spot and then watched as it moved to a short distance away.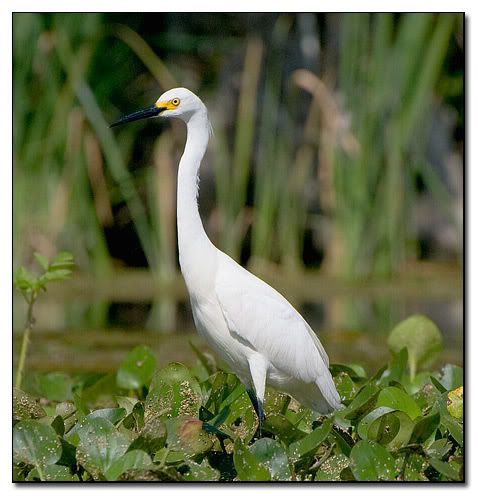 ---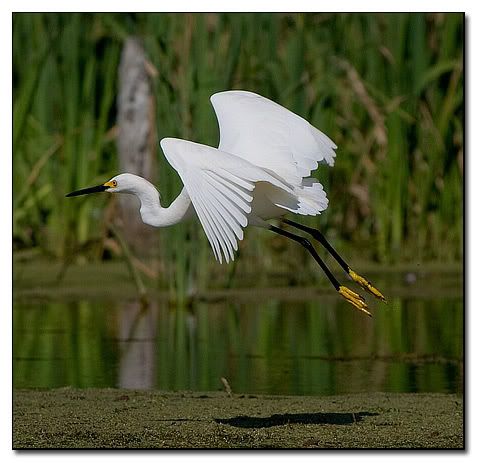 ---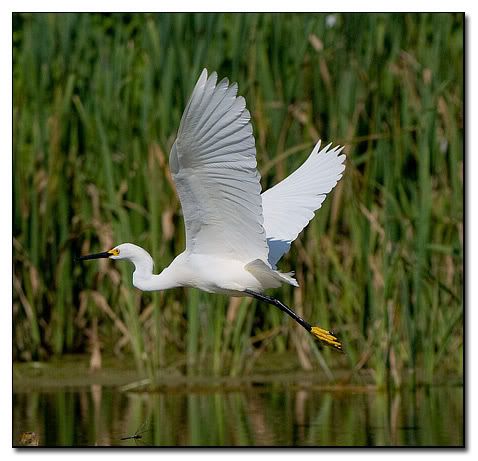 (By the way, if you look closely at the bottom of the above photo, you may be able to make out (depending on your monitor's resolution) a dragonfly that almost got cropped out of the photo. I didn't even notice it till I was finished processing it.)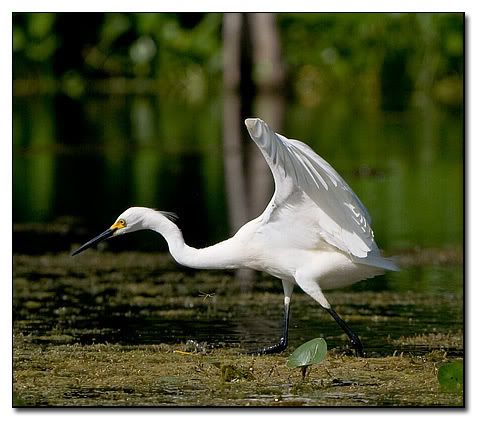 I paddled into Blue Spring; I saw an ibis off the river in the woods--first one of those I have seen here for several weeks. Otherwise only many, many little blue herons.
I continued downriver. The moorhens were very noisy today.
Soon I came to this great blue heron.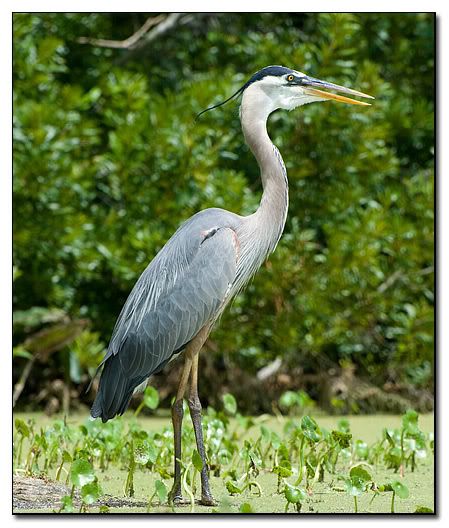 While I was admiring it, it decided to leave, scolding me loudly as it went.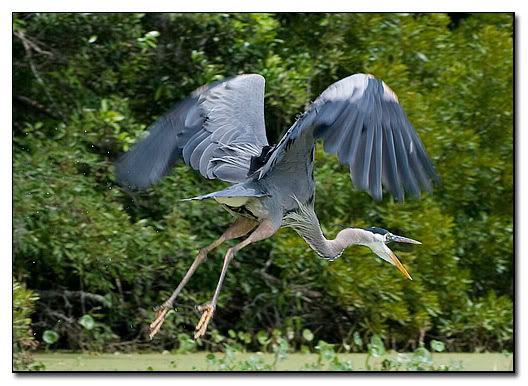 As I was backing up from where I had been stopped to photograph the heron, I noticed this little gator enjoying the sunshine.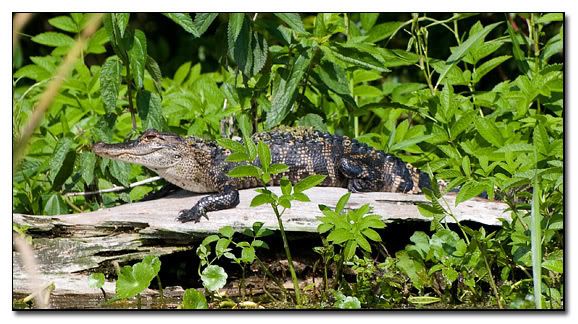 I was on a quest to find baby moorhens or gallinules and a green heron. The green herons that were so numerous on Monday were conspicuously absent today. I did see some baby moorhens but they disappeared into a tussock before I could get a photo.

The tricolored herons were out and about again, though.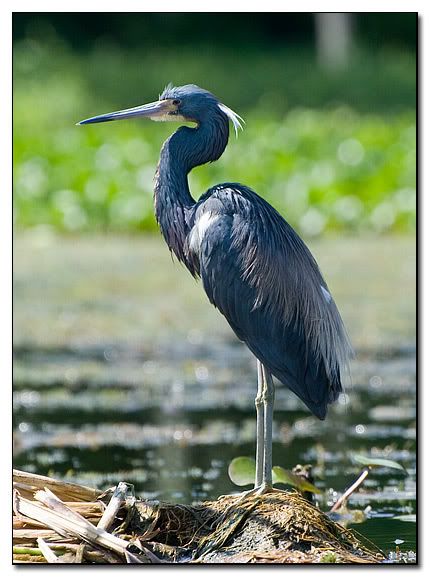 I heard some red-winged blackbirds near the large vegetation island a couple miles downstream so paddled over in that direction. This one was singing loudly from his perch.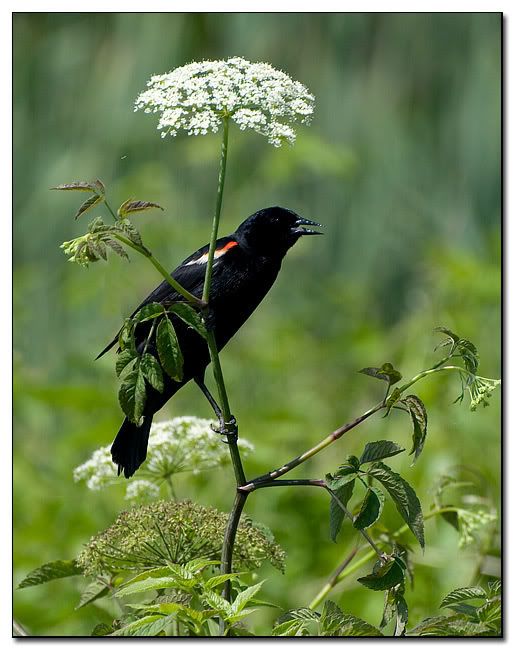 How can I post a trip on the Wacissa without an egret photo?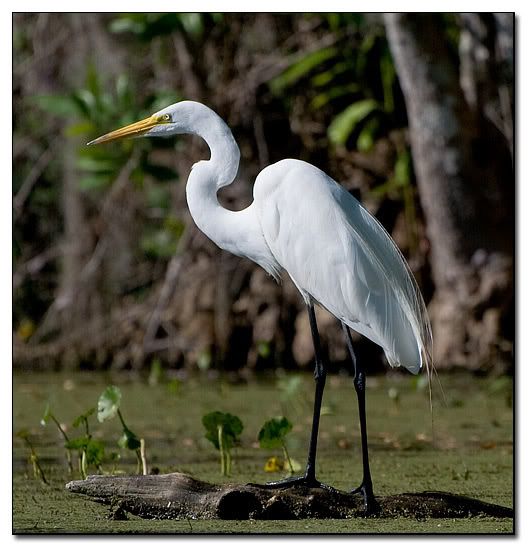 I turned around in my usual turning-around place for this time of year--it was getting warmer by the minute. I encountered another great blue heron, who watched me approach.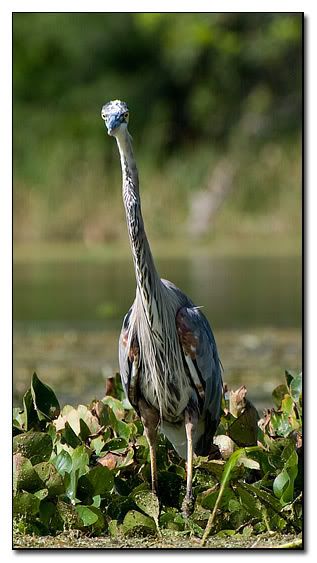 Great blue herons stand about 4 feet tall. With a wingspan of 6 feet, they have one of the longest reaches of any of our nation's birds. Compared to most birds, young herons mature slowly, demanding parental care for 8 weeks after hatching. This one decided to show off its impressive wingspan by leaving.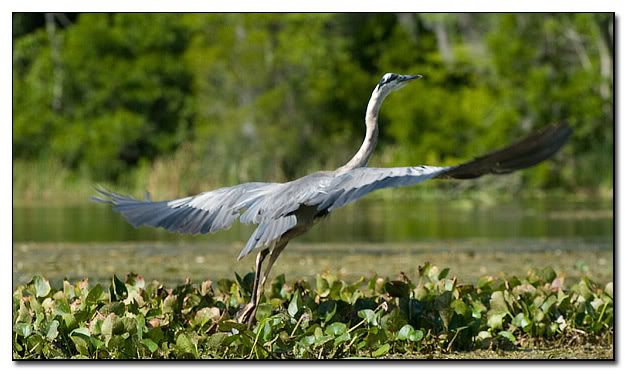 I discovered that the current in this section of river seems much slower on the west side of the river than the east, most likely because of all the vegetation there to hinder it. Good to know.
These female wood ducks were having some sort of get-together on a log, which they were sharing with two turtles.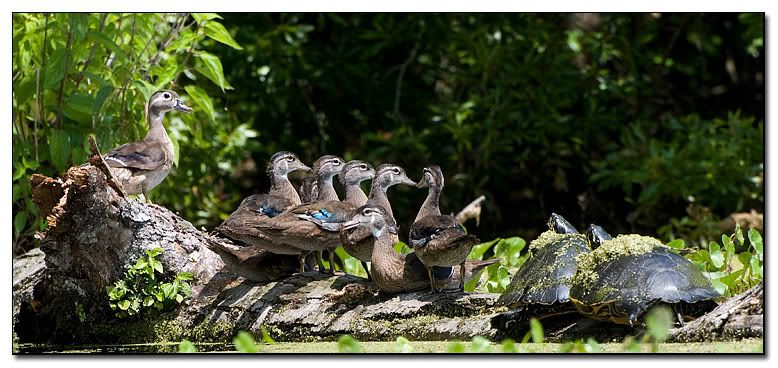 The upstream journey was pleasant. As I neared the boat ramp area, I saw these woodies crossing the river. This was the first male I had seen on this trip.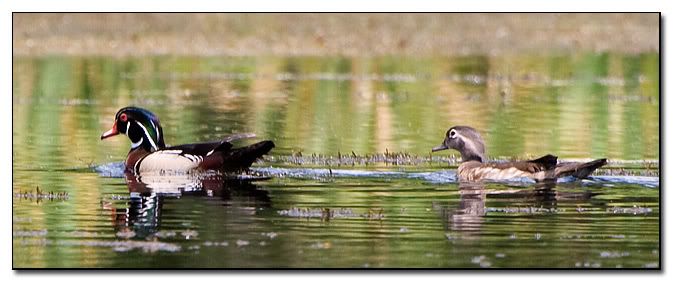 At about this time I heard a loud power boat coming up river. I couldn't see it through all the reedy grasses where I was, and so I pulled over to the shoreline to be sure I was out of the way of the boat and its wake. As I was sitting there waiting for it to pass, I happened to look into the woods and was surprised to see a yellow crowned night heron right next to me. I've noticed that great blues and these night herons tend to go into statue mode when you get too close. So I slowly raised the camera.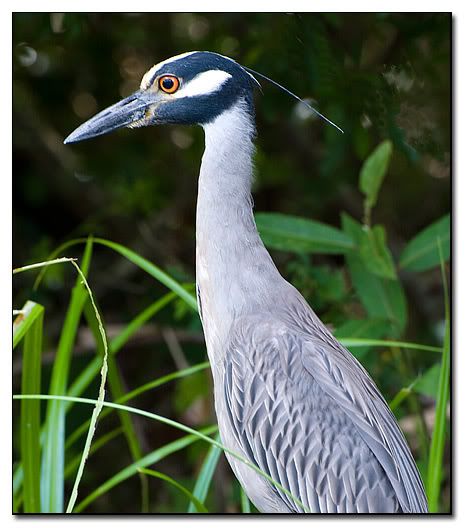 The power boat veered left to pass by on the other side of the island near the boat ramp and so I
very
slowly pulled away from the heron. It never moved.
I was off the river about an hour after the time I normally launch. It was a good morning.
I discovered something bothersome a week or two ago. I process these photos on my laptop, since this is the computer capable of running the software I need (however, it is, in computer years, getting on). Recently when our desktop system was running, I decided to see how the blog looks on the new monitor we bought for that computer. Yikes! They are far brighter (to the point of being too bright). I can't help but wonder how many variations there must be out there for each photo I post. And I don't even want to think about color differences!
At any rate, I'll be back when I get out on the water. Stand by.