See how nature--trees, flowers, grass--grows in silence;
See the stars, the moon, and the sun, how they move in silence.
We need silence to be able to touch souls.
~Mother Teresa

I hadn't been to this river for a while. The weather forecast called for thunderstorms in the afternoon so I got another early start yesterday (Friday) morning.

This osprey was in its nest very high up in a tree just north of the boat ramp off Hwy. 98.




I once again had my typical Wakulla experience. A very large group of college girls was renting canoes at the livery next to the boat ramp (which, by the way, no longer allows anyone but customers to use its restrooms, so if you are taking your own boat to the public ramp, make that stop elsewhere before you get there). They ended up in five canoes behind me. They were extremely vocal.

Passing the island, I saw this little blue heron. I don't often photograph them, but this one was yawning so I couldn't resist...




I decided to paddle through one of the off-river areas while going upstream. I saw movement in the water ahead, which turned out to be an otter.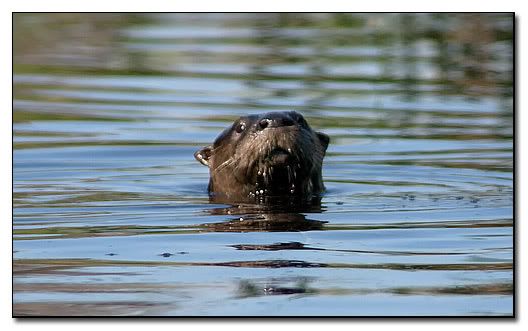 Nice to see it--I haven't spotted any on the Wacissa for a while.

A little past the Mysterious Waters dock I decided once again to try pulling over to let the kids in the canoes go by. It took a while since by this time they were fairly spread out (requiring much louder yelling for them to communicate with each other, resulting in a lot of "WHAT???" and repeated yelling). In the course of all this, some said they wanted to turn around, the others insisting that they were all going to make it to the upper bridge. The only possible way I could get a little peaceful paddling time would be to cut my trip short and turn around there while they continued upstream. Works for me.

As I passed by the dock again, a dog was having a great time chasing a stick that a girl was throwing for it.




---




I watched for a while and then continued drifting (in wonderful quiet) downstream. I saw no manatees--this is the second trip to this river without seeing even one. Unusual.

Shortening the trip worked out well. When I turned around at the halfway point to finally lose the kids, I decided I would stop at the wildlife refuge on my way home since I would have some extra time. However, that weather forecast was right. As I was pulling out of the boat ramp parking area after loading the boat, the deluge began--a heavy, heavy rain.

This has always been my favorite river. But I am discovering that the Wacissa is just much quieter (I would greatly prefer a deafening air boat to canoes of shrieking kids--it's louder but it only lasts 5 minutes from when you first hear it coming to when the noise fades into the distance). Not only that, since there are almost no houses at all along the Wacissa, you don't have the lawn mowers, leaf blowers, and dock construction sounds that are always present on the Wakulla. I might wait until winter to get back to this river.

Stand by.