When despair for the world grows in me...I go and lie down
where the wood drake rests in his beauty on the water,
and the great heron feeds. I come into the peace of
wild things who do not tax their lives with forethought or grief.
I come into the presence of still water.
~Wendell Berry
I headed out to the Wacissa yesterday morning with an agenda. I was going to enjoy paddling on my favorite river and, though of course I had the camera with me, I was not going to pursue any photos. Except for a few subjects I don't commonly capture. That was the plan.
First stop was Cassidy Spring. Abby has gotten some fantastic photos of the baby barred owls that hang around the spring. On my previous trip I had spent considerable time at the spring; I heard the young ones whistling but never saw them. On this day I heard them again and parked in the shade to see if they would fly onto a nearby branch.
About 20 minutes later they started moving around. I was able to paddle over to the edge and see this one in a tree. It saw me, too.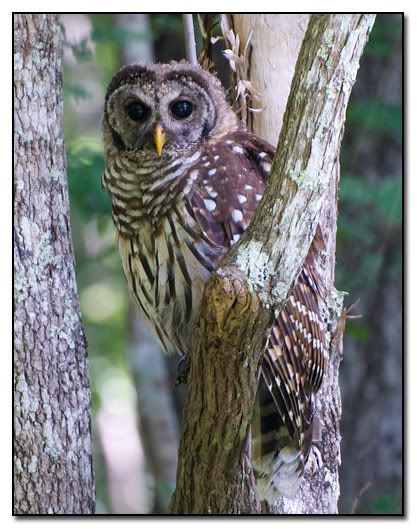 And of course a classic profile: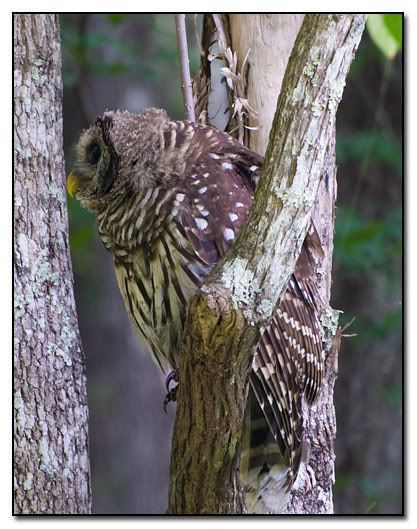 I moved on after that. I was still with my agenda, since the owls were on my list of rare photo subjects.
My agenda didn't last long (in fact, I commonly get home with 55-60 photos in the camera. Yesterday, on my
non-photography day
, I came home with 71). The egrets seemed put off by my ignoring them and insisted on flying around me. This one zoomed by on my right so I sighed, picked up the camera, made a few setting adjustments, and caught it just as it was landing near some grass ahead of me.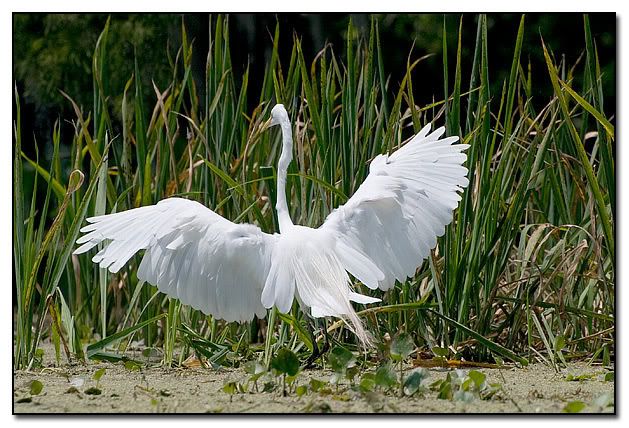 I continued drifting on my path, which of course took me directly toward the bird. It walked around the grass but then decided maybe I was getting a little too close.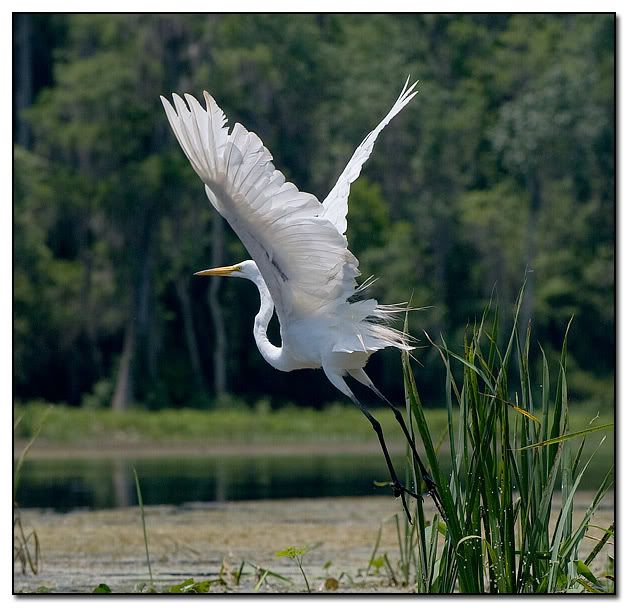 Needless to say, egrets were not on my "seldom taken" list of photo subjects. So much for the agenda!
But young moorhens or gallinules were. At about the point I was going to turn around (about less than half the distance I usually paddle in cool weather) I heard that distinctive peeping sound near the shoreline. I drifted over that way and saw a family of moorhens. These two youngsters were coming out of the safety of the vegetation to cross a small patch of water and join an adult.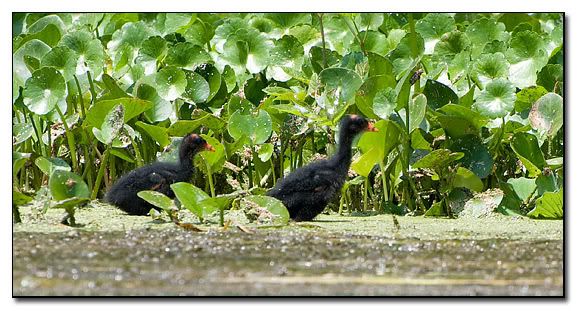 I turned around and headed back upstream. One advantage to turning around so soon is that there is very little current to battle going back upstream. I heard some more peeping. I was paddling on the east side of the river, which has a lot of reedy tussocks and little sections of water off the main river. A small gator was lying in the surface vegetation near the entrance to the little inlet area from which the peeping emanated. That doesn't bode well for the little ones! I paddled through the reeds into a small pool of open water. I parked there and watched the reeds, waiting to see if the little peepers would emerge. (The gator was on the other side of heavy vegetation and well out of sight.)
While I was sitting there motionless, a tricolored heron flew in and landed on a log very near me.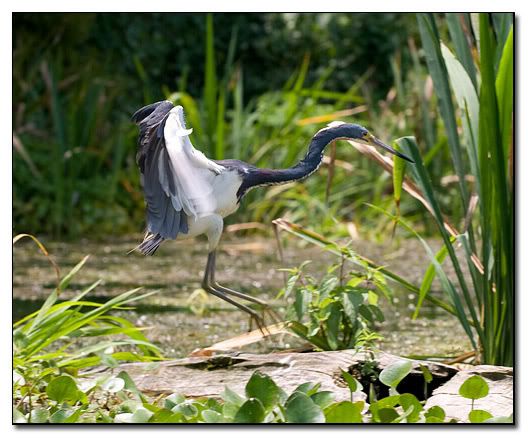 Uh oh, it spots me sitting there.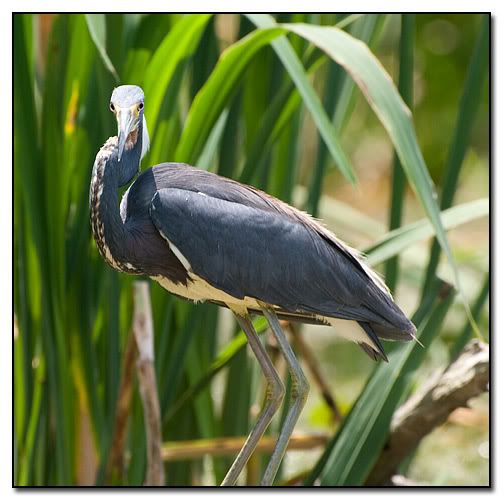 It responded by fluffing its feathers.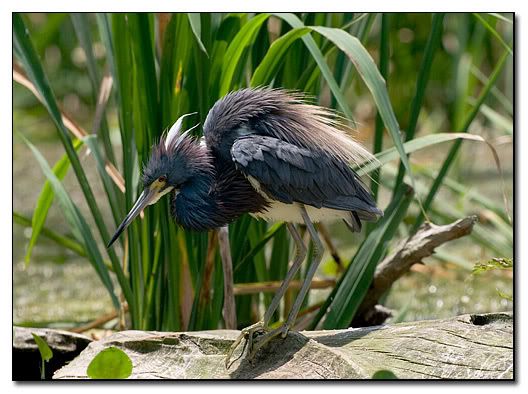 I didn't move and I guess I was dismissed as non-threatening, since the heron started walking back and forth on the log looking for goodies in the water.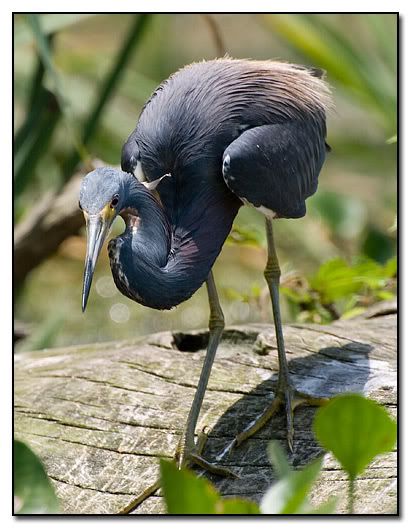 After a while, though, it decided to leave,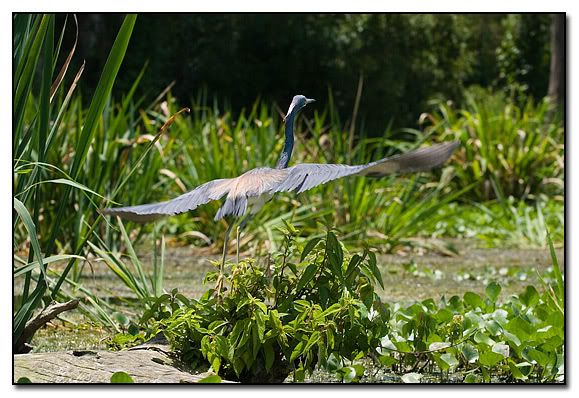 and I did the same.
As I approached the boat ramp area I passed many snowy egrets, including this one that was doing some fishing.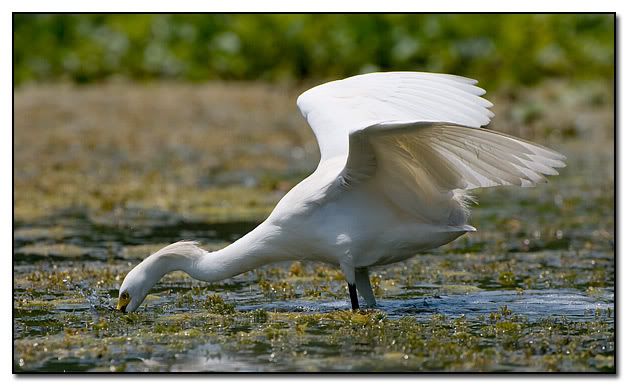 It didn't seem to mind my being there and posed nicely for me (my
least
rarely-photographed bird, I think!).
It didn't mind as I got closer,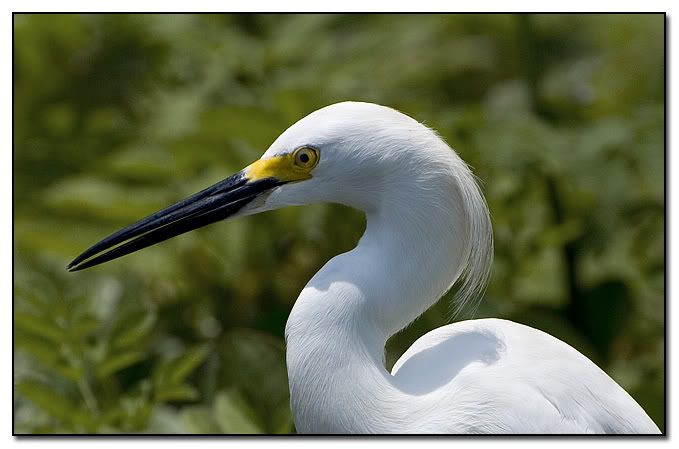 and closer still.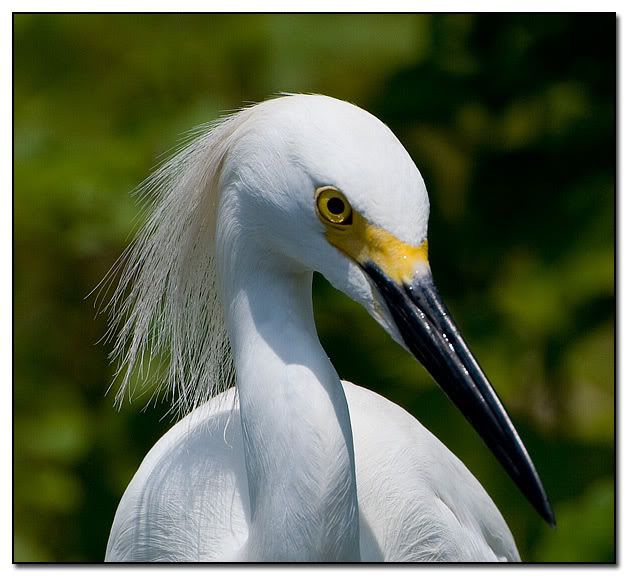 Wonderful bird; I got about a dozen photos of it while it just stood there, and in fact it was still there when I left to continue upstream. (It's probably still there.)

I hadn't expected to get many, if any, photos since I was not looking for photo ops. This river always provides such wonderful opportunities that it's impossible to resist! I guess I will save the paddling-only agenda for rivers with less abundant wildlife...

Trips may be less frequent as the heat becomes more oppressive, though. Stand by.