Adopt the pace of nature; her secret is patience.

~Ralph Waldo Emerson

DH is on vacation this week and we finally had a day without thunderstorms so off we went to the Wacissa. He rarely gets to see it the way I usually do; it's significantly quieter on weekdays than on weekends.
While we were getting the boats ready to launch, we heard that distinctive whistle of a young barred owl. I had been looking forward to taking DH to Cassidy Spring and maybe spotting the two juveniles that hang around there. And here was one right over our heads!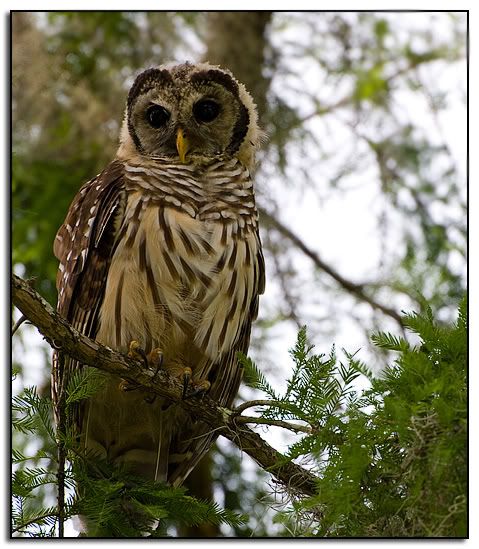 There were a few other paddlers in the river when we got there, and a few people enjoying the day on the grassy area near the ramp. We headed out down the river. When we got to Cassidy, we decided to paddle in anyway. And there we saw our second young barred owl of the day!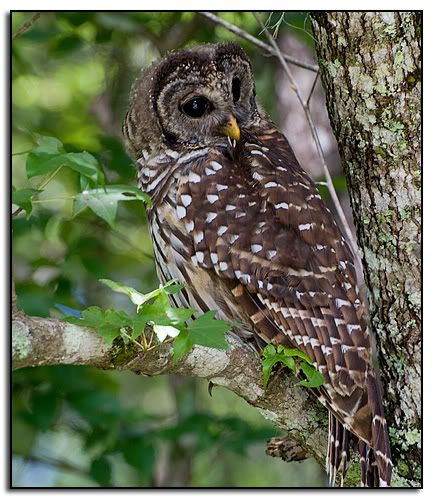 We stayed in there a little while and then continued downstream. DH is very handy to have along. He was a little ahead of me (since I kept stopping to take photos) and would periodically point into a tree and I would hear "bird in the tree" come faintly from his direction. And sure enough, there would be a bird in the tree when I got there. He spotted this yellow crowned night heron for me.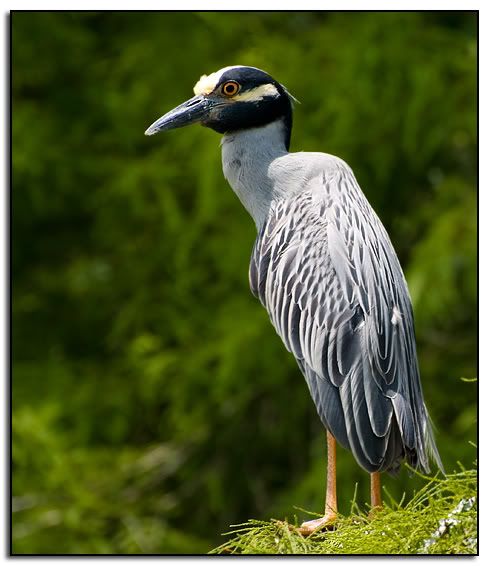 We saw a
lot
of female wood ducks swimming around in groups, and even one with young chicks. As we were coming to a group on a log, all of which I had taken to be females, DH said "Is that a male?" Sure enough (told you he was helpful!), what I had taken to be a female looking a little darker than usual turned out to be a male, with a female nearby.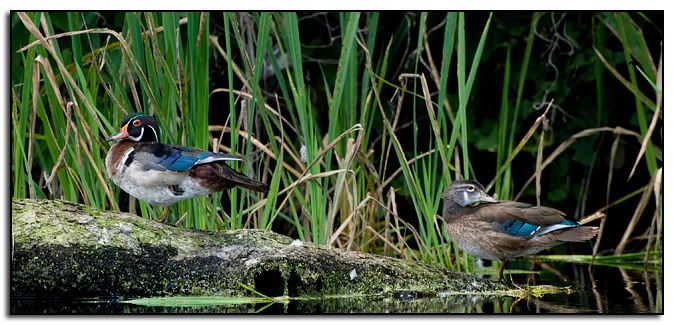 A little farther along I spotted these two females on a branch protruding from the water.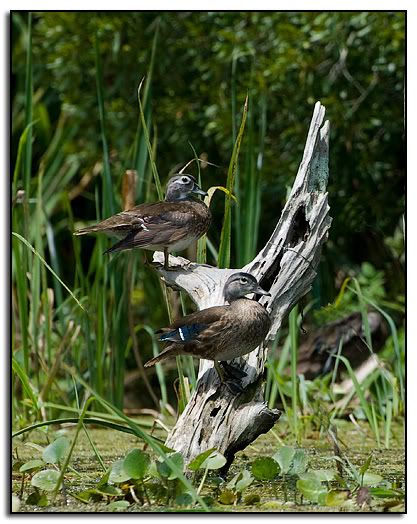 We went into Blue Spring.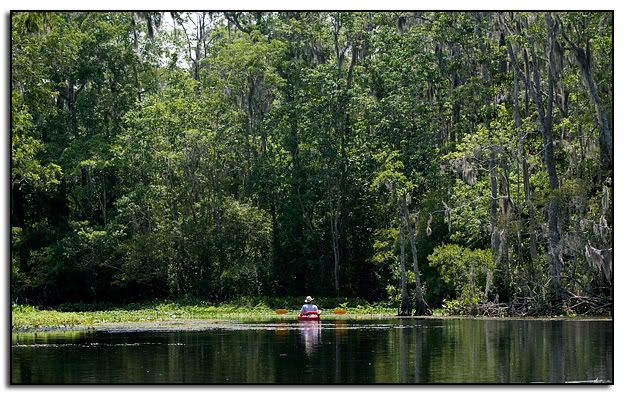 We paddled around there for a while looking down into the depths and then continued downstream.
I saw this egret. Of course I'm going to get a photo of an egret!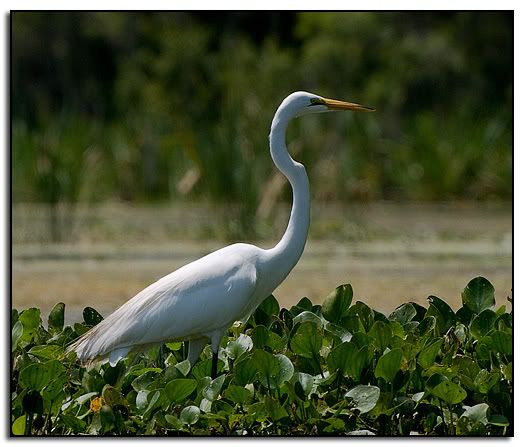 Shortly after I took that, the bird flew across the river. What a coincidence, I had been thinking of paddling on that other side myself.
Perhaps it felt it was being stalked. As I approached, it took off.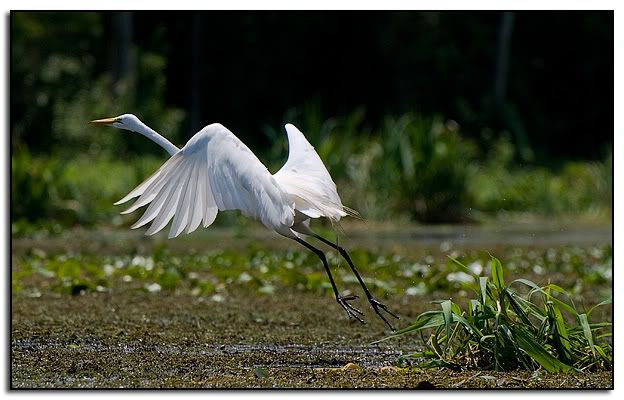 I use the continuous shutter mode on flying birds, and so I followed it as it flew off. About one wing flap after taking off, it spotted something in the water and dipped its head down to grab it.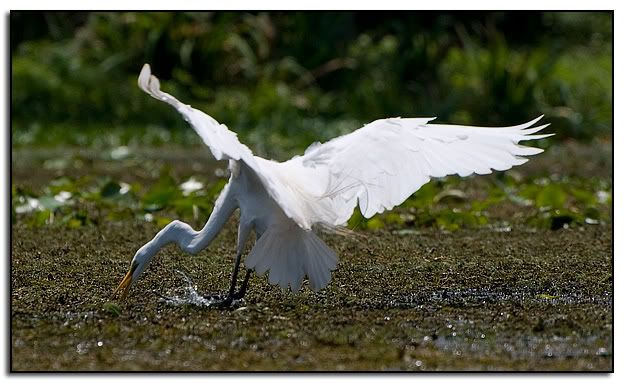 Apparently some things are hard to catch on the fly like that; it seems to have dropped what looks like might have been a crawfish.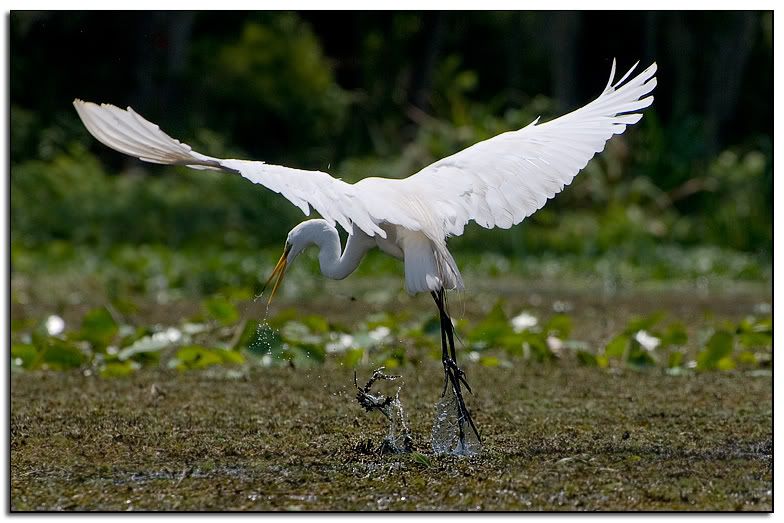 It continued flying away. I think I might have heard it muttering something as it went.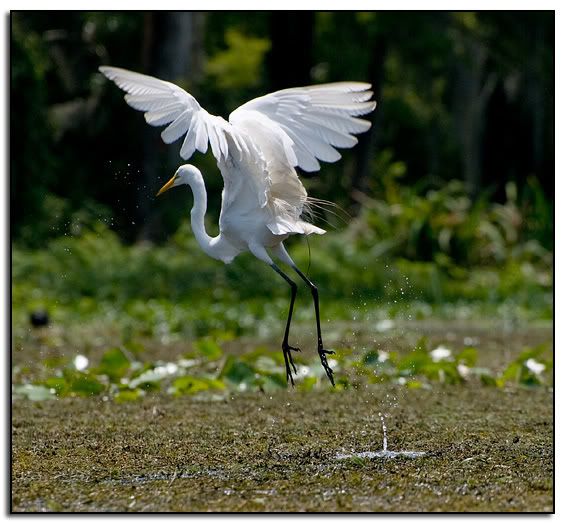 We turned around at the usual place and paddled back upstream against the very mild current at the top of the river. I had been looking for a green heron all day. While I was lining up the photo of the two wood ducks on the branch posted above, DH asked me "What's that bird? Kind of blue and brownish?" and I knew, I
just knew
, that it was a green heron and it would be flying off at any second while I was getting the two woodies. Yep. Missed it. But I had better luck as we continued on toward the boat ramp. Looks like it may have caught something; hard to tell what it is.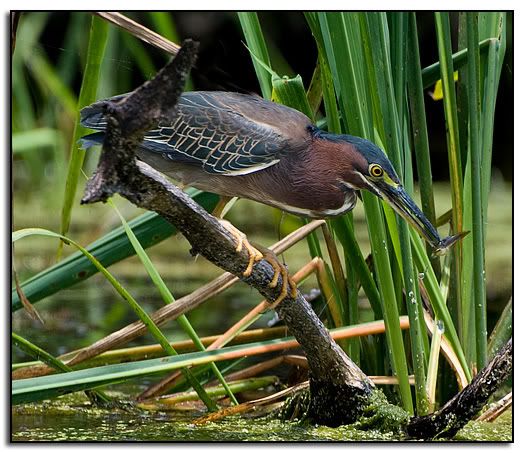 We saw a lot of little blue herons, as always. I commented on how odd it is to see so few juveniles when there are so many adults. At about that time we were coming to a snowy egret fishing in the surface vegetation ahead. I set the exposure control and drifted over that way. That bird left long before I got there, but I noticed another white bird nearby. Hey, a juvenile little blue heron! I was going to drift by and get a few photos if I could.
Well, this bird was either born without the fear-humans initiative or had not been given the talk about humans; I drifted into some vegetation and ended up parked about 6-7 feet from it. It
totally
ignored me. Just went on fishing while I took photo after photo. I finally said thanks and moved slowly on my way. It would be nice if this bird stays so tolerant of people, but that seems unlikely. Here are just a few of the photos I got of it: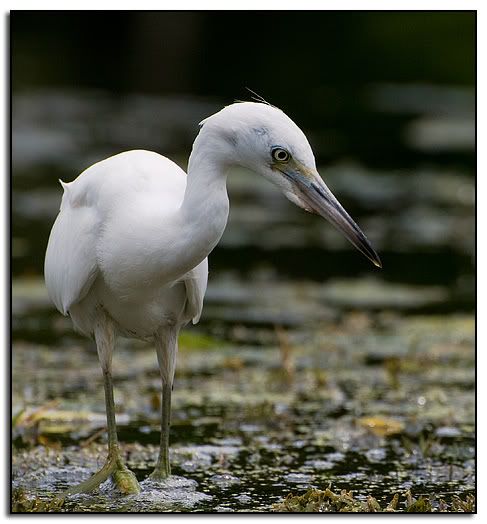 ---
---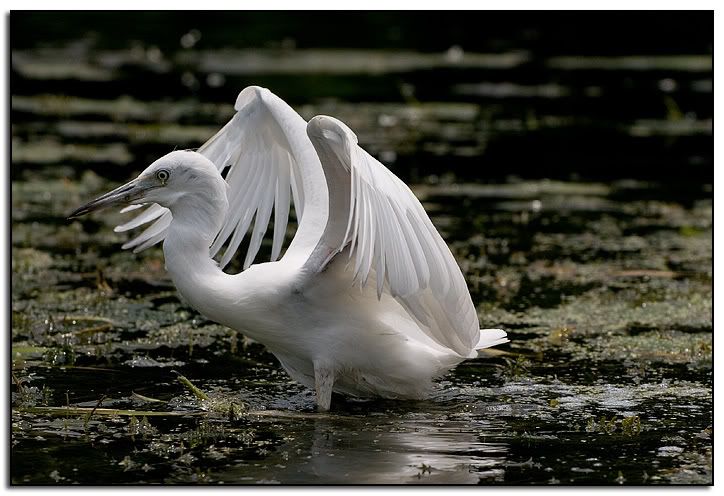 In that last one the bird is doing the wingspread trick that Dave explained in a recent comment here. The fish are drawn to shade and so the bird spreads its wings over the water to provide that shade. Neat trick. I see it a lot on this river, and it's nice to know now why they do that! (Thanks, Dave.)
Another great day on the Wacissa! We would like to get out again to paddle somewhere during DH's vacation but that depends on the weather. Stand by.