Rain is grace; rain is the sky condescending to the earth;
without rain, there would be no life.
~John Updike

I knew it was going to rain; just not so early in the day. But it started out sunny. I haven't had a solo paddle for a while and it was nice to get back out.
First bird of the day was a regal-looking great blue heron who stood overlooking the river.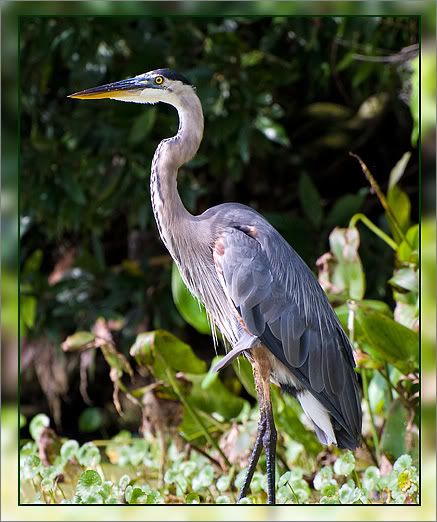 There were several other paddlers on the river today. I drifted downstream, skipping Blue Spring on the way down since I had seen a large group enter the inlet. This tricolored heron was fishing in the surface growth across from the spring entrance.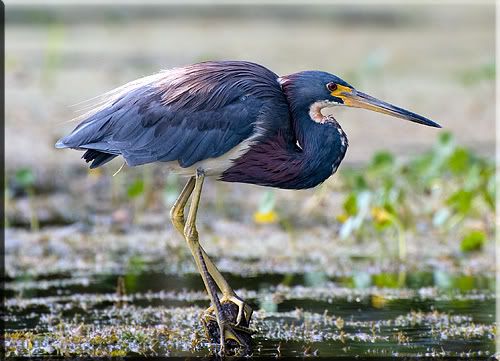 I came to--can you guess?--many egrets, which of course I can never resist photographing. Snowy egrets fishing, snowy egrets flying by...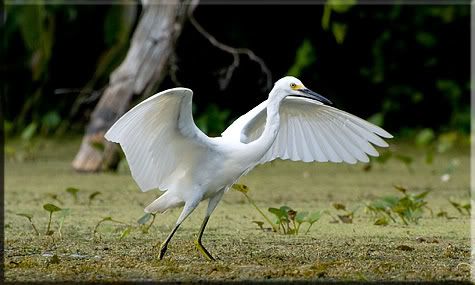 ---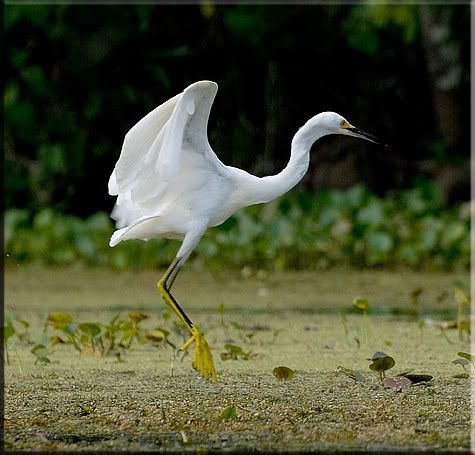 ---
And a great egret at the side of the river.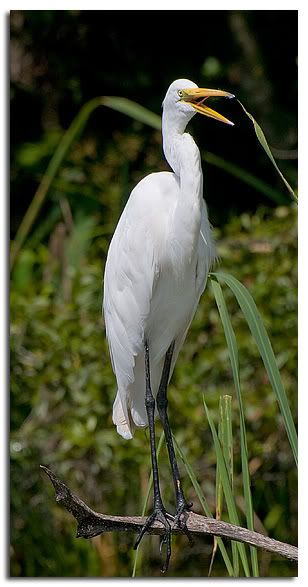 A short distance away there were two great egrets in proximity, which is very rare--they are quite territorial. They both left as I approached.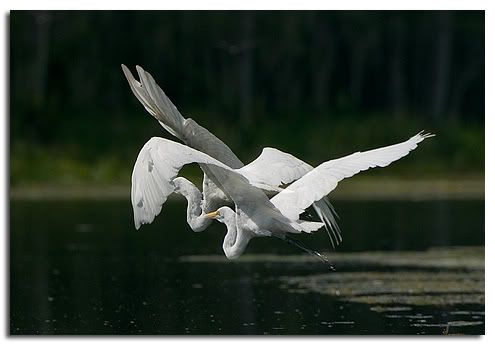 The sky was getting very dark and I decided to turn around. But just then I spotted a bird extravaganza over to the side. A snowy egret (already had a lot of snowy photos), a tricolored heron fishing, and a green heron (and a moorhen behind that). So I parked there for a while. The tricolored was preening and scratching when I stopped.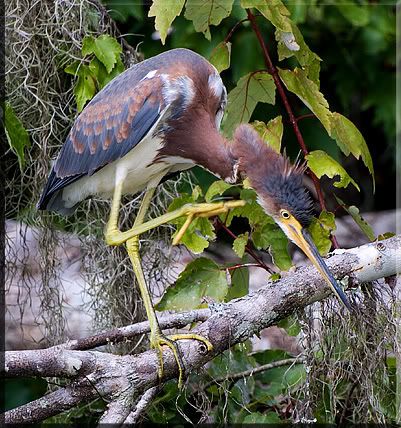 Must be catching...the green heron did the same.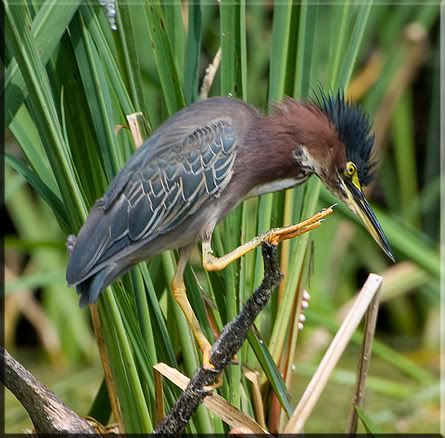 And right about then it started to rain so I headed upstream. There was no thunder, no lightning, and so actually, once I had the camera stowed safely under the deck and covered, it was nice. It cooled the air and pattered down gently on my hat brim. It doesn't often happen that I am on the river during non-threatening rain and can just enjoy it.
It let up and I decided to go into Blue Spring on my way upstream. I spotted a--yes--great egret by the side and,
just in case those other photos didn't come out
, drifted over that way.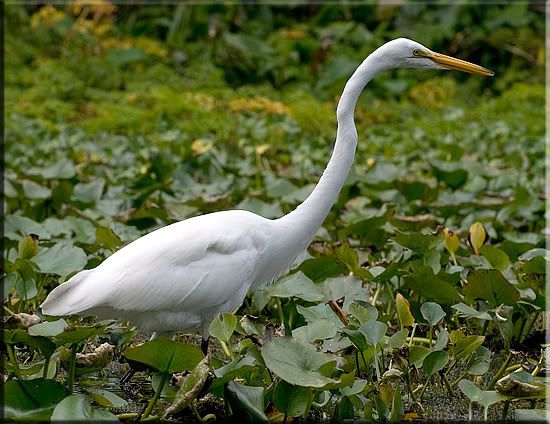 I kept drifting closer with the current. Four paddlers in two canoes had come in after me and were stopped behind me while I photographed it. I kept drifting closer. And closer.
And closer
. The bird was not leaving, and by this time the bow of the boat was about two feet from it and halted by the vegetation. I didn't want to pick up the paddle and move, so I just sat there with the camera at my face. And in its face.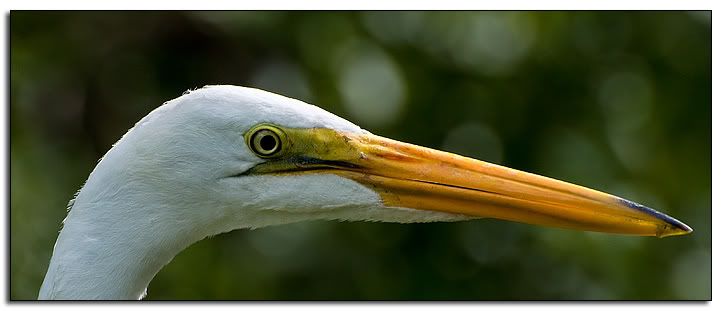 The people in the canoes figured out that I didn't want to startle it with a big motion, so they began to paddle by, hoping that their movement would compel it to fly or walk or in some way be released from this situation. It finally flew by in front of me (far too close for the zoom lens to focus). One guy asked me if I got it flying away and I said "I'm too close!" and he said "How often do you hear that about wildlife---'I'm too close'?" One of the women commented that it might happen with a rattlesnake. Only a few weeks ago I got photos of a woman hand-feeding an egret in Cedar Key. I guess these birds adjust easily to the presence of humans.
This ibis was finding some food nearby.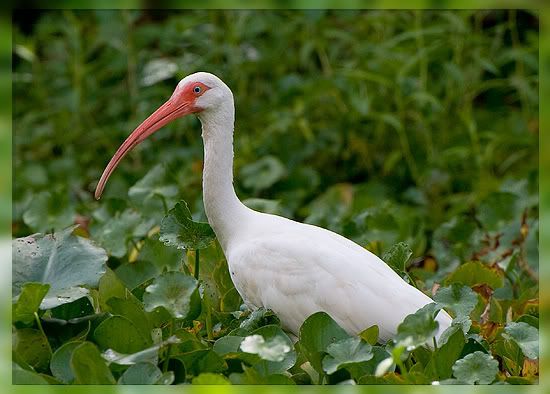 Heading back upstream, I saw this great blue heron peering out at me from behind a tree branch.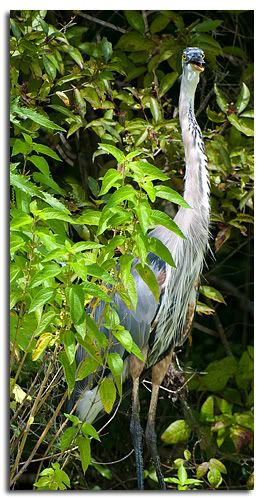 It saw me and took off across the river. It's amazing how they fly with their wings barely above the water.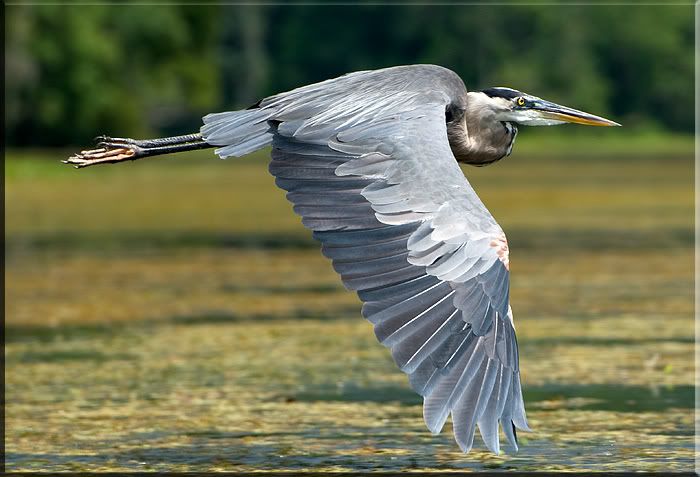 And then it started to rain.
Really
rain. Again, no thunder, but this was quite a downpour. I did some fitness paddling back to the boat ramp, where it had slowed to a drizzle.
I rarely post photos of people, except incidentally, on this blog. But I'm including a photo of Jim, the guy who runs Wacissa River Livery (the rental spot of choice for this river, on the left as you approach the parking area). Jim is a good guy. If you are a solo paddler and Jim is nearby when you get back to the launch area, tired and ready to head home, he will hoist your kayak and carry it to your car without your asking (good luck to women in finding any other men to do that, although they will watch you with great interest throughout your entire toting and loading process while they chug down their beer). Jim did once make a comment that included the word "sherpa" while he was helping me
yet again
with my boat, but I think he was kidding.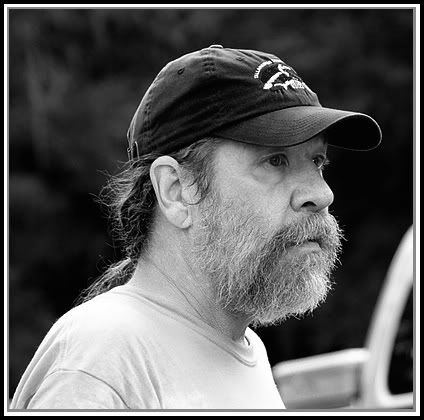 This day was far shorter than I had planned, but that's the way it goes this time of year. I'll try again next week. Stand by.