Listen to all, plucking a feather from every
passing goose, but follow no one absolutely.
~Chinese Proverb

I decided that this was the day to finally get back to the Wakulla. Last time I went it was like one big frat party filled with students on or by the water making bar-level noise. This time, with one exception, was much better. I encountered several paddlers and no power boats, which was nice. The river is still recovering from recent tropical storms and is silty in parts, but the shallower sections are clear.
I was surprised at how many manatees there were (maybe they also had been waiting for the students to go back to school...) this time. Two pairs of adult and baby, and a set of three. Seeing them is a definite plus for this river. The minus is that there are not many birds.
I got there when the tide was at the end of the outgoing phase, but the current was still fierce for almost the entire 4 hours I was on the water. Perhaps some of that was also storm-related.
I was nearly to the top of the river when I saw the first bird. I had ducked into a channel that runs parallel to the main river, hoping to escape some of the current. I saw a yellow crowned night heron fly to a low branch just upstream of me. If birds have any sense of humor, this one had to be laughing at me. I paddled to just past it and then put the paddle down and picked up the camera. And immediately was swept downstream to a point where a branch blocked my view of the bird.
Ok, let's try that again.
Went a bit farther past it, paddle down, camera up, and by the time I located the bird in the viewfinder....I was back downstream and the branch blocked it. (It just sat there all this time watching this.) One more time and I just managed to get the photo before being swept out of range again.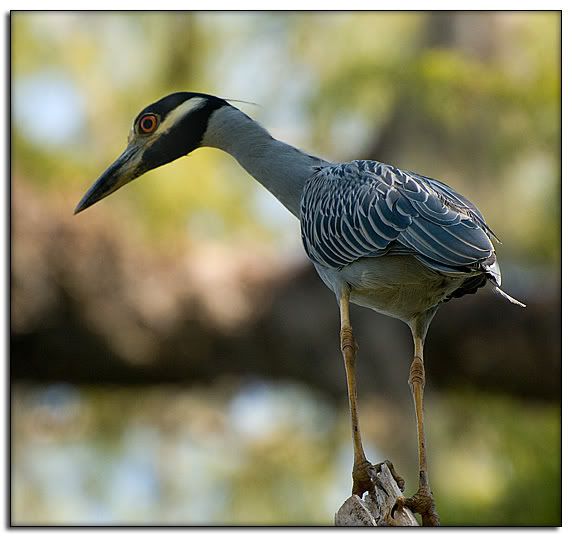 Just past that bird, an ibis sat on a branch sticking out of the water. It watched me approach.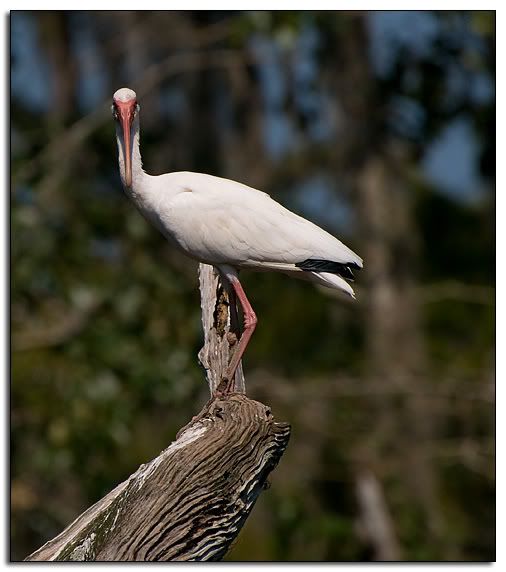 This time I could park myself in some surface growth a little closer to it, and it sat there while I did that.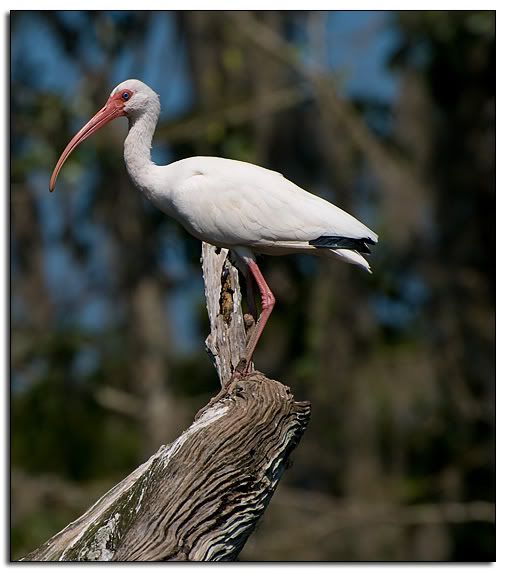 I knew it was heading out, though, so I just waited. Sure enough, time to go.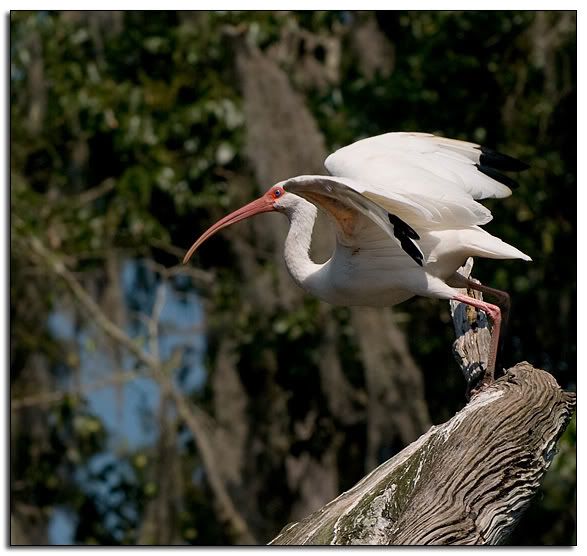 ---
---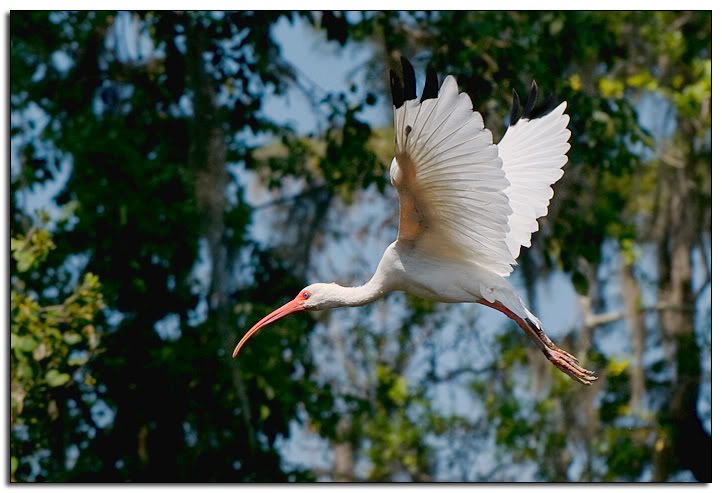 I continued on and circled the island near the upper ramp. Now it was time for the wild downstream ride! I moved along at a good clip. I saw a few gators here and there but no other birds. I leaned back and enjoyed the scenery and peace and quiet. The reflections on this river have always been impressive; we don't get many reflections like this on the Wacissa because of all the surface growth along the edges. On this river, the water goes all the way to the shoreline in most places.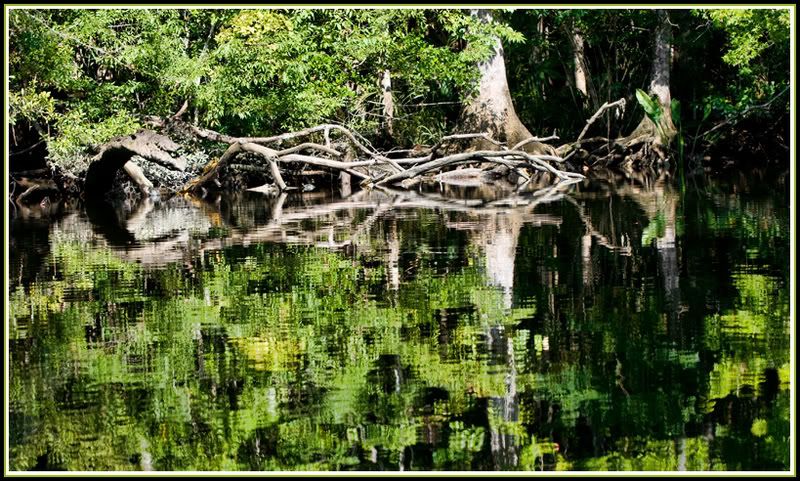 I was passing that large house on the left (from a downstream direction) near the boat ramp--the one with all the windows and the long porch. The woman who lives there was sitting on her downstairs porch with the two duck-looking birds that I photographed nearby early last spring. I asked if she would mind if I paddled over to get some pictures of them and she said that would be fine. This was a little easier said than done, since even in the best of conditions this wide part of the river has current. But I was able to position myself to get some photos. I asked her what they were, and she said she had determined from web searches that they were "rare Siberian swan geese." (I didn't confirm this when I got home, so I am just calling them geese.) They posed very nicely.
Here's a closer portrait of the male: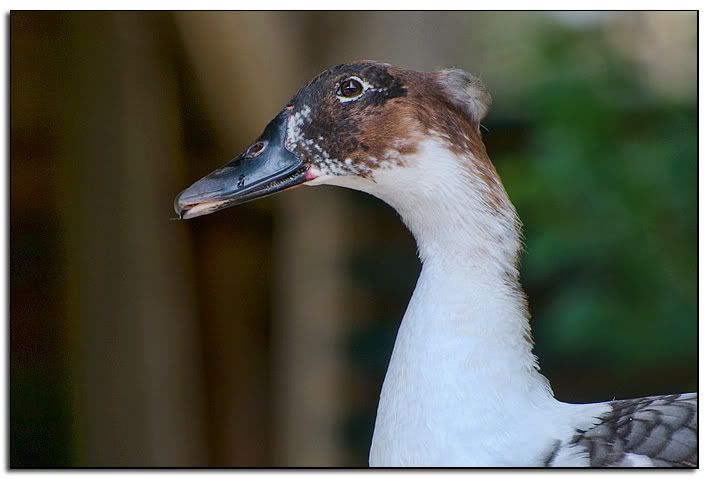 And the female: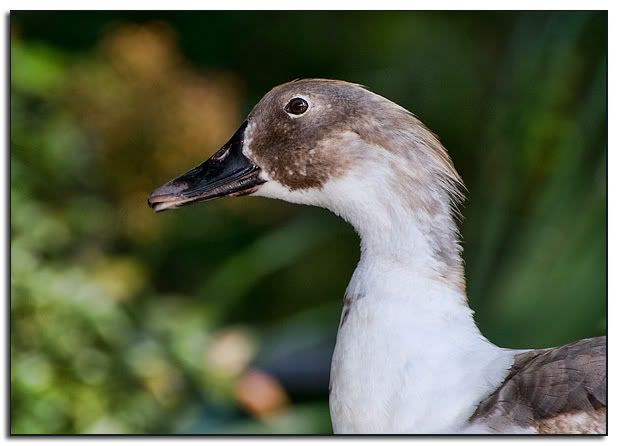 There was a cormorant swimming around in the area; the woman told me that whenever the geese saw it, they went flying into the water after it, and indeed that's what happened this time. The male went so fast I missed it completely, and the female was something of a blur.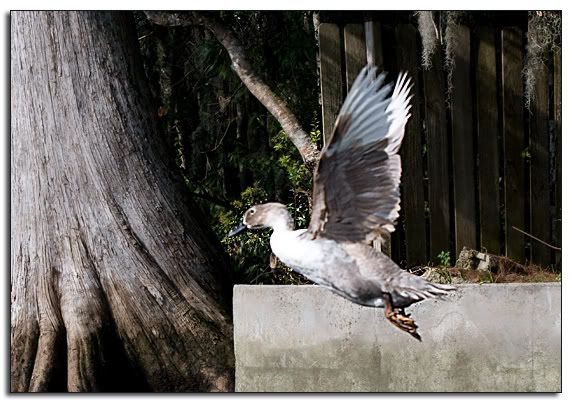 After splashdown, she swam over to where the male was already chasing the cormorant.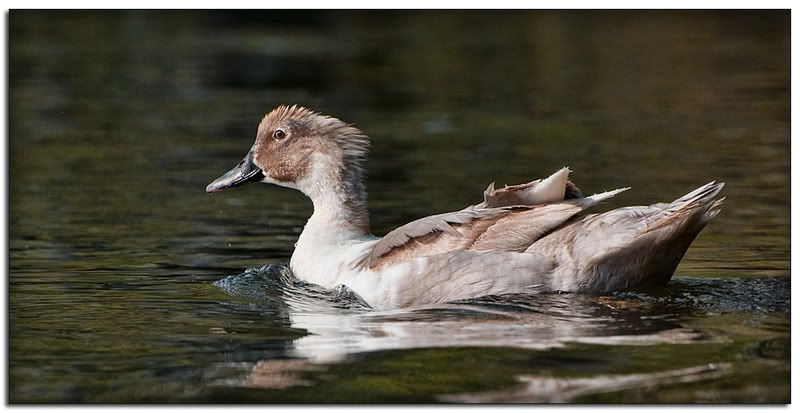 You know that part in Office Space (or maybe you don't) where the dweeby guy is telling someone about the squirrels outside his window that are "married"? Well, er...these two geese were clearly married, too (this is, after all, a family blog).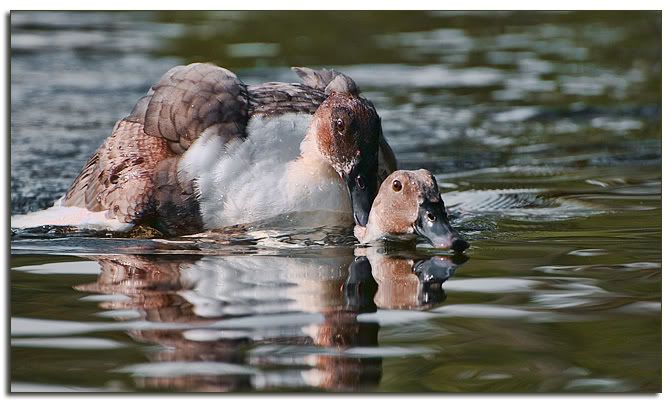 ---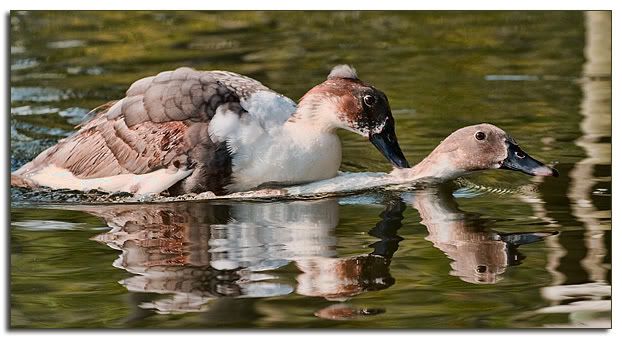 The woman and I talked about how great, if problematic, it would be if they had babies. There are a lot of gators on the river....
It was getting late so I said goodbye and continued on down to the ramp, where I loaded up the boat.
I took a photo on this river about a year ago and posted it in this blog. I then filed it away with the rest of my photos. I recently took it back out and re-processed it for a different look. I posted the new version on some photography sites and it was well-received, and so I have decided that since it was taken on this river and has had a lot of exposure (haha, get it?) elsewhere, I will post the new version here as well: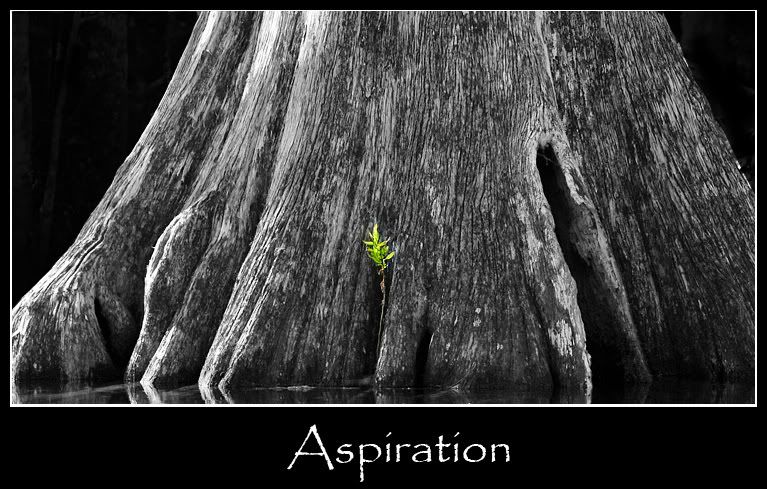 Thanks to Beverly at
Lacoochee Kid
for the link and kind words--back at ya! And that's all for this time. Stand by.