When thou seest an eagle,
thou seest a portion of genious;
lift up thy head!
We are finally coming into our prime paddling season, with cooler temps and lower humidity. What a joy! And each recent trip has me going farther downstream than I did during the heat of summer. I loaded up the boat yesterday morning and headed out.
I paddled into Blue Spring and saw a sight that is becoming familiar...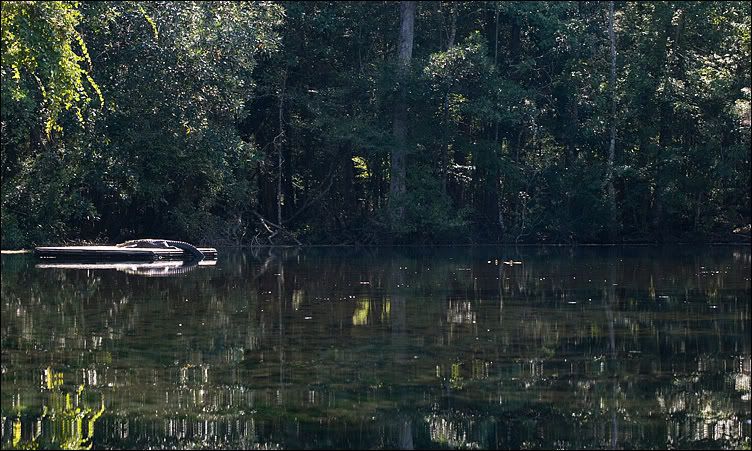 I don't know if that is the same one that has been in the area all along or a new one has taken its place. This is the second time in as many trips that I have encountered this guy.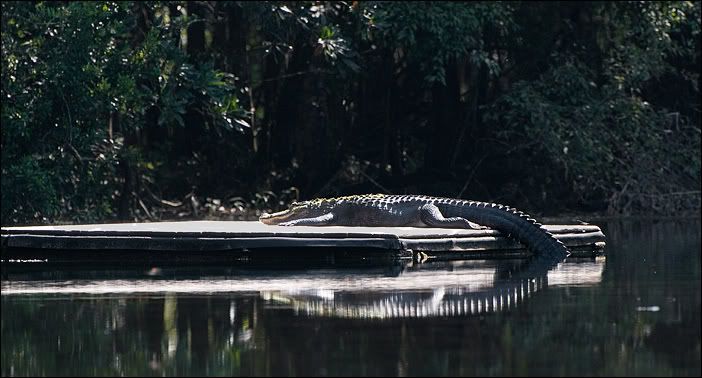 I drifted downstream, thoroughly enjoying the day. There were very few snowy egrets near the top. I missed a photo of a green heron since it was concealed by reeds. No problem--this was a day to just enjoy paddling for the sake of paddling, not to pursue photos.
A little less than a mile or so past the house on the right, I spotted a bird high up in a cypress tree some distance ahead of me. Hmmmm...too high for most birds to perch. I took out the binoculars to see if my suspicions could be right...yep--there's that distinctive white head and curved beak. Problem was, I had a lot of water to cover to get there, and it was better to do so slowly and without much paddling movement. So I drifted on, keeping my eye on the tree. And I was lucky enough that the eagle stayed put until I was below it.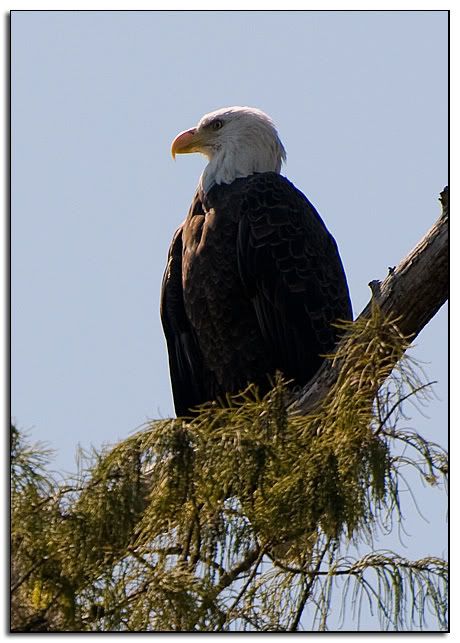 I couldn't get any closer since the leaves then obscured it. I did get a photo from the other side but the eagle was in the process of taking flight and so that came out less than sharp. And then it was gone. I looked for it when I was going back upstream but did not see it again.
It was still very comfortable outside (our afternoons do still get a tad toasty) and so I continued to drift down to the Calico Hill boat ramp. The surface growth is reclaiming the river and it is not as wide as it was right after Fay and Gustav. I discovered that the red flags and traffic cone no longer indicate where the ramp is--it now has its own sign!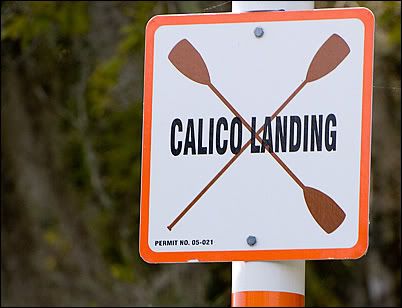 Interestingly, despite the increased legitimacy brought by an actual sign, the ramp area itself was far more overgrown than it used to be; a very inconvenient stopping place, so I didn't get out. I turned around at that point and headed back upstream.
I came to this egret doing a fine swan imitation in the middle of the river.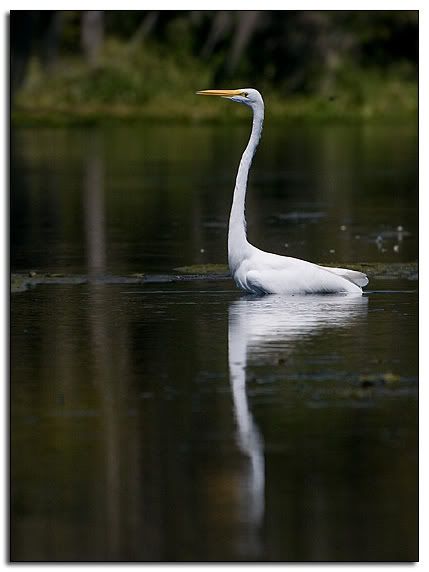 I watched it as it fished below the surface,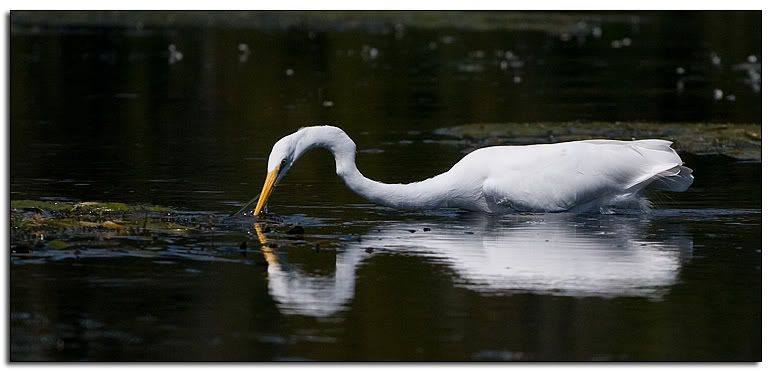 and came up with what appears to be vegetation. Better luck next time...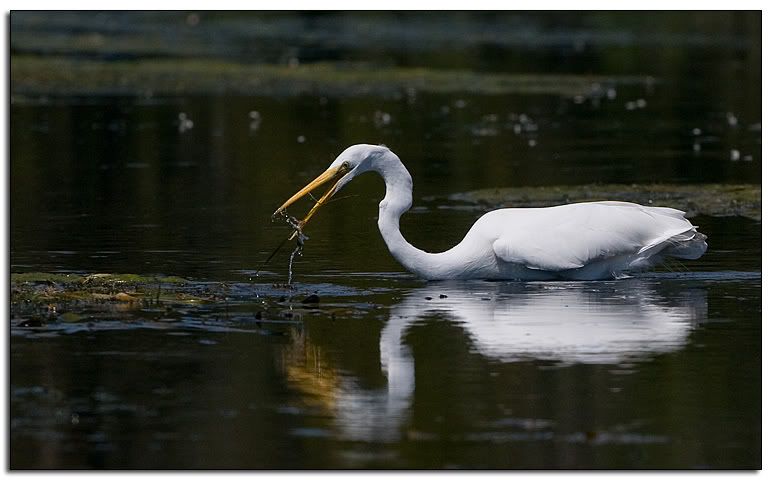 It left at that point.
I heard a lot of woodpeckers on both sides of the river. A pileated was in a tree near the shoreline and so I paddled over that way. I waited for it to come out from behind the leaves...and then it flew away.

---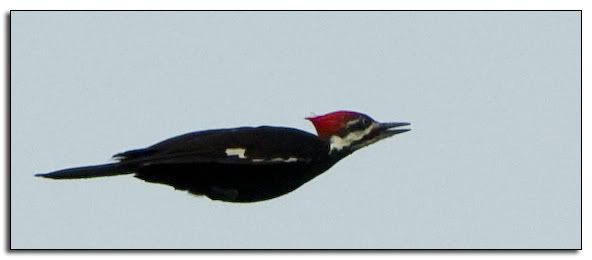 On the way back upstream I decided to explore that lagoon-like inlet on the right a little past Blue Spring. The air was still and the water flat. I startled a few wood ducks--I imagine they spend a lot of time in here. The reflections were vivid.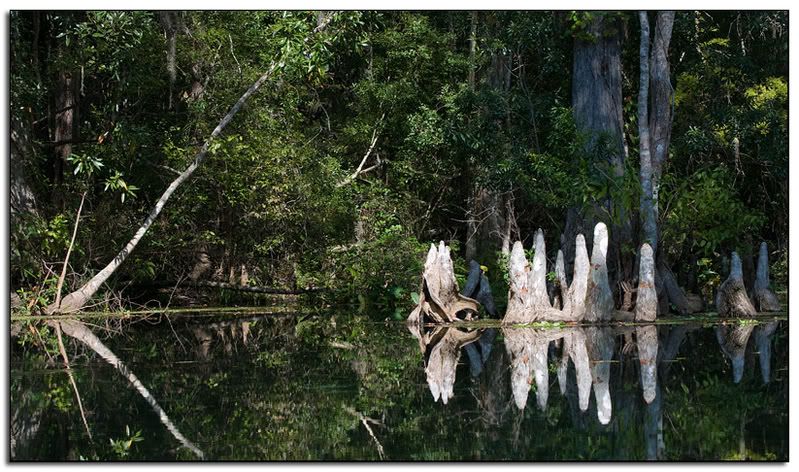 I passed Duck Island, across from the boat ramp, on the far side. The paddling trip was ending, and even though I had been on the water almost four hours, I was sorry to be back at the ramp. And then I heard a familiar and most welcome
chuffing
sound from the shoreline. The eagle isn't the only thing that has been sorely missed on the river lately!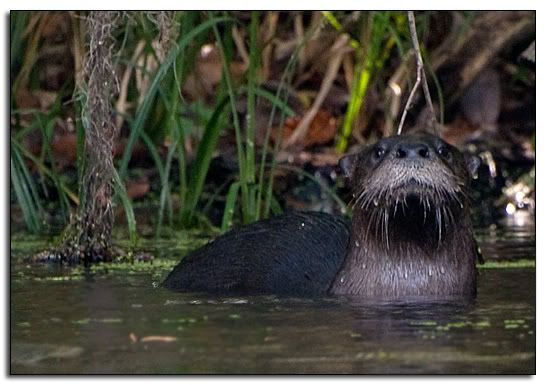 There were three of them, and after scolding me a bit they swam off downstream. Wow, two surprises in one day!
There's a great blue heron that has been hanging out near the boat ramp, and it was there again, nestled down in the leaves.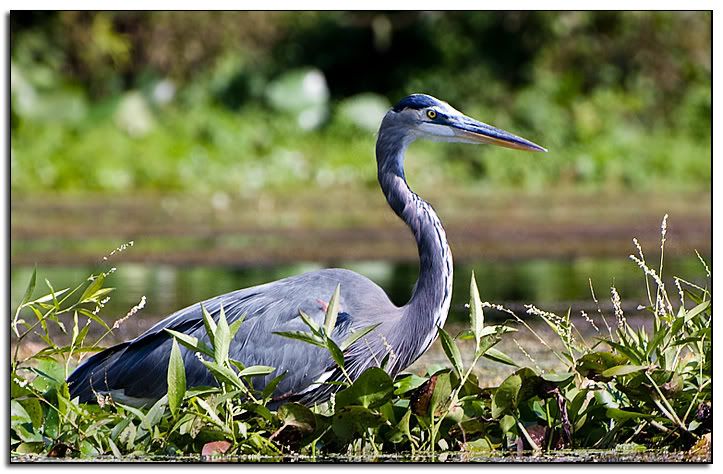 As I approached, it took off.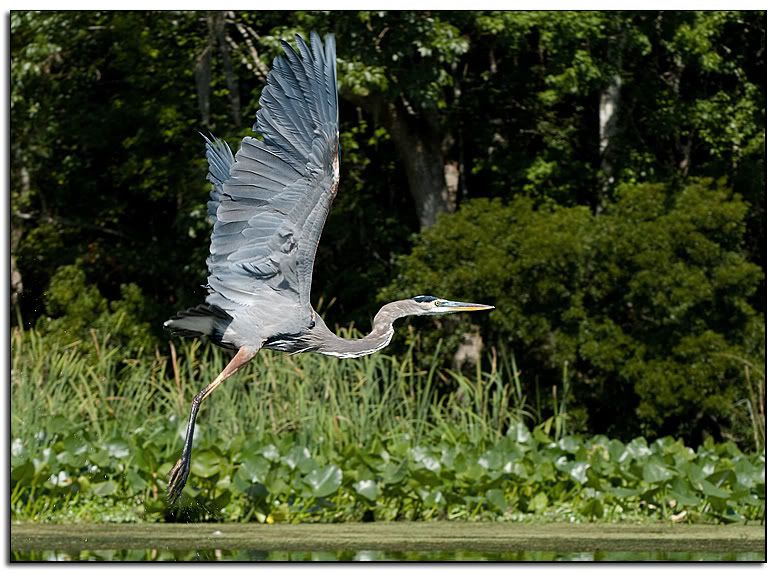 And then it really was time to load up the boat and head for home. This was a fantastic paddling day! I'm eager to get back again next week. Stand by.