Just living is not enough...
One must have sunshine, freedom,
and a little flower.
~Hans Christian Anderson

It's rare for me to paddle on weekends, particularly on this river, since weekends are when all the air boats come out. However, this is the time of year that the weather dictates the paddling days. As it turned out, aside from one air boat, the only people on the river were paddlers, and there were several of them. It turned out to be a
perfect
day to be on the water.
The river is still fairly bird-free, though--in fact, even the yellowlegs were missing this time. The great blue heron that is always by the boat ramp was nowhere to be seen. No green herons, no tricolored herons, no snowy egrets or night herons. But the sun was warm and there was only a slight breeze, which made up for the lack of feathers and beaks.
When the air boat roared by, it flushed out a lot of birds from the shoreline, including this egret that flew by my kayak.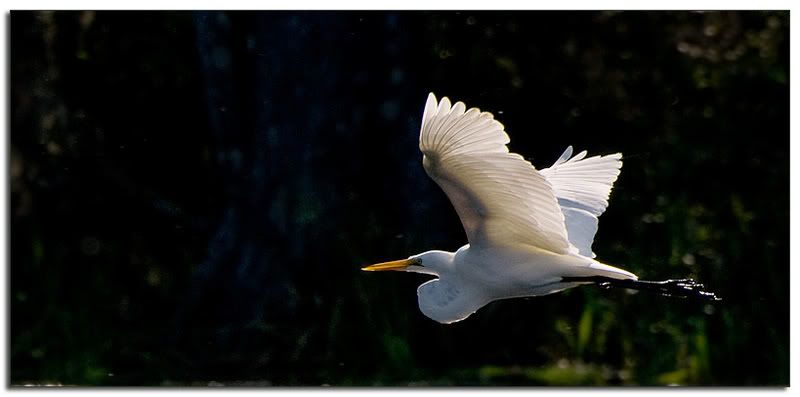 I met Tommy right before pulling into the Blue Spring inlet--he's another Manitou owner and was also out enjoying the river on this uncommonly warm day. We paddled and chatted for a while. There were two people (also paddlers) on one of the swim rafts at the spring who were soaking up the sun and having lunch. Tommy decided to do the same, and I continued on downstream.
The current was slow. This would have been a good day to circle the island, but I had gotten a late start and of course we lose our light early these days, so I turned around after about two miles. Two juvenile ibis flew in and settled in some yellow flowers along the edge of the river. I paddled over to get some photos of them.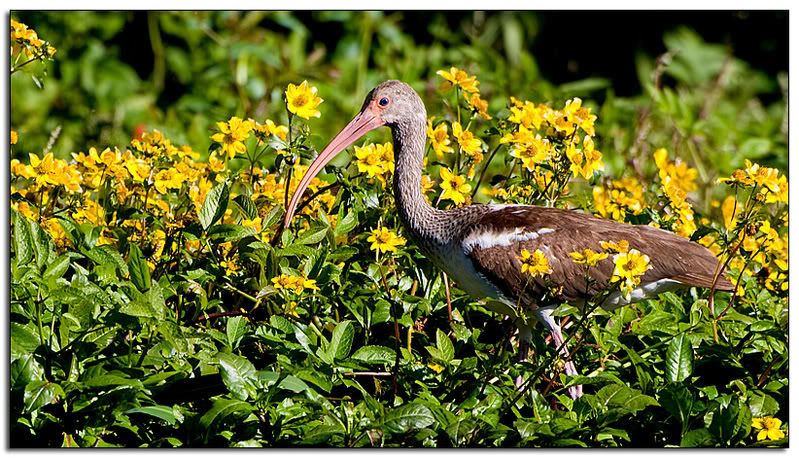 Those yellow flowers border a large section of river and add some bright color to the scenery.
Apparently tipping your head is useful when hunting for food that is beneath the surface.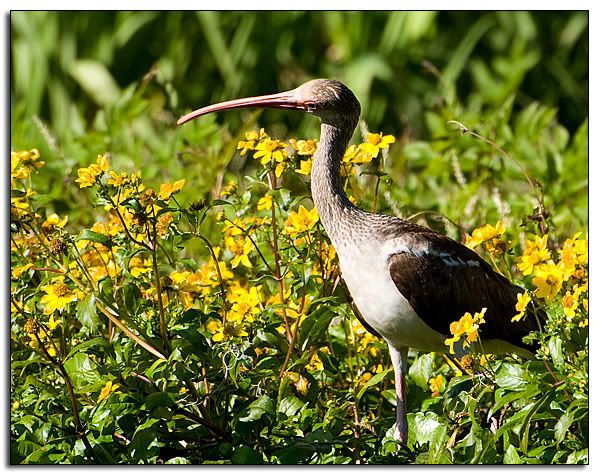 And it worked! Lunch time for everyone!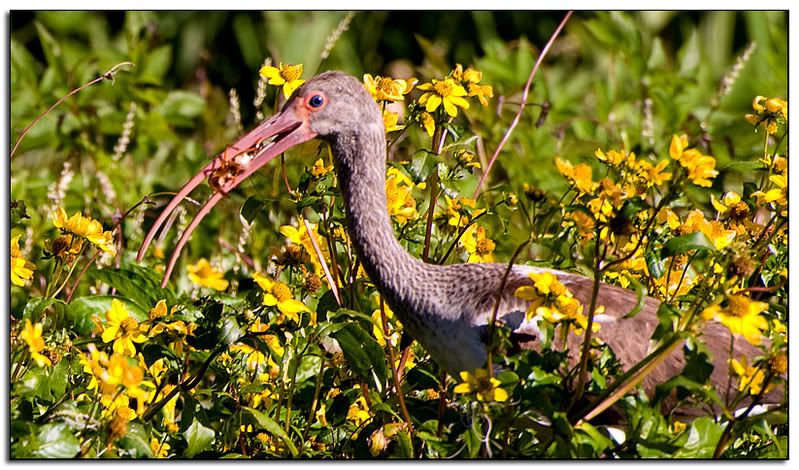 Paddling back upstream, I spotted this egret in a sunny patch of leaves at the shoreline.
Looks regal, doesn't it? It did; until it somewhat ruined the effect by peering over at me...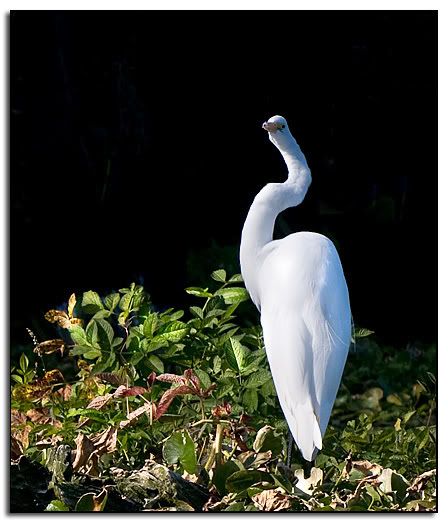 Aside from one little blue heron and a juvenile little blue heron, that was it for the bird sightings. It's odd having the river be so nearly devoid of wildlife, but it was still wonderfully peaceful and I'm glad I went.
I have been spending time on what I consider to be one of the best (and free) photography websites out there. It's called Photo Camel (not sure why...) and can be found
here
. The forums are extremely active and cover all areas of photography, including equipment and post-processing. It's a great place to post your photos, either just to show people or to get critiques, and to ask any questions you may have. There are fun contests and challenges (if you like manipulating photos, try the Speed Challenge). Of the three photography sites that I visit regularly, I find this one to be by far the most fun and congenial. Photographers of all skill levels hang out there, and there's no
attitude
about it, as you may encounter elsewhere. If you like photography on any level (there's even a cell-phone photos forum!), I recommend taking a gander at the site and maybe posting a photo or two. You can maintain your own gallery there, but your photos will get more attention if you post them directly in the related forum.
Looks like we have more cold weather on the way. I'll be back here when I get out there again. Stand by.