The bird thinks it a favor to give the fish a lift in the air.
~Rabindranath Tagore

We'll get to the egret in a moment. As mentioned in the previous post, I found myself with a free warm sunny afternoon yesterday to spend paddling, so I headed out with the new kayak to the Wacissa (of course). There was a bit of a wind, but all the better to see how well the skeg works.
Although I took this one after the paddling trip, I am going to start with a photo of the new kayak loaded on the trailer behind the car. The only other vehicle when I got to the parking lot and when I left was a truck and trailer, no doubt belonging to the seaweed harvesters I passed on the river. It's not that I'm that huge a fan of yellow (except in kitchens), it just worked out that way...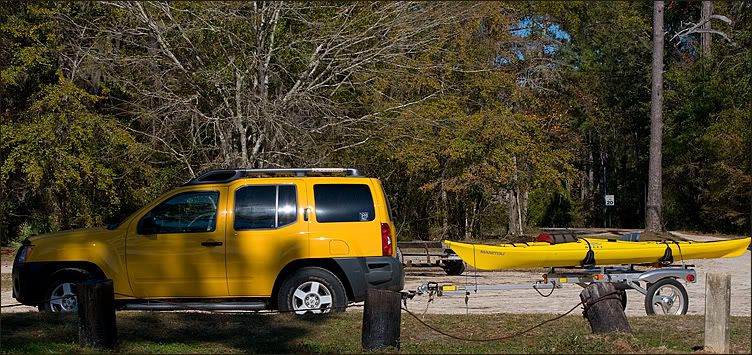 When I arrived at the head spring, there was a large group of ibis, both adult and juvenile, hanging out at the launch area. I knew I was going to cause them to leave once I took my boat down, so I walked over with the camera before unloading the kayak. One juvenile was having a good time bathing in the shallow water while the others just hung out.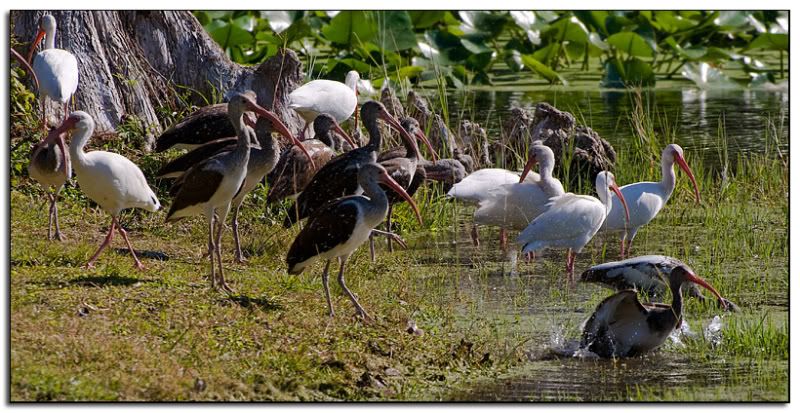 It took a while with its bath (must have been a female).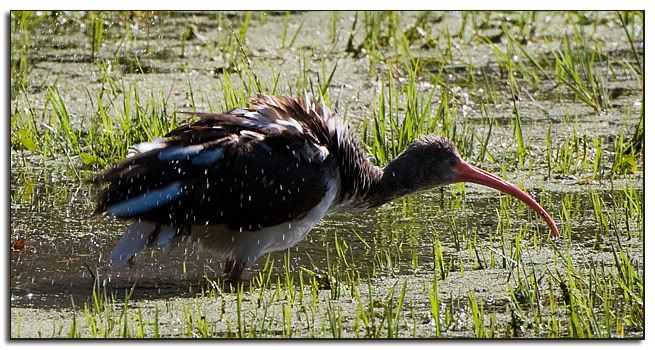 As expected, they scattered as I approached with the kayak.
I was so happy to see the three otters near the top of the river.

So off I went, on a more casual paddle than the first one with the boat. I like it a lot, and again recommend it.
I paddled into Blue Spring, which was as beautiful and peaceful as always. Since the water level is so high, I decided to take the back way out to the river. It was nice in there, but the only wildlife I spotted was a couple of squirrels. I came out of the calm and back into the wind and continued downstream.
An anhinga was perched in a tree at the edge of the water. I haven't posted a photo of one of these for a while so I decided to include this one.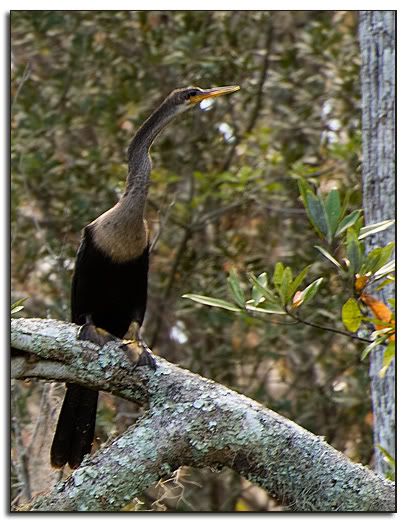 The wind got a bit stronger and so I turned around after a couple of miles of meandering. I spotted these ducks. While they look a lot like female wood ducks in this photo, they were actually larger than typical female woodies, so I am not sure what they are.

So then there I was paddling upstream. The wind was behind me so it was as much a drift as a paddle. I saw an egret flying toward me from upstream and so, just in case it actually continued flying toward me, I set the camera exposure and let myself drift to a stop in some surface greenery.
I have never seen an egret behave like this, and I have been paddling and observing egrets for a fairly long time. It must have been raised by an osprey, or perhaps a pelican. It hovered above the water (that's odd right there) and would then dive straight down into it--pretty much exactly like an osprey (or even more like a pelican). My camera can take about 6 frames per second, so I sat there and let it click away. I think I came home with about 30 photos of this bird, at least. Here we go--this was the first pass that I photographed. It starts out with hovering: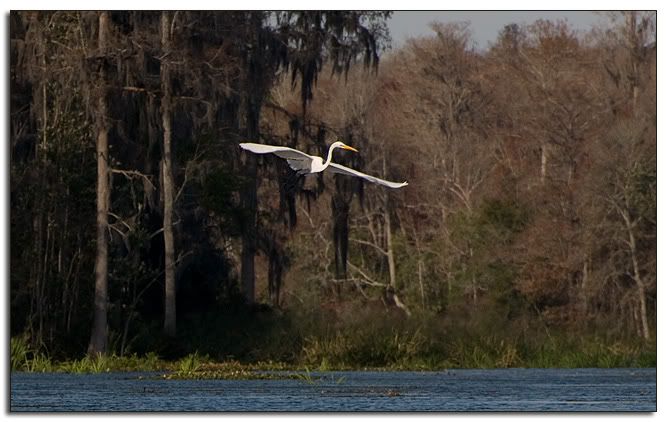 and then does a dive like I have
never
seen before from an egret: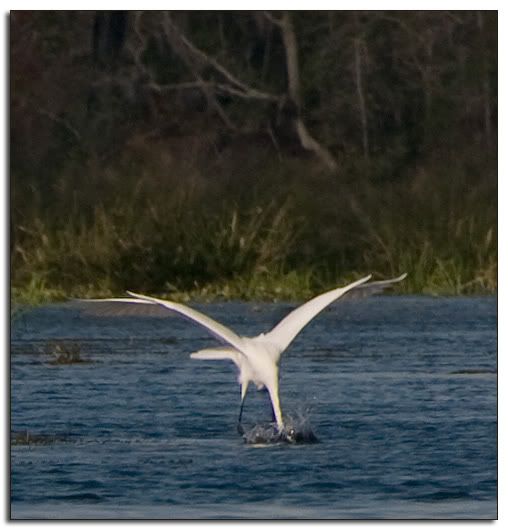 That's not into some vegetation island or high bottom--that's slap into the river! So I waited, and here is the second pass, starting with the hover: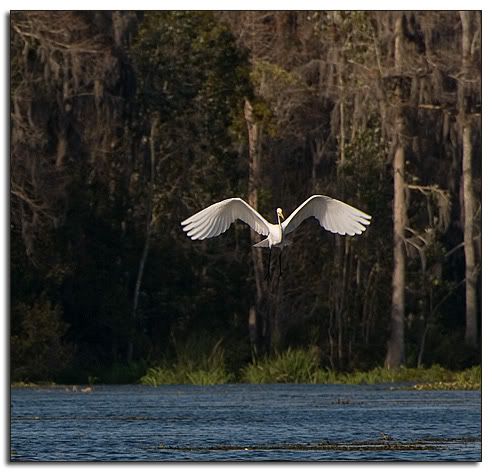 and then the dive,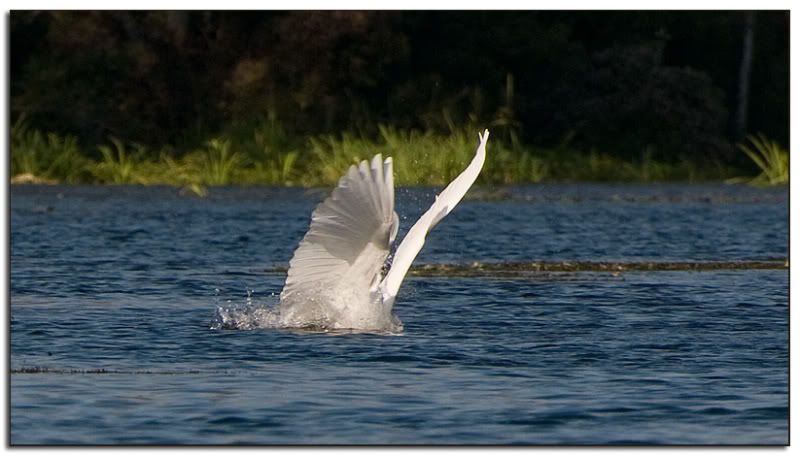 followed by the lift from the water: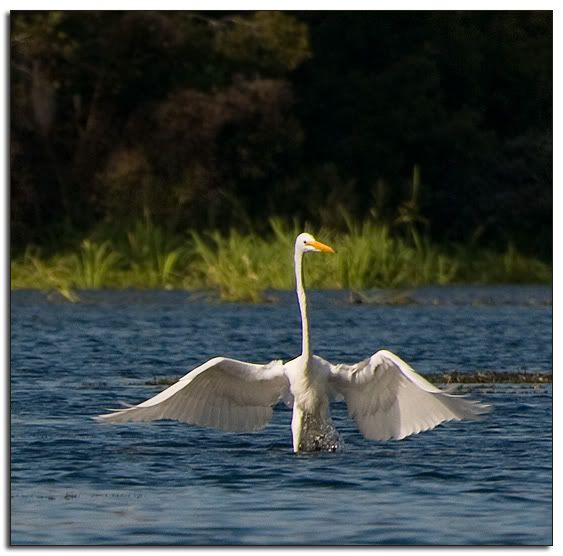 ---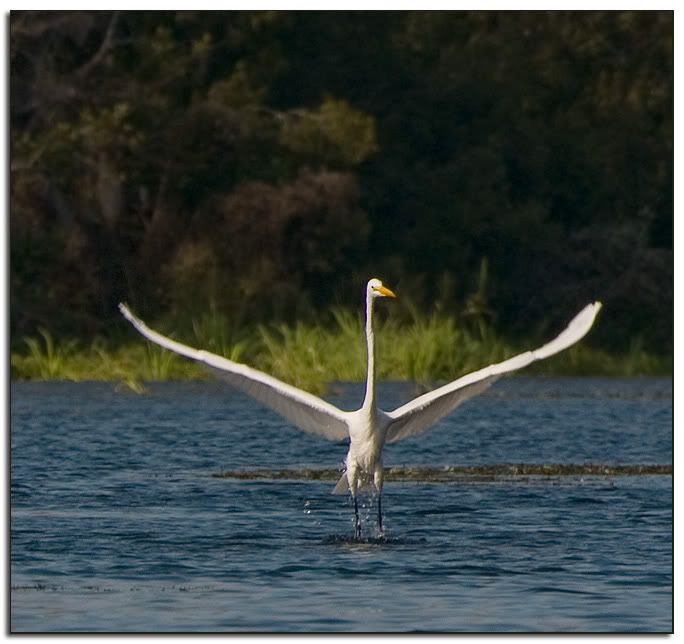 ---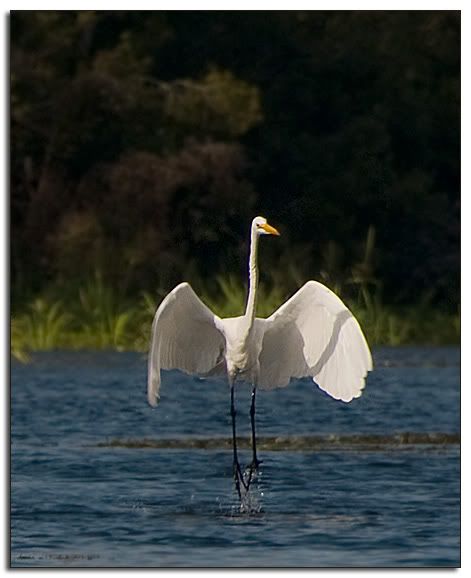 ---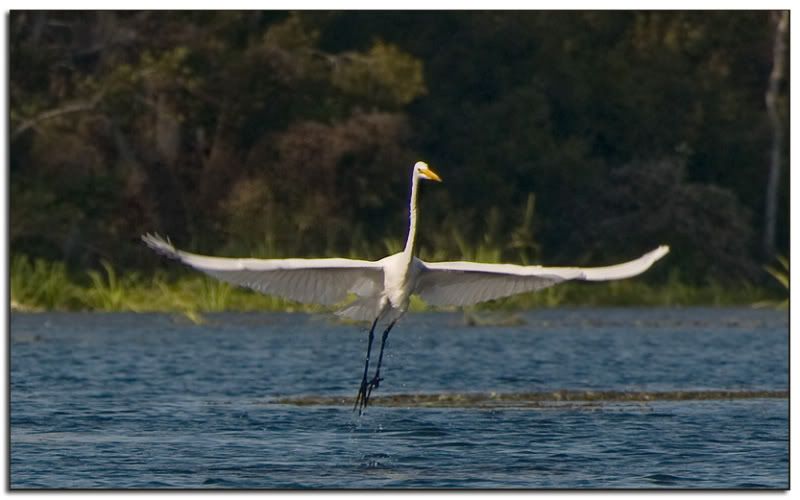 At the risk of being redundant, I have never seen an egret dive for food like that. When I got home I looked in all my bird books for any reference to egrets feeding in this manner, and every one says that egrets "slowly stalk their food" in the shallows, or on land. This was just plain weird. I actually witnessed three hovers and dives before it flew off to the side of the river.
I followed it over, just to see if maybe it would change into another bird or perhaps speak to me... No such luck, it just stood at the edge.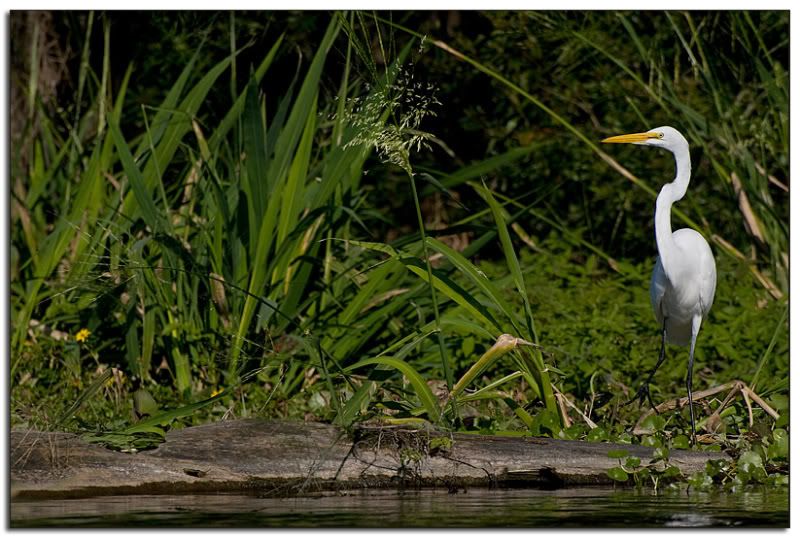 I paddled on, feeling I had definitely seen something unusual. Returning to normalcy, this juvenile little blue heron was fishing in some surface greenery.
I paddled and drifted upstream. I decided not to go into Blue Spring again, but I did paddle over to the the inlet entrance since this young ibis was perched alone on the tree branch that extends over the river. It was uncommonly tolerant of my presence and let me take several photos from close by.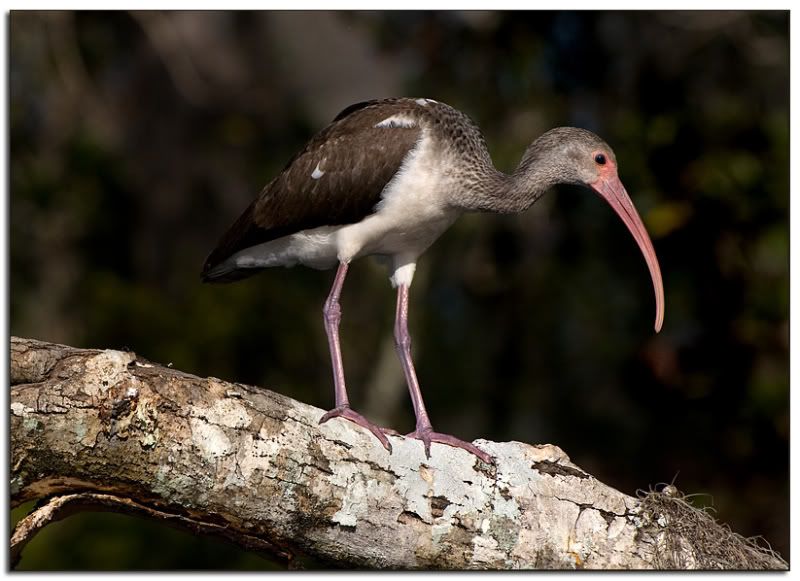 A great paddling day all around--wonderful weather, wildlife, new boat, and a very strange performance by an egret. That was yesterday....today it drizzled rain all day. Not sure when the next paddling day will be.
Stand by.