There is no secret to balance.
You just have to feel the waves.
~Frank Herbert

I have been talking about paddling this lake for a very, very long time. DH and I decided that since the boats were still loaded from the recent Wacissa trip, we would finally get to Piney Z Lake. When we left home, there were clouds in the sky and a very light and intermittent breeze.
One of the things that has kept me from paddling here alone is the long (and to my mind, totally unnecessary, but maybe there is reasoning going on that I don't understand) distance that you have to haul your boat from the parking lot to the ramp. There is a (locked) gate across an opening wide enough for a car, and the entire length of the path from the parking area to the ramp could be driven. It crosses a walking trail, but cars approaching could be easily seen by walkers, and signage could be put up on all sides. It's a long way to carry a boat before your paddling trip....and seems many times longer after it. They have erected paddling trail signs and offer maps, but this aspect makes it very paddler-unfriendly, at least to solo women paddlers of, shall we say, more advanced age than college students. Perhaps there is some concern about the integrity of the "fishing finger" on which the ramp is located as far as supporting vehicle weight--allowing vehicles acess to at least the start of the finger would be of great benefit since it would eliminate the incline from the parking lot (again, fun to climb lugging your boat after a day of paddling...).
While this was actually taken at the end of the paddling trip, here's a photo of the ramp from the lake (with DH and his kayak already on shore).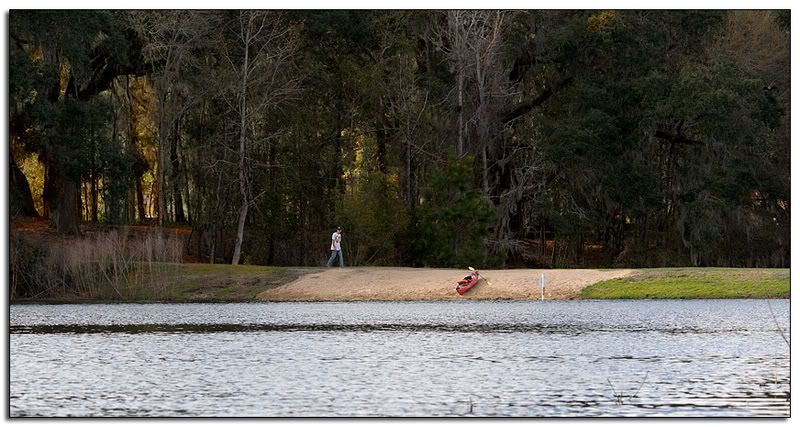 The parking lot is to the left, up the hill.
So off we went. There is an island across from the ramp and so we decided to explore that. We have often spotted gators and many egrets hanging out along the edge--but always through binoculars from the ramp area. This rather large guy was enjoying the warm day.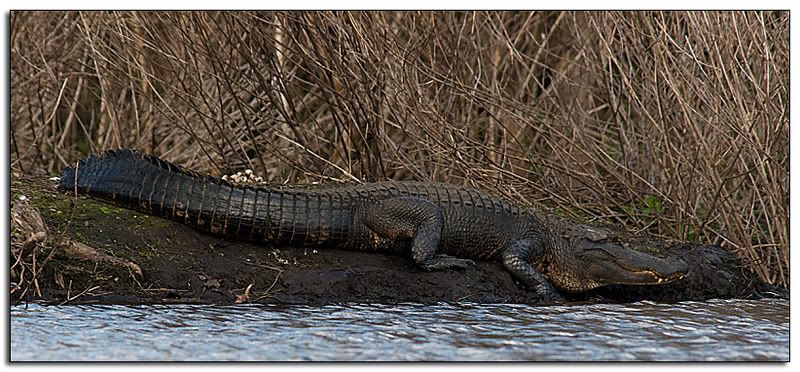 At one point the lake was nearly mirror-smooth. We saw a lot of anhingas. This one was perched on a platform on which we have previously seen osprey nests.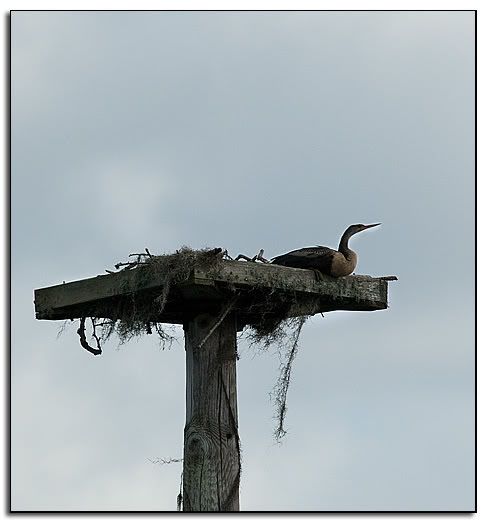 There are several fishing fingers on this side of the lake. Some people were fishing off of one of them as we went by. The breeze picked up a bit. We decided to head to the causeway that separates Piney Z Lake from Lake Lafayette.
This great blue heron was standing on one of the vacant fishing fingers as we went by.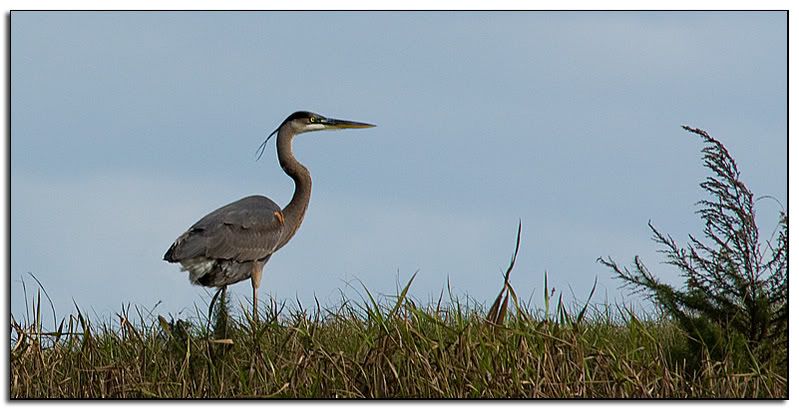 As we appraoched the causeway, the breeze turned into wind and the water became quite choppy. Hmm, seemed like a good time to turn around, which would also put the wind at our backs. We were alongside an extremely long land extension and intended to cross over, hoping that the wind would be less along the banks of the lake. There are many spots, marked by high pilings, through which you can cross. As we approached one, DH spotted an alligator on the grass on the spit of land, which then slid into the water. He's not comfortable around gators and didn't want to cross anywhere near that one, so we continued on. We did finally cross, but the wind was no better on the other side. I was in my short Manitou since the new long one was mounted on the trailer (which we were not using for transport); it was easier before our Wacissa trip to just toss the short one into the pickup bed with his boat than take the new one off the trailer. It's a perfect boat for calm water...less than ideal for that kind of chop! I was bobbing around like a cork. The wind was too strong to hear each other so we just gestured that we would follow the shoreline back to the ramp. The waves were literally breaking over the bow of my kayak. It occurred to me that this was one of those things that would be great fun...once back on land safely and with my camera intact!
As I suspected would happen, the wind almost totally died down as we got closer to the ramp, the water calmed to mere ripples. ARGH. I really,
really
like this lake and had hoped to spend a lot more time exploring it than we had, and in a more relaxed manner. DH decided to head back to the ramp; I decided to take another turn around the island across from it. I just wasn't ready to leave yet, now that conditions were good again. I looked across the water and saw this egret flying by.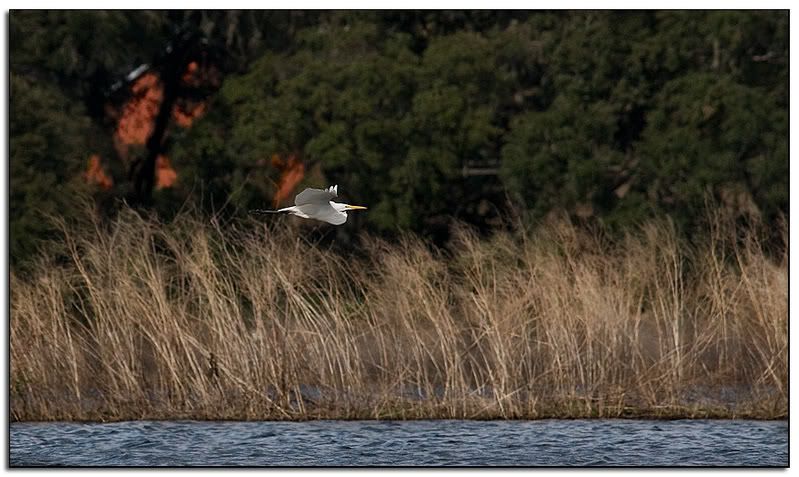 And then back to the ramp (which was when I took the first photo in this post). I was right--once off the water, I realized that it
had
been fun, and very exhilerating. Not conditions I want to encounter often, though....
Despite the problem with access, I will be going back to this lake many more times. We didn't see any wood storks, but during much of it, they could have flown right by and we wouldn't see them since we were concentrating on paddling through the waves. We missed a huge section of shoreline since we cut the trip short. There were more photos to be taken but even if I had wanted to risk lifting the camera, it would have been difficult to stay focused on anything. We barely scratched the surface of what the lake has to offer a paddler. I can't wait to try it on a calmer day.
Stand by.