The richness I achieve comes from nature,
the source of my inspiration.

~Claude Monet

And here we are in Part II of the bird rookery photos!
First back to the egrets and their nest-building, which involved a lot of flying back and forth to find twigs and then bringing those twigs to their mates, waiting patiently in the nest.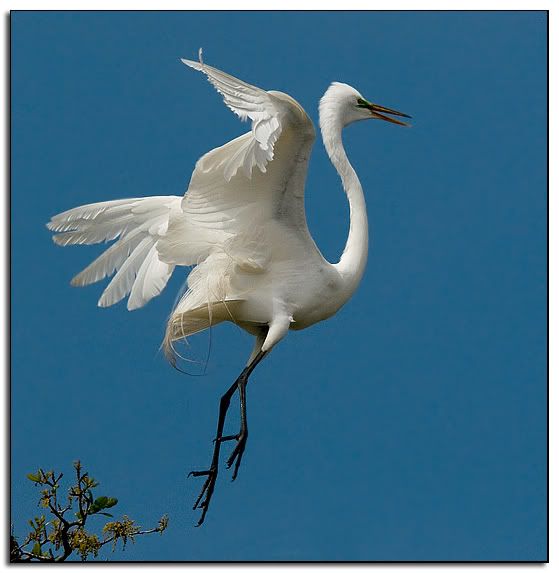 There were various degrees of over-achievers. This one, who found a
really big
stick for the nest,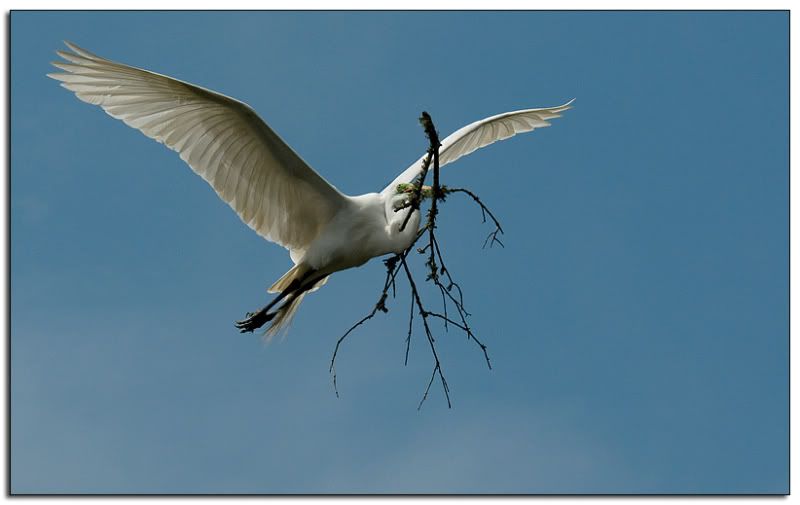 and then there was one that found an even bigger stick. Unfortunately, it dropped it in the water. When the stick hit the water, a gator swam over to investigate, leaving the egret perched in a tree, waiting for a second chance at it. Which it got.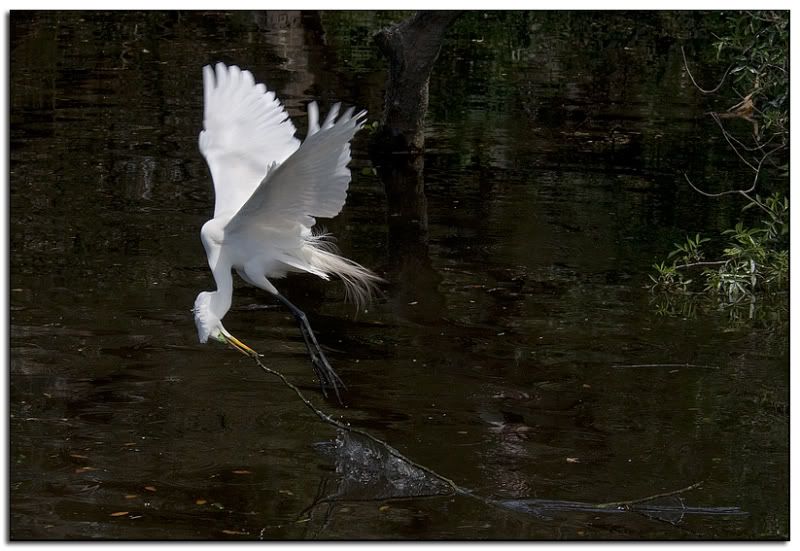 Making progress....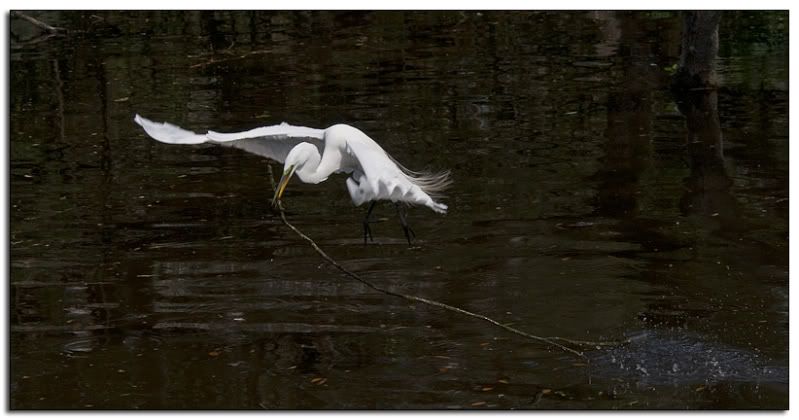 And then it dropped it. And left it in the water. Good call.
Then there were the less ambitious. I'm not sure if you can even make out the tiny bit of material in this one's beak. I call this one
Honey, I'm Home
.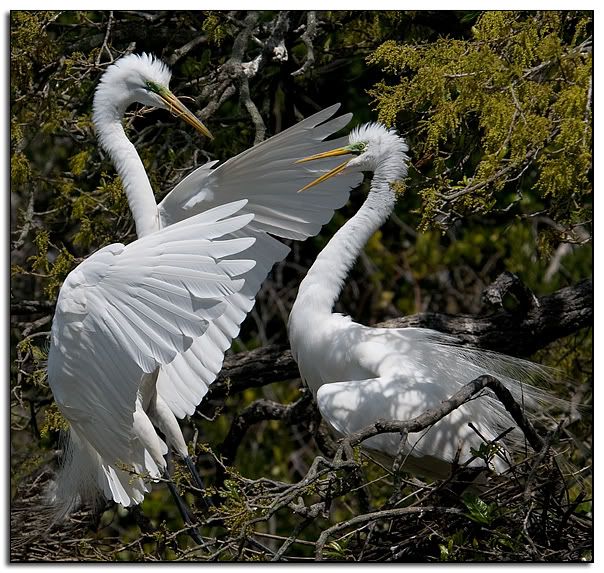 Once the nests were built, it was time to work on filling them.
---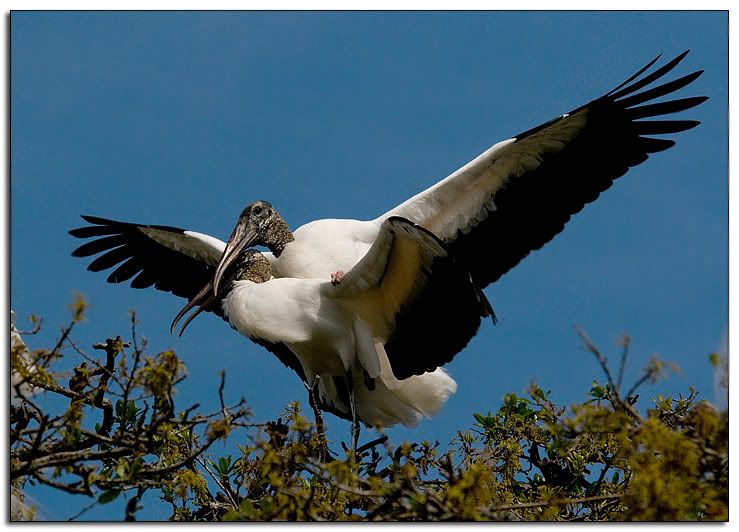 The not-yet-paired continued to work at attracting a significant other.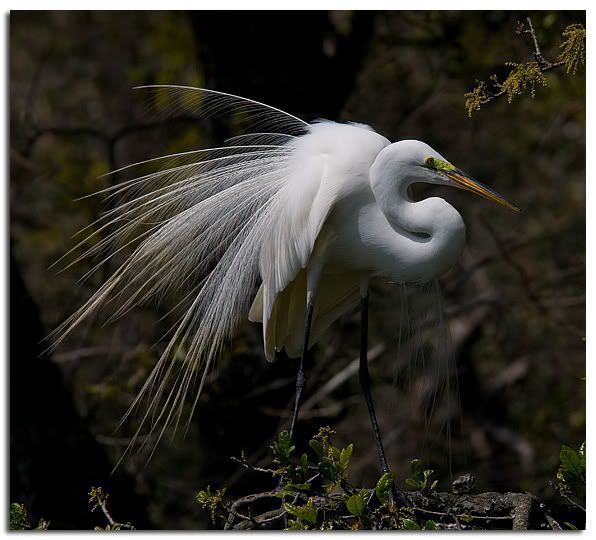 On both days that I was at the zoo, there were roseate spoonbills hunkered down in trees just beyond the water and behind the trees that the storks and egrets were occupying. Too far and too leaf-covered to photograph. And then on Sunday one of them came down to the water.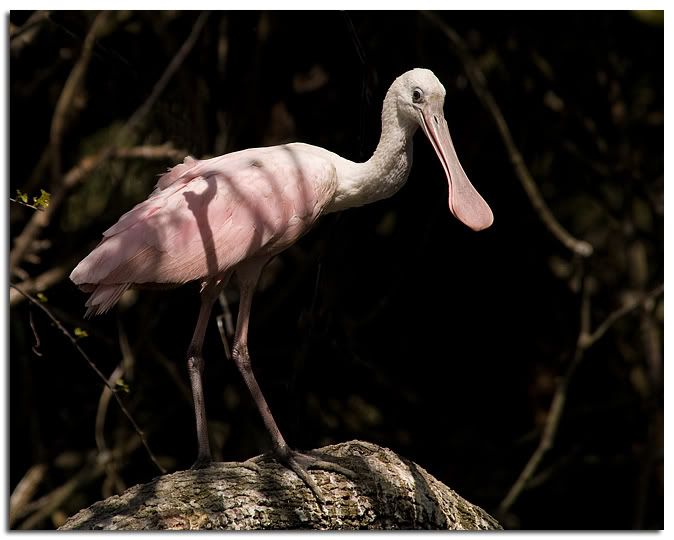 More snowy egrets showed up on Sunday.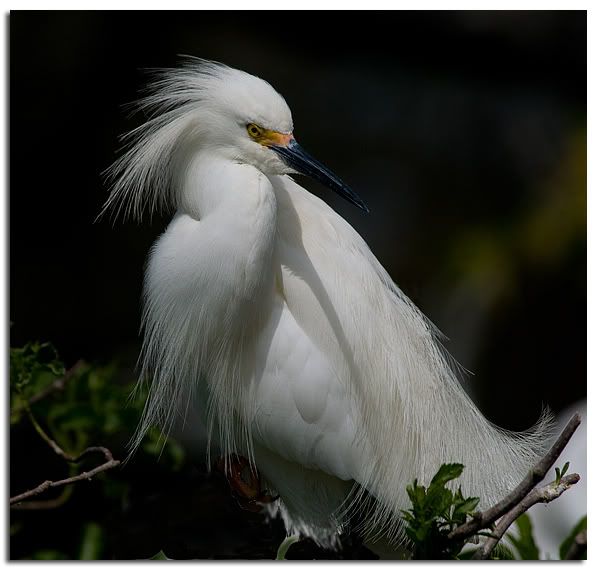 ---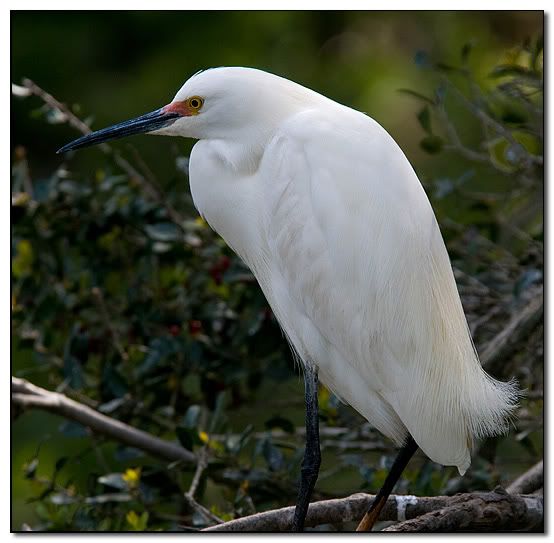 The odd thing about this rookery is that while you are standing on this wooden boardwalk marveling at the birds, many, many gators are swimming around about four feet below where you stand. I couldn't help but wonder, if only fleetingly, how often they perform maintenance on the underwater sections of the boardwalk and check the integrity of the railings. The gators are quiet and there are so many of them that after a while at the place you sort of get used to them and it's easy to forget what they are. Before I left, I turned to take a photo of some people on the boardwalk, with the gators gathered beneath them.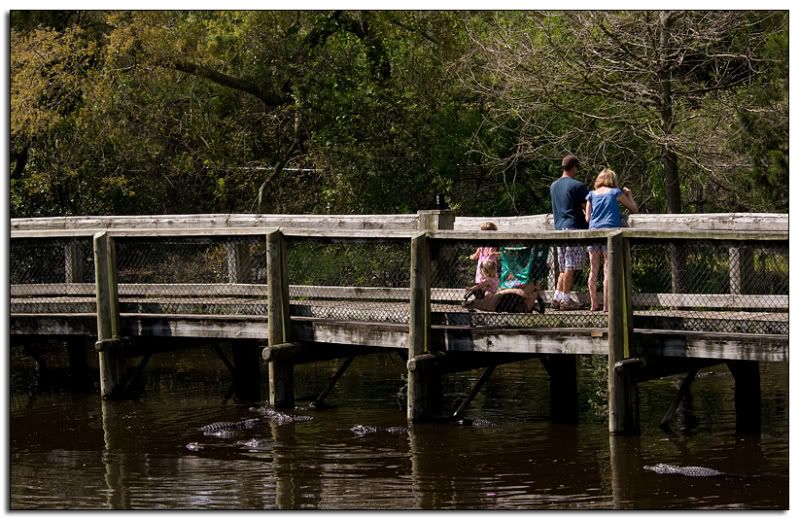 On my way back to the car I finally took the time to look at a few of the other exhibits. You can't go anywhere without seeing the gators, so of course I got a few photos of them.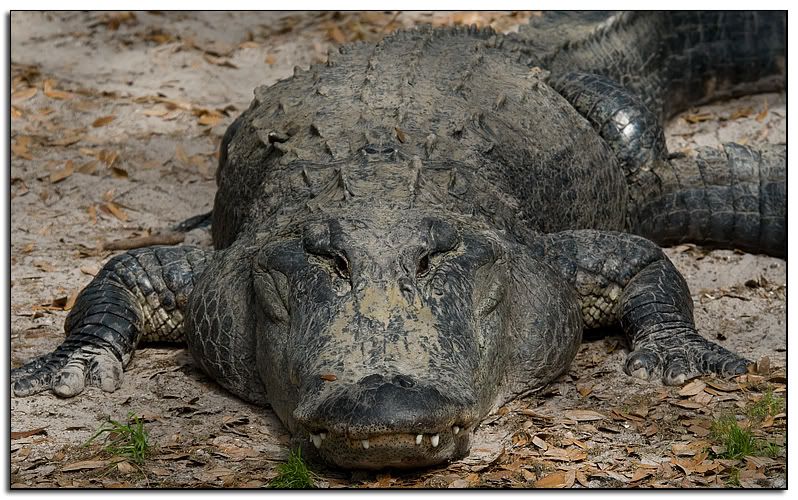 ---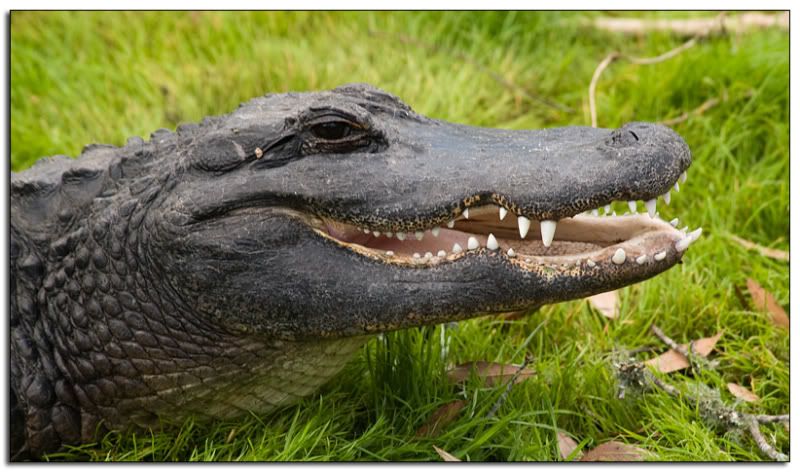 I'm not sure exactly what these are, but they are
huge
.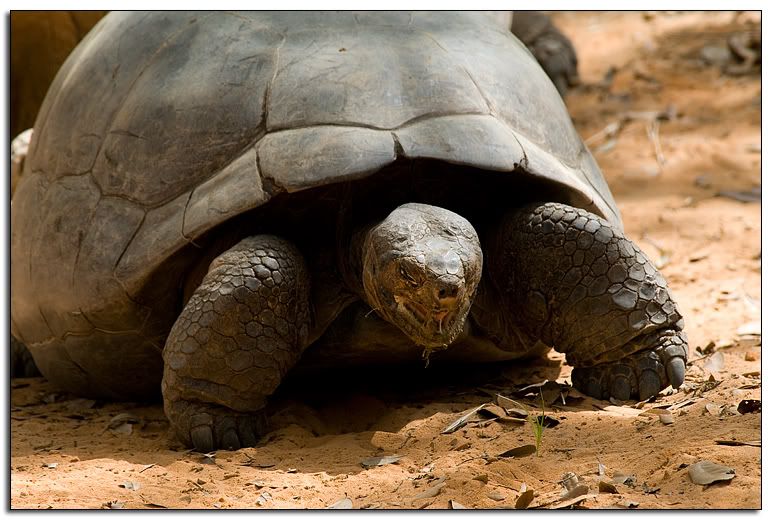 They have a lot of exotic birds, including parrots, African crested cranes, gigantic vultures, and this fella.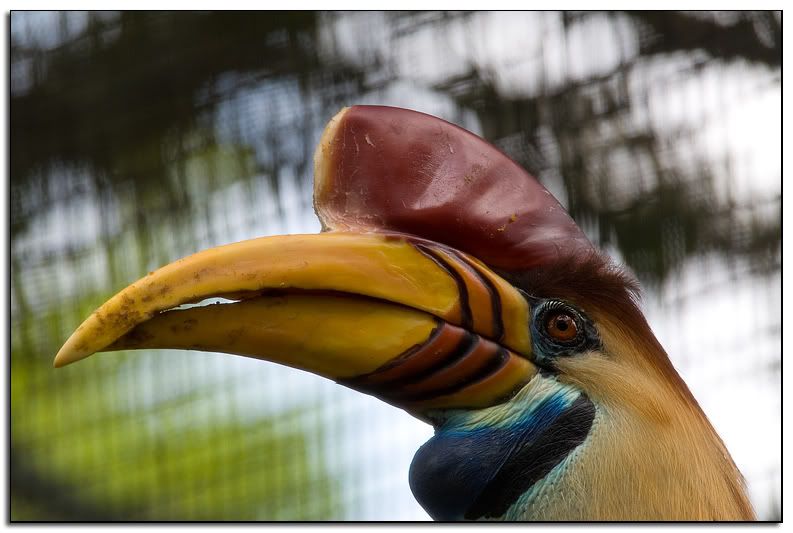 And that's it for the photos from this trip. Back to paddling now. I'm still waiting for our regular birds to return to the river.
Stand by.