Every moment of the year
has its own beauty.
~Emerson

It's still not paddling weather here! As I write this, in mid-afternoon, it's 42 degrees with a wind speed of 26 mph. Downright balmy for some northern states, but a bit nippy for Florida.
If I don't get out in the kayak soon, squirrels will take up residence in it.
But the blog languishes, and so I am here for a non-paddling post to talk about cameras. Or, to be more precise, about one camera in particular.
I use a Nikon D300 when out in the boat and on vacation and for other major events. However, it's heavy and bulky, and I like to keep a non-DSLR handy in the house for snapshots of the cats and dogs, as well as for use as a lightweight camera to take on day hikes and so on. I was using a small compact digital camera but it really hasn't been up to snuff for me, so I went looking around for an economical replacement.
I have had a
lot
of digital point-and-shoot cameras over the years. I've had cameras by Sony, Olympus, Canon, and Fuji. Obviously I am not filled with brand loyalty--I shop for cameras based on my needs and on reviews, both professional and consumer. I have noticed a lot of good reviews popping up here and there, online and in print photography magazines, about the Panasonic Lumix line. So I looked into those cameras. The G1, which is a new form of non-DSLR camera that functions like a DSLR and which is highly reviewed, was much too pricey for the fun camera I wanted. So I dropped down to the DMC-FZ28, which can be bought online for about $300 (and perhaps in stores for that or less). The reviews were favorable and it is loaded with nice features. I ordered one. It arrived a few days ago.
This is a
really
nice camera! It has actually far exceeded my expectations.
The camera is phenomenally lightweight. In fact, it comes with a shoulder strap that seems to be overkill for it; I found a much narrower strap I had from some previous camera that is far more suitable. It comes with a hood adapter that acts as a lens hood unless the lens is at full zoom--but no worries, it also comes with a large lens hood as well. My only complaint about the camera is that this large lens hood attaches in a really rinky way and kept coming loose, so I ultimately removed it altogether. And speaking of the zoom function, it's nothing short of amazing--18x! And that's optical zoom. Oddly, it has a digital zoom feature, which pretty much everyone has figured out by now should be turned off immediately and never used--most of the newer digital cameras don't even offer it. But here's the other side of the zoom function: when the camera is in wide angle mode (no zoom at all), it is
very
wide angle. I think I actually said "whoa" out loud the first time I looked through the viewfinder. So--great for scenics but with a powerful zoom. Weighs nothing. The menu is fairly minimal and the manual is comprehensive. Oh, and get this: you can shoot in RAW format with this camera. Unfortunately it is not in a form that Adobe Camera Raw for Photoshop CS3 can read--but it does come with a RAW editor. I didn't install it since I do all my editing in Photoshop (I won't be shooting in RAW with this camera). You can shoot in Fine JPG, Standard JPG, RAW, or RAW+JPG. Changing the exposure on-the-fly is simple. Autofocus is very good, though a bit slow (there is a manual focus option as well). It has a 10mp CCD. Rechargeable battery, and it uses an SD memory card.
I haven't had a chance to play with it since I haven't been out and about much since I got it. So today I decided to take it with me while I ran a few errands in a nearby town. This town has a little lake (more like a big pond) in the middle. Sometimes this pond is filled with all manner of water birds, sometimes there is not even one.
I was fairly lucky this time. The usual ducks were there.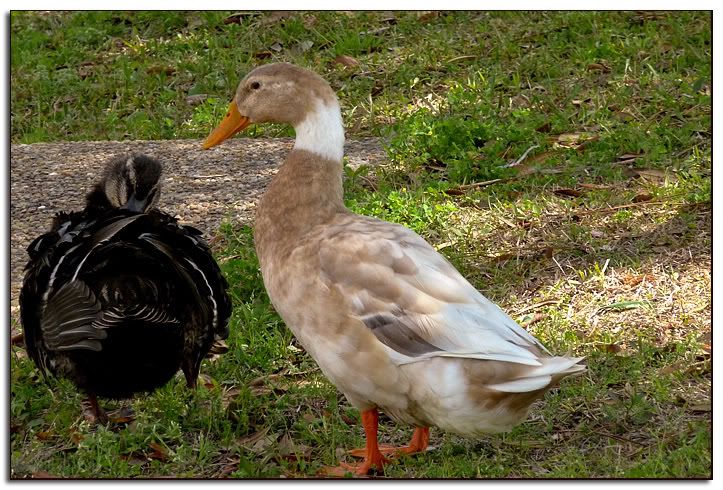 Since this post is mostly about this camera, I have done very little processing to these photos to enhance them, to demonstrate the quality (shot in Fine JPG).
Here is an image of the lake/pond shoreline, which shows the wide-angle capability when there is no zoom.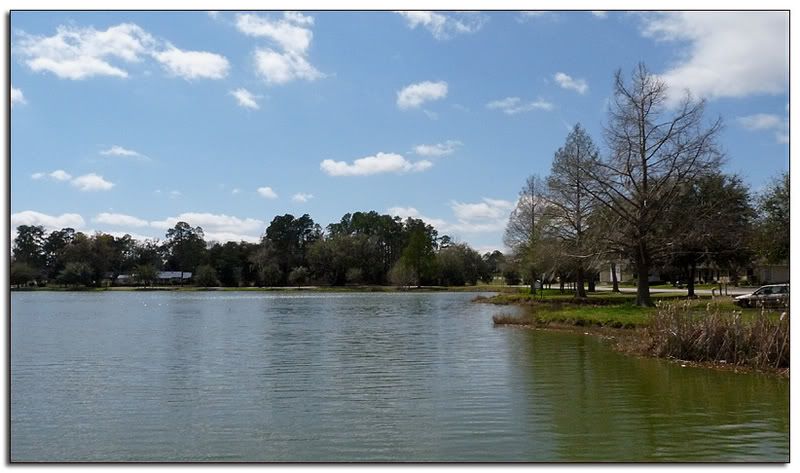 There was a cormorant perched on an odd metal box poking out of the water (probably some sort of monitoring equipment).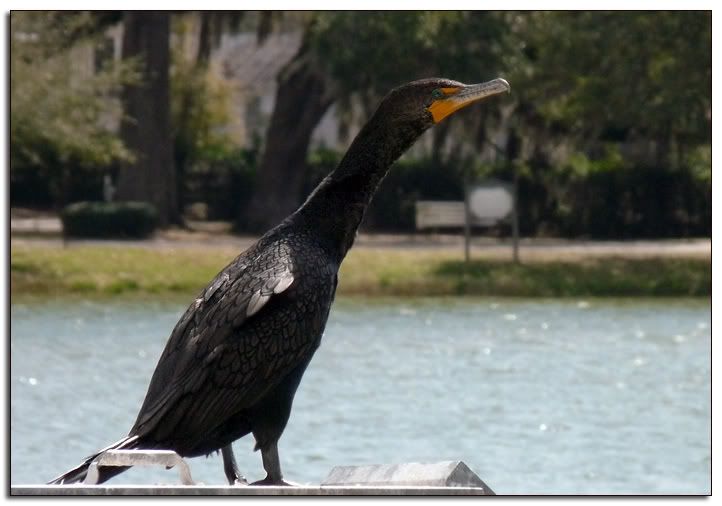 I drove to the other side of the lake/pond. It was getting very windy out. I was amazed to see some wood ducks in the water. Here's another indicator of the autofocus ability of this camera--it's usually very difficult for almost any camera to find focus when there is water--the water doesn't reflect the light beam properly, it tends to absorb it. So the camera struggles to get a lock on the the surface, which throws everything off. And having the water moving as the wind kicked up waves should have made this photo almost impossible.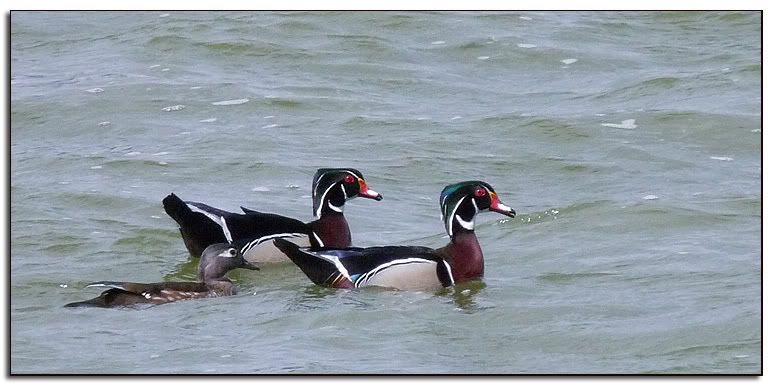 I'm very impressed with this little camera. If you have an older digital camera and you want to upgrade but don't want to go as far as a DSLR, this would be a great choice. If you want to get a capable camera for a family member who has shown an interest in photography, this would be a great choice. Or if, like me, you want a simple point-and-shoot camera to grab and go when you don't need the big-boy DSLR, this would be a great choice.
It's hard to believe, given the conditions outside today, but it is actually supposed to warm up considerably by later in the week....maybe there's a paddling trip in my future after all. Stand by.