If I had a tale that I could tell you,
I'd tell a tale sure to make you smile.
If I had a wish that I could wish for you,
I'd make a wish for sunshine all the while.
~John Denver

What a great day to be on the water! I was up and out of the house and on my way much earlier than usual, eager to get back to the river.
As I was drifting downstream after leaving the boat ramp, I saw many snowy egrets lining the channel. I thought
I have so many photos of egrets, and have posted so many, I think today I will not take any photos of white birds. I'm only taking non-white birds today
(and wondered if I would end up with any images...). Just after passing Duck Island, which is nearly opposite the launch area, I saw a bird splashing ahead of me. I could see that it had brown wings, so I assumed it was an enthusiastically fishing limpkin. A non-white bird!
Well, I wanted to post somewhat different photos this time. I hit the jackpot on this trip; here's a bird that has never been posted in a Wacissa trip post since this blog was started in 2005:
Yes... a brown pelican. On the spring-fed Wacissa River. It was staying on the water (rather than looking for fish from the air); it would see a fish (why search from overhead when the water is crystal clear?) and with great flapping and splashing, it would plunge its head in after it. Needless to say, I sat there for quite some time photographing it.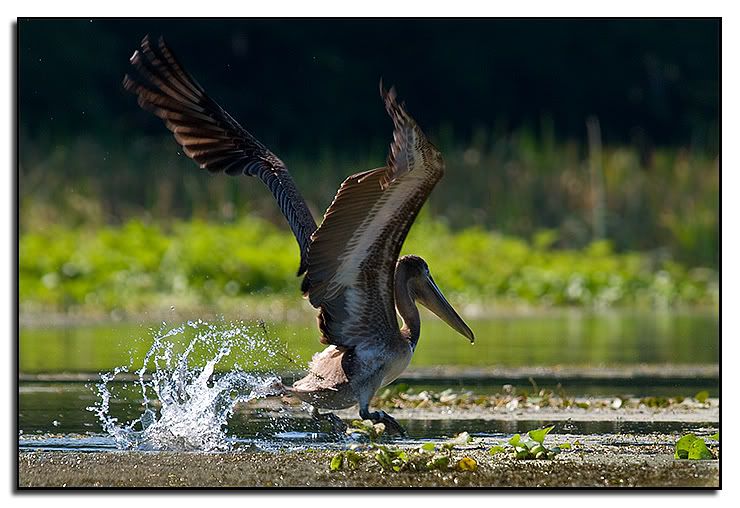 ---
---
---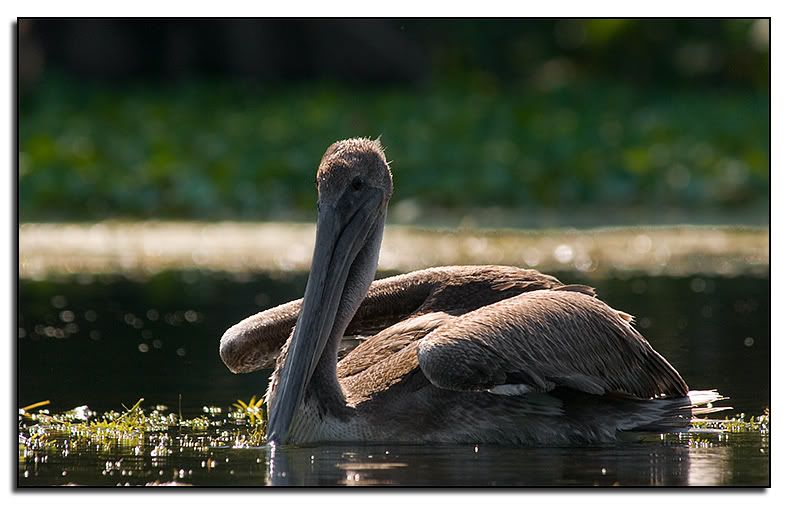 I finally continued on downstream. I decided to go into Cassidy Spring to check out the possibility of getting out for a swim (didn't; too buggy in there). As I turned the bend to enter the spring area, I looked up and saw this night heron about four feet directly above me, just watching me go by while it sat there drying its wings. I slowly paddled away and turned around to get a picture of it.
It was a nearly windless day and I drifted slowly downstream. A very large group of paddlers went into Blue Spring so I passed it by. About a mile downstream of the spring I saw this female wood duck leading her chicks around. She saw me coming and headed for the greenery along the edge of the river. I was able to get a photo just before they vanished into it.
A little while later I saw this pair.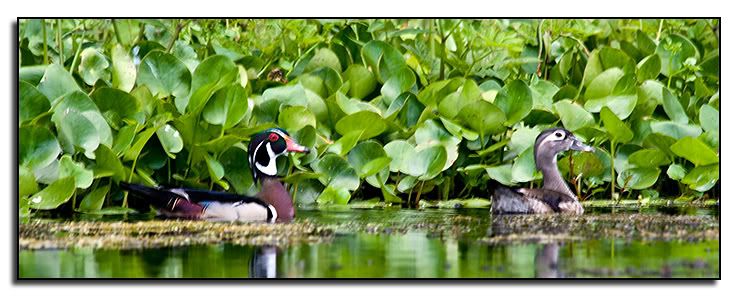 I turned around after a couple of miles and slowly paddled back upstream, stopping at one point to have the lunch I had brought (I had skipped breakfast altogether in order to get to the river sooner).
On my way upstream, a tricolored heron flew past and settled on some surface vegetation ahead of me and across the river. I paddled over to get a few photos. It ignored me as I approached and continued fishing. In fact, it ignored me until I brought the camera up and pointed it--must be camera-shy. Off it went.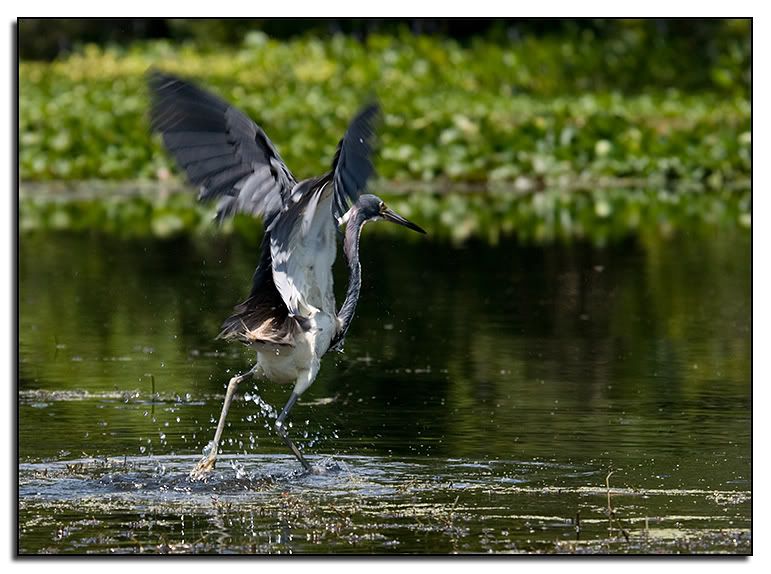 It didn't go far, though. It settled on the next patch of seaweed. These birds have such interesting coloring, and I love the long wispy reddish feathers on their backs.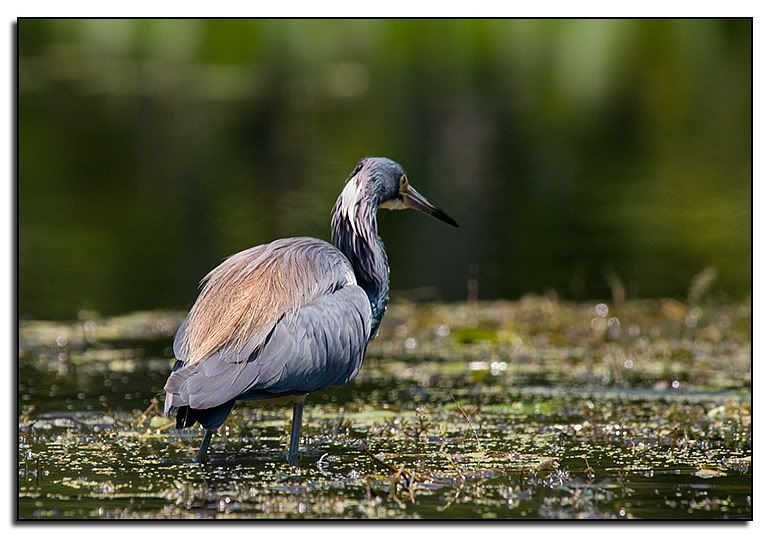 The pelican was still there when I got back to Duck Island. I don't know exactly how far it is to the nearest saltwater from the Wacissa as the pelican flies (so to speak), but it seems like it is a fair distance. I wonder how long it will stay on the river.
Regular readers of this blog most likely didn't believe me for a second when I said I was not going to photograph my beloved egrets. I mean,
really
.
---
The rain predictions are down for this whole week, so I hope to get back out again soon. Stand by.