I'm singing in the rain,
Just singing in the rain;
What a wonderful feeling,
I'm happy again.
~Arthur Freed

I rarely go to the Wacissa on Saturdays, but puppy times call for puppy measures. On Saturdays DH can stay with Sawyer, the new puppy, so he doesn't have to be penned while we are both away. So off I went.
I left home under blue skies with a few white puffy clouds. I arrived at the river 35 minutes later under a sky totally obscured by slate-gray clouds. The rain started after slightly less than an hour on the water...but! This was not a thunderstorm, this was a summer shower. Paddling under lightning is scary; paddling in a silent summer shower is
wonderful
. I haven't felt that cool (weather-wise) for a long time. It only lasted about 10 minutes, if that, and the sun poked through the clouds for a while after the rain stopped. More threatening skies were visible to the south, and so I did not get much past Blue Spring yet again, and my paddling time was only 2 hours. But it was a great 2 hours!
The snowy egrets are still plentiful near the boat ramp. This one posed nicely for me as I passed by.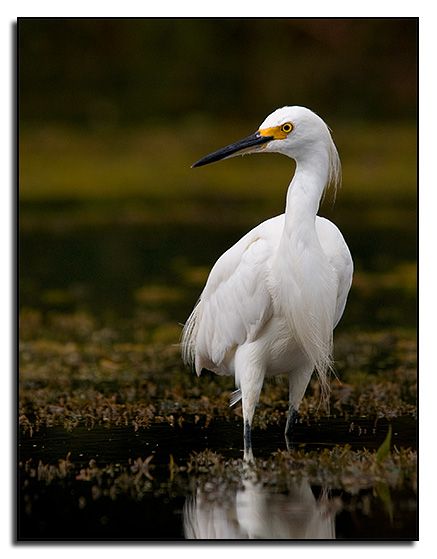 I drifted downstream on the left side of the river. Soon, though, I spotted a great blue heron on the other side and so I paddled over that way. There was a nice group over there--the heron and a juvenile little blue heron and a snowy egret. The great blue heron caught my attention first.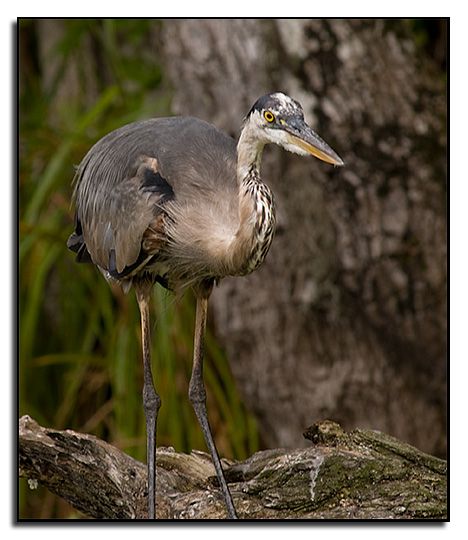 The young little blue heron (they are white as juveniles and get their darker feathers as they mature) was walking in the water behind the great blue heron.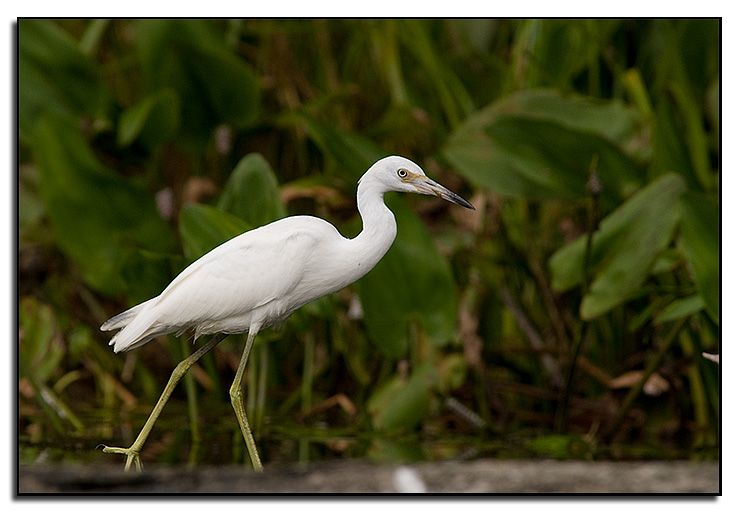 There was a snowy egret at the end of the log that the great blue was on. While I was focusing the camera on that one to get a photo, I noticed another snowy coming in from the right and I turned to watch it approach. It seemed very upset at the presence of the first, and swooped in, scaring my subject away and staying quite puffed up about it. I sat there taking a lot of photos as it kept its crest extended while claiming that spot.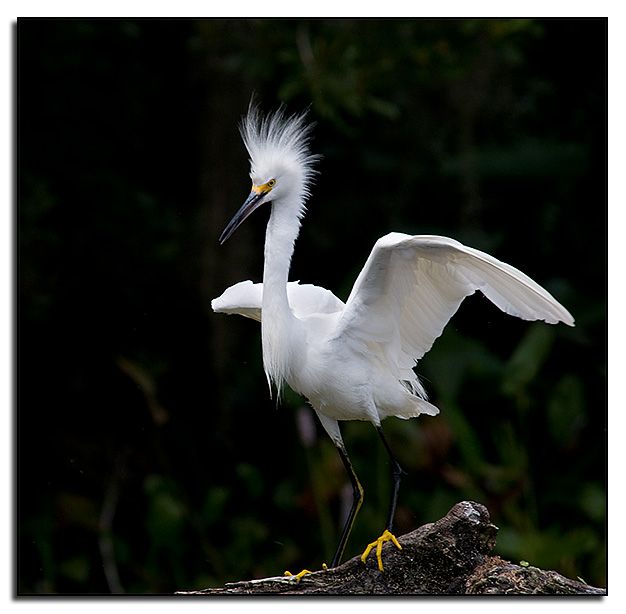 ---
---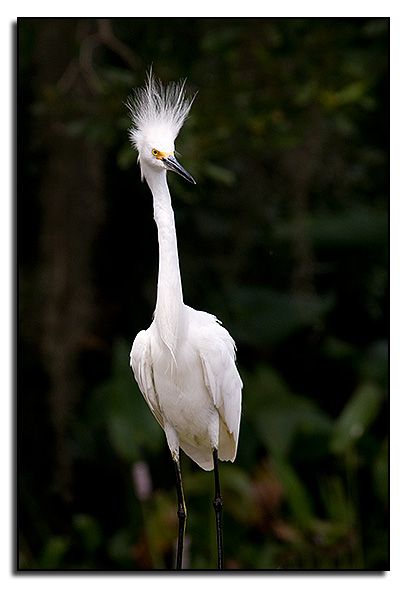 When it settled down, I continued on downstream. Along with the snowies, there are a lot of tricolored herons on the river now. I post many photos of them here, but I can't resist taking more when I see them.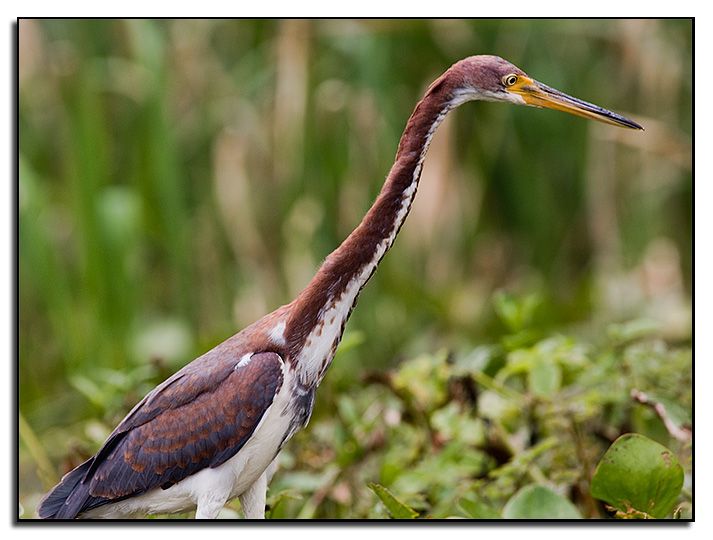 A great egret was fishing on the right side of the river.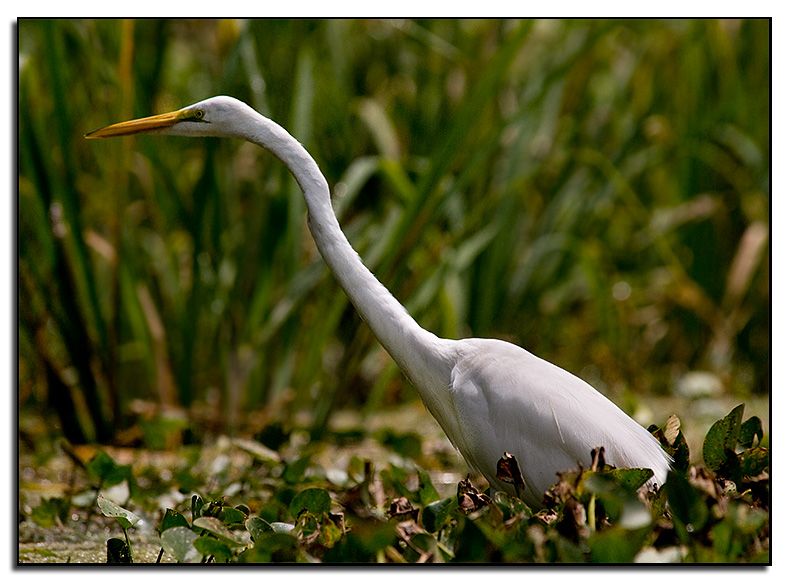 It left as I approached,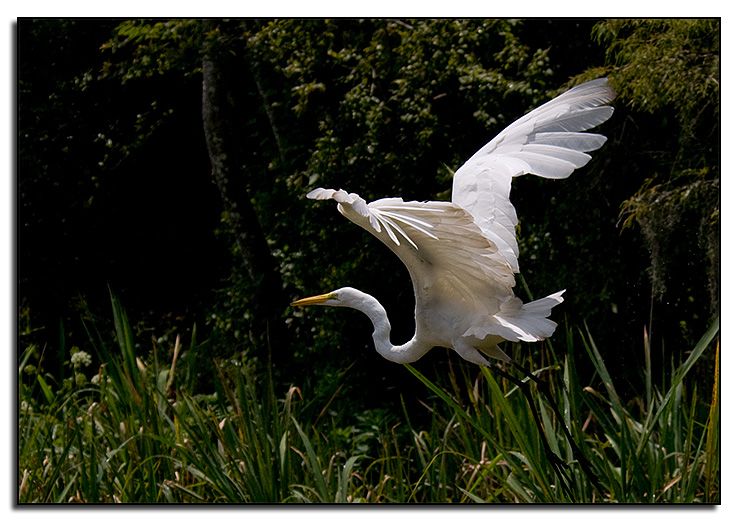 and soared away.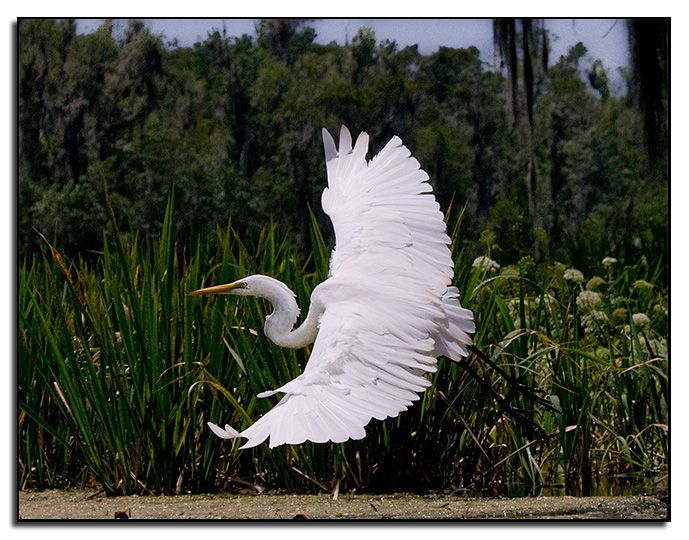 I turned around right after that and headed back upstream.
I came to what I think was that same great blue heron (he was a big guy), though in a different spot. This time he was preening. I stopped to watch.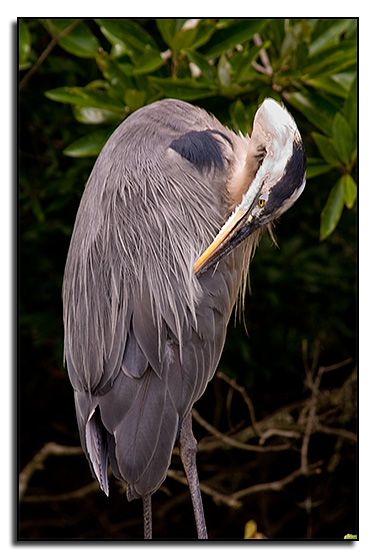 This was a very impressive bird.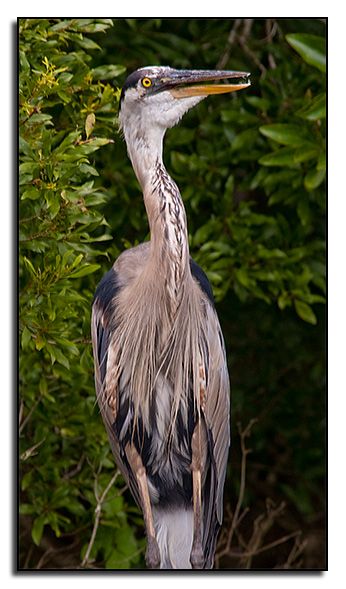 Nearby was another snowy, in a sort of odd pose.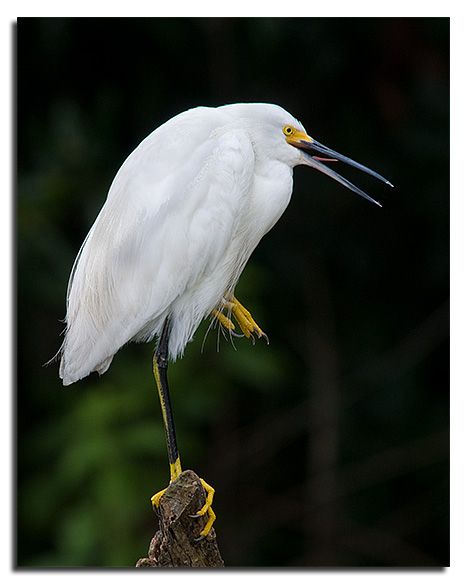 I left them and continued upstream. Thunder had started to rumble and the dark clouds were nudging aside clearer sky so it was time to get back to the boat ramp.
I had missed several juvenile night herons when they flew out of the trees before I had spotted them. This one was down near the water and held very still as I went by.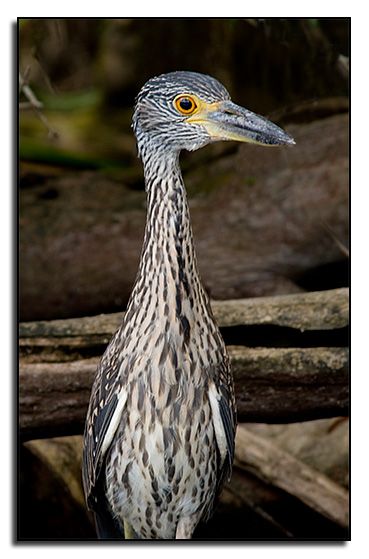 I was approaching another snowy that was fishing in some surface greenery. I decided I had enough snowy images for the day and so I was not going to take the camera out for this one. But it sat there so placidly as I got closer and closer that I had to take its picture.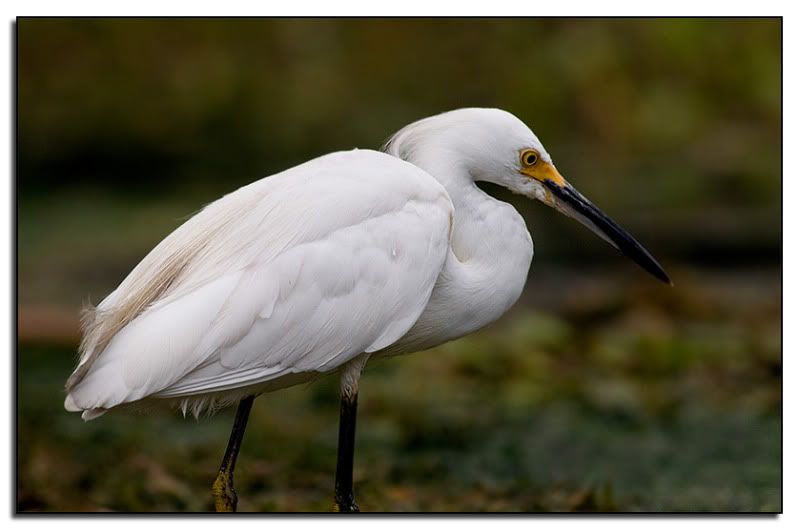 After taking that, I continued passing it slowly. It never flew away.
As I got closer to the ramp, I finally (finally!) saw a family of common moorhens--two adults and several little fuzzy babies. I had been afraid I would miss them entirely this year.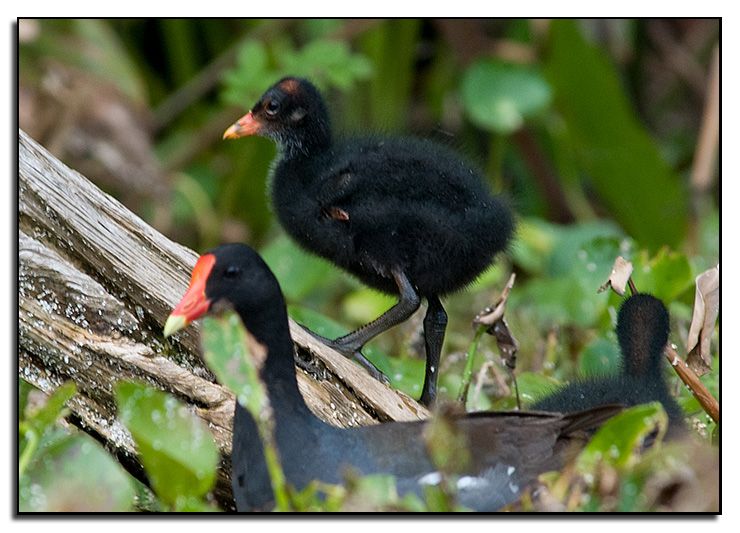 And that was it for this trip. Paddling in August in Florida is similar to paddling in January in Ohio--the weather just isn't conducive to such an activity. In our case, we have a strong chance of thunderstorms every day (and they can come up fast),and it's also just so
hot
now. So bear with me if this blog does not get updated as regularly during this month and the first part of September. It's temporary. And I
will
be back out. Stand by.