maggie and milly and molly and may
went down to the beach (to play one day)
and maggie discovered a shell that sang
so sweetly she couldn't remember her troubles, and
milly befriended a stranded star
whose rays five languid fingers were;
and molly was chased by a horrible thing
which raced sideways while blowing bubbles; and
may came home with a smooth round stone
as small as a world and as large as alone.
For whatever we lose (like a you or a me)
it's always ourselves we find in the sea
I camped at the state park last week with a friend. I have been to St. George often, but not for a long time; I had forgotten how much I liked it there. So I made reservations to return to camp for a couple of nights this week. My timing was fortunate--they had evacuated the campground the night before I arrived as a precaution against tropical storm Ida. Ida had passed by the time I got there. I didn't paddle, but I am posting the photos here since they include birds that are less common in this blog, as well as some photos with nary a bird in them. And I have to make up for lost time in posting over the summer. We'd best get started, there are a lot of photos.
The sky was still dramatically dark and stormy when I arrived, though the sun was working at peeking through here and there. The beach was darker than it had been last week, with vertical stripes of rain showing in the distance. A lone great blue heron was standing in the surf.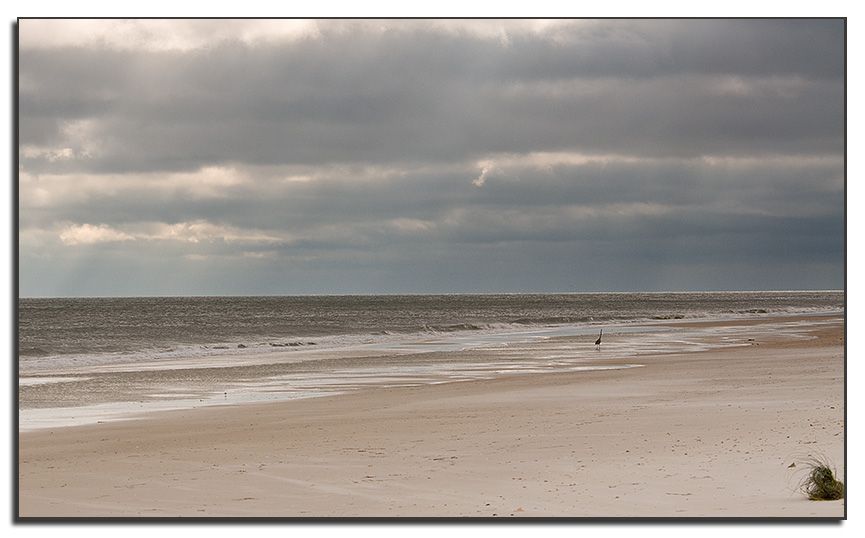 I walked slowly closer, hoping to get another picture of him. Herons show up a lot in this blog...but rarely with surf around them... As I got closer, the sun came through a hole in the clouds.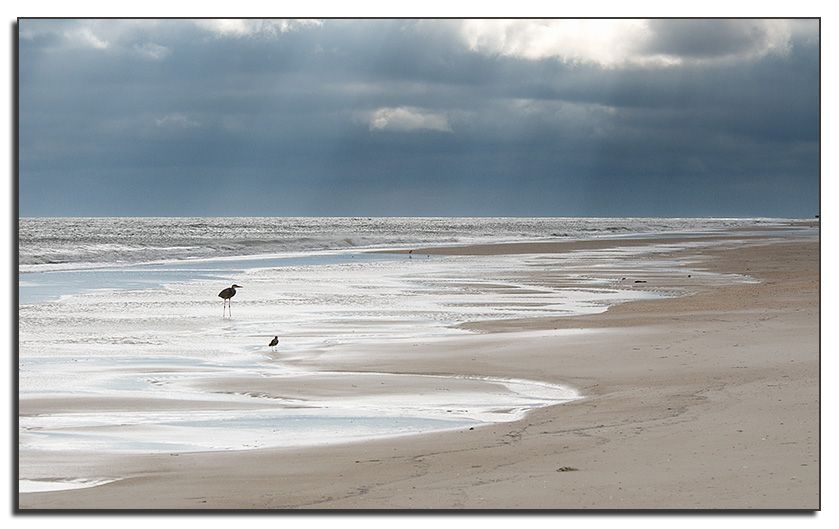 I moved away from the water and planned to pass him at a distance I hoped would not alarm him. That didn't work. So I took some photos of him as he flew by over the sea oats (no doubt headed to one of the freshwater ponds near the campground).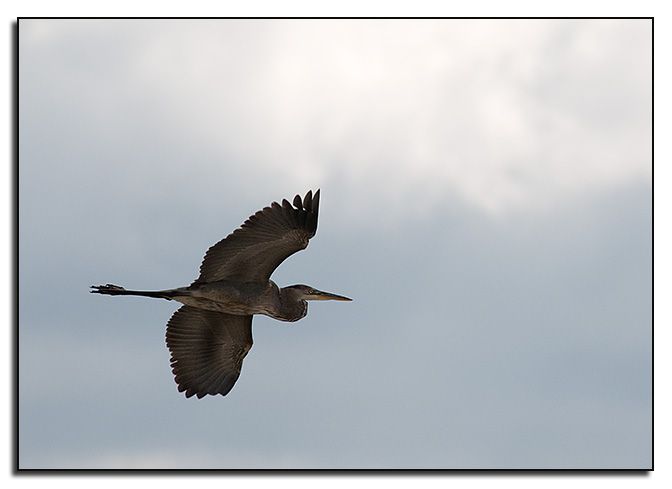 ---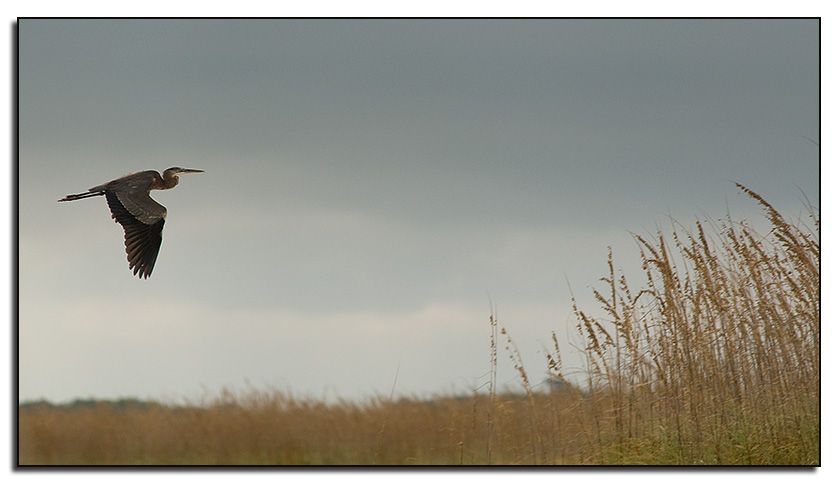 ---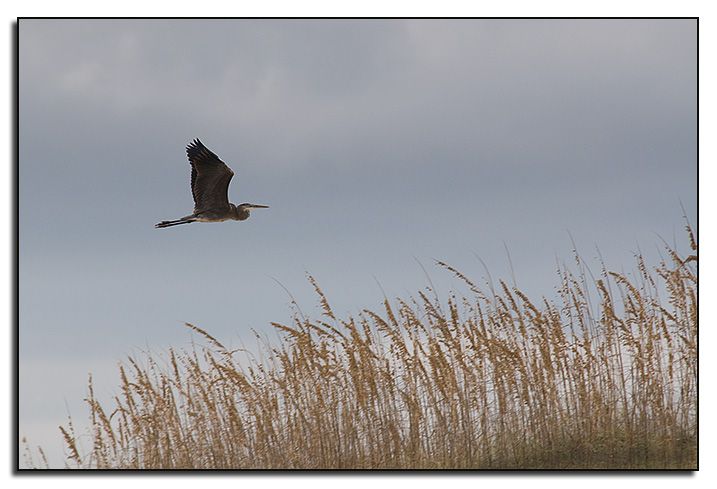 I walked along the water for a while. A pair of pelicans approached from ahead of me.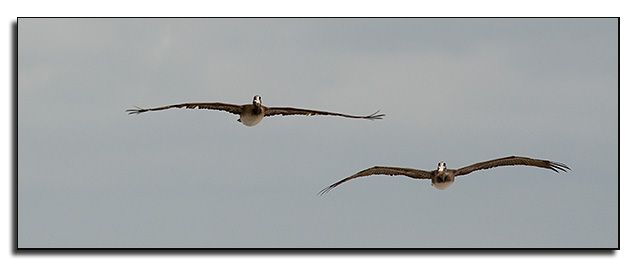 I watched as they came closer and flew by me.
---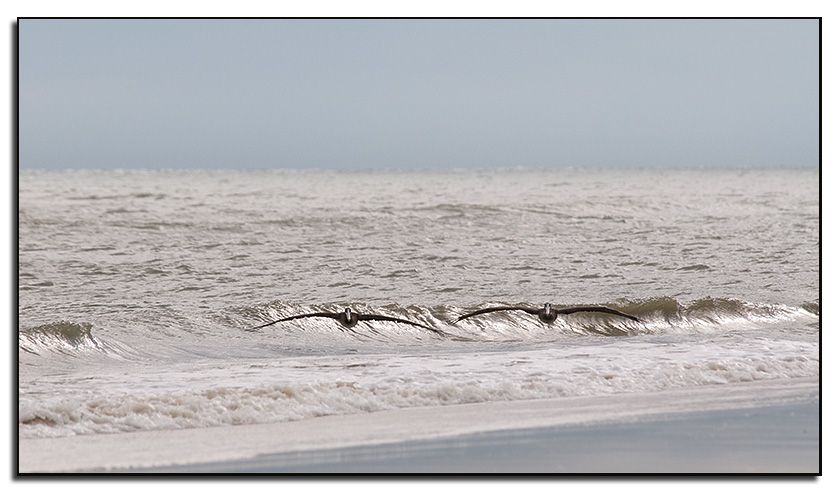 ---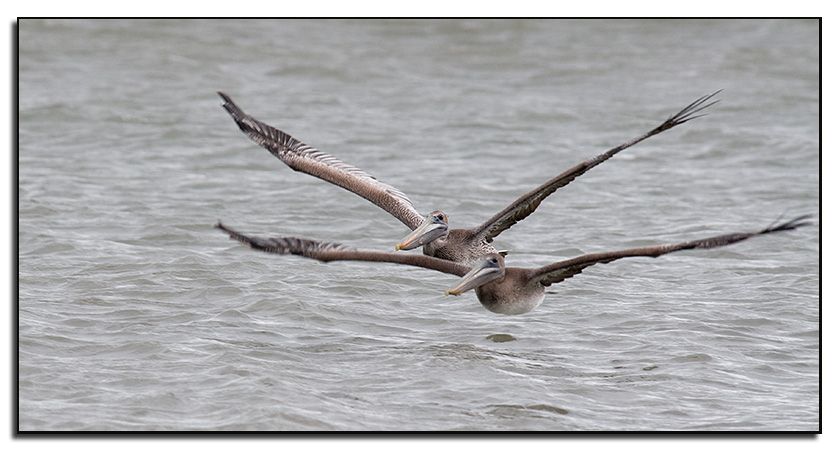 Here's one of them as it flew by: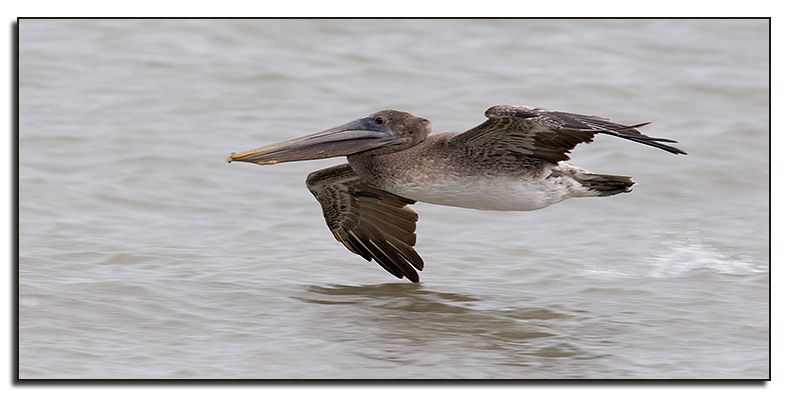 The wind was blowing strongly, sending up plumes of water above each breaking wave. A larger group of pelicans flew past, just ahead of a wave.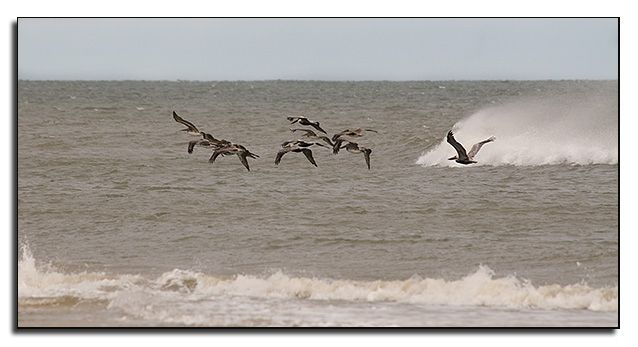 After a while I walked back to the campground.
The next morning brought a return to sunshine and blue sky. I took my chair down to the beach to just sit and enjoy the day. A sandpiper made its way through the little tidal pools and puddles in front of me. These birds are just too cute.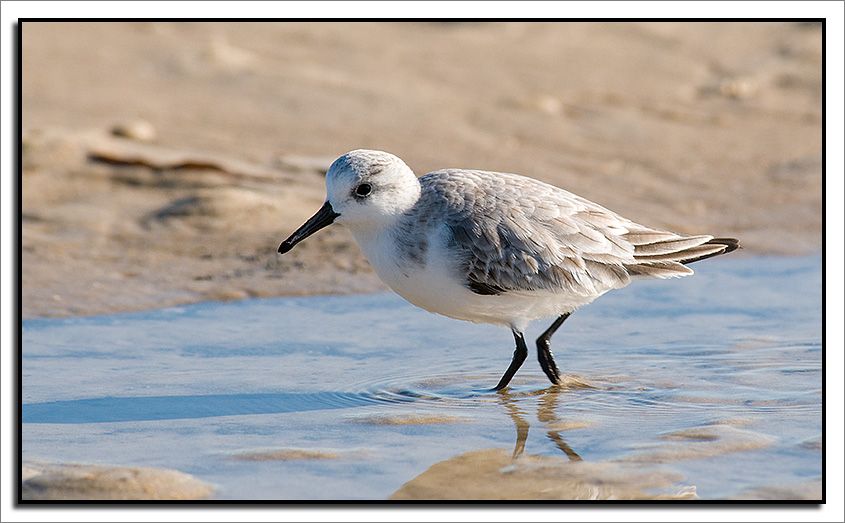 ---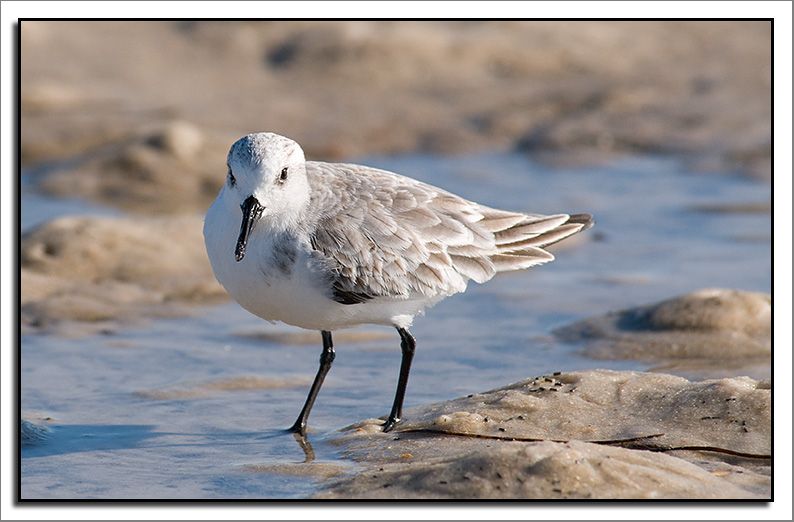 I keep the camera in a bag on the beach when I am not using it, having already experienced a problem with sand getting on the sensor (previous camera). So it was in the bag on the ground next to my chair when I saw a really large splash in the water not too far from shore. Too big to be a diving pelican. I watched and saw a dolphin leap out of the water, its body completely in air, Sea World-style. Before it had hit the water, I had the camera out of the bag. I was lifting it and turning it on during its third jump.
Just one more...just one more...
But no such luck, it was done jumping. I kept the camera out just in case, and in a few minutes saw a pod of dolphins swim by. None of them did any jumping, but I had to document their presence anyway.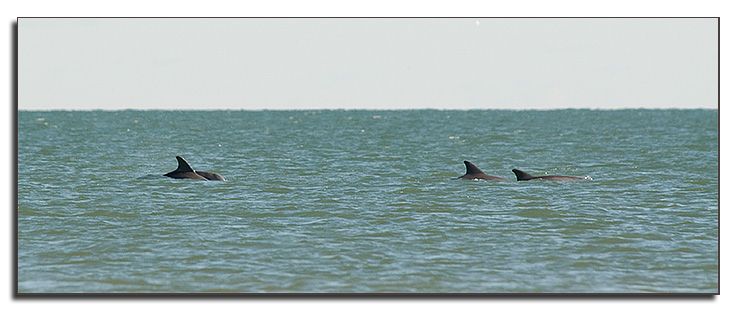 ---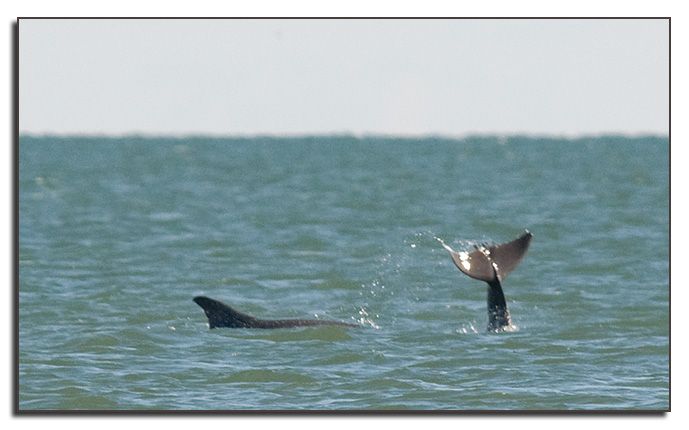 Some time later I picked up the chair and camera bag and headed back to the campground. On the way I saw the heron again, this time next to one of the ponds.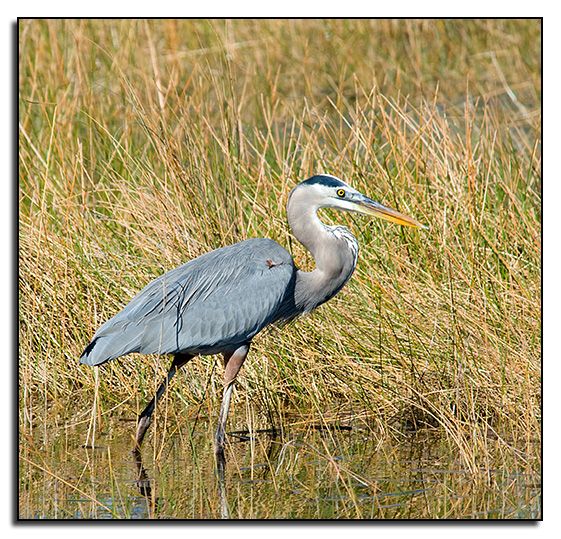 I also saw the bufflehead that hung out at one of the freshwater ponds, this time on blue water reflecting the sky.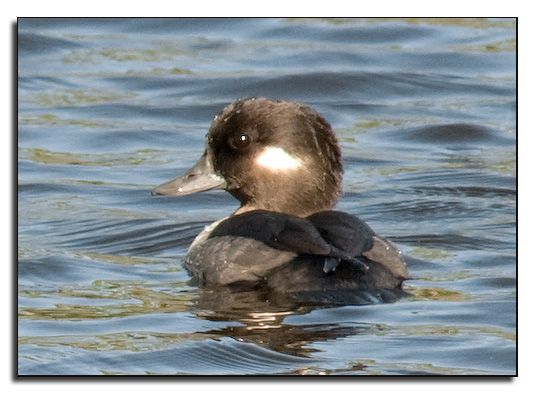 Before I left for home the next day, I decided to take another walk on the beach. The first thing I saw was a large group of pelicans just hanging out at the shoreline.

There was no way to get by them without scaring them off, so I turned around and went the other way. This pelican appeared overhead. I love it when they are about to dive; their webbed feet look somehow comical to me.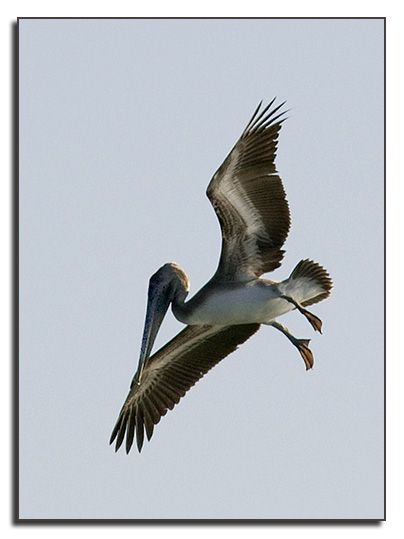 Last week there were a lot of jellyfish along the beach, as is fairly typical. This week, possibly as a result of Ida, I saw a lot of starfish washed up.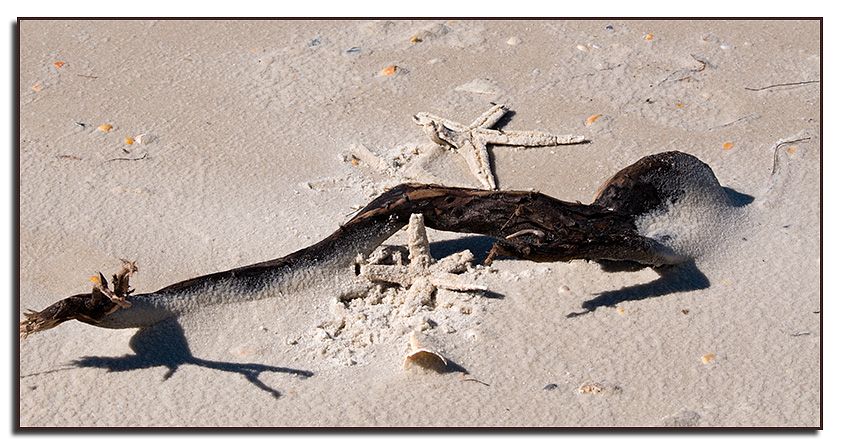 As I was strolling along, something moving across the sand caught my eye. A crab was scuttering toward the water. These guys are so funny. When they see you, they turn to face you and hunker down and freeze in place. Makes for easy photography.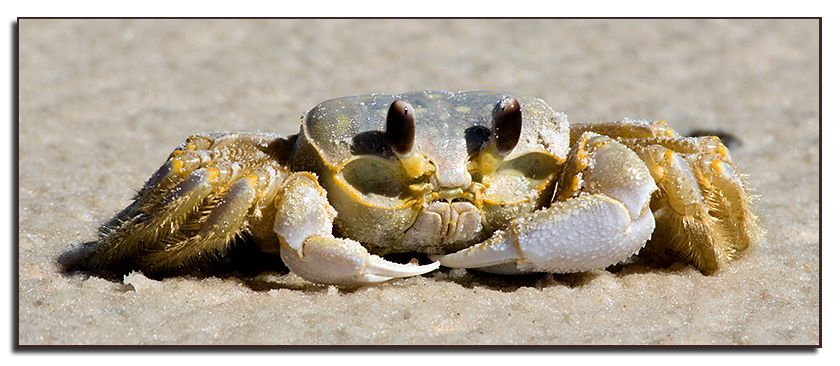 I stood there for a long time and apparently seemed less threatening. The crab moved slowly away from me, but I swear those eyes swiveled around so as to keep tabs on me.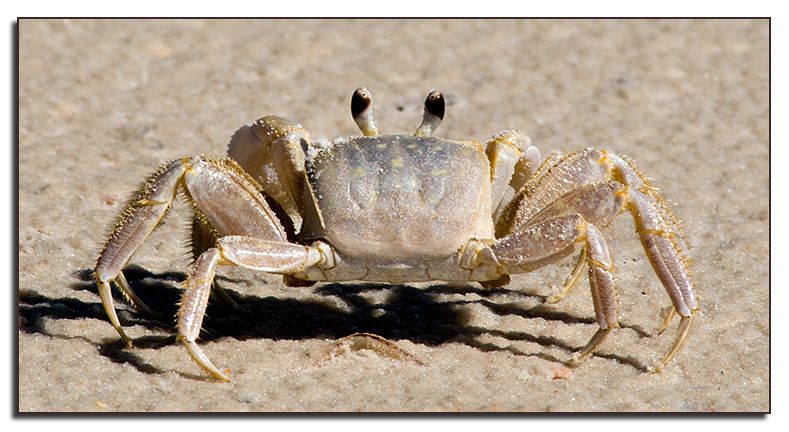 It may not have felt completely secure about turning its back on me; it decided to scuttle sideways away from me.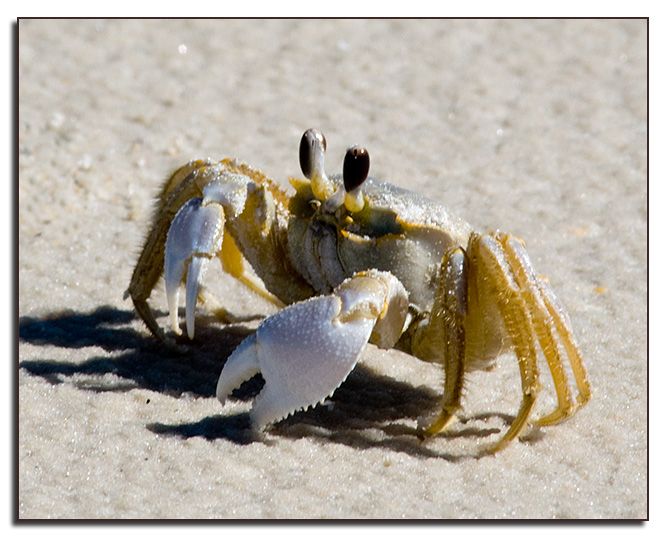 I left it alone and moved on.
And that was the end of this camping trip. I included info on the campground in a post last week in the
Camping Tales
blog (which is another reason this post is here instead of there). I have plans to camp again elsewhere this coming week, this time hopefully with paddling included. Or I will get back to my regular river. Either way, stand by.