Kayak Paddle Tales and Birdography
Friday, October 30, 2009
Remembering How to Paddle...
I want to fly like an eagle
To the sea
Fly like an eagle
Let my spirit carry me...
~Steve Miller

This has definitely been the longest interval between paddling trips for me for years, for a couple of reasons. I will spare you my whining about our endless summer heat. This was also the time for my North Carolina (non-paddling) trip, so that kept me away for a week.
Despite the weather, I took advantage of yesterday being rain-free, if hot, and headed to the Wacissa. In my absence they have applied some paving compound to portions of the parking lot, which will eventually harden and be very convenient. It was nice to see that. Otherwise, the only cars were three with kayak racks on top. A good sign!
A less favorable sign was the lack of flashes of white along the top edges of the river, as seen from the ramp. Where are the egrets? I saw fewer on this trip than I have for a long time.
It was great to be back in the boat, and I still remembered how to paddle it. I drifted down to Blue Spring, which was bright blue, clear, and very peaceful. When I got there, three paddlers were exiting out the back way. I paddled around the spring and then headed back to the river. This little bird (I can never recall what these are--some kind of flycatcher?) was perched on a tree limb in the channel leading out.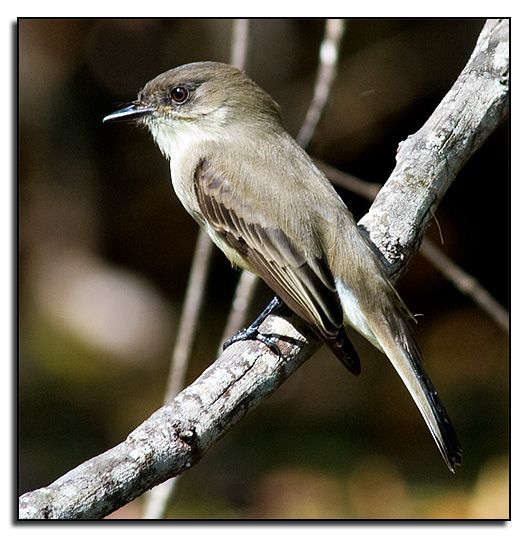 They are so small and cute.
Eventually I caught up to the paddlers that had been exiting the spring and drifted a medium distance behind them. They were unusually quiet as they moved downriver (no nonstop chatter), which was fantastic. After awhile I came to this juvenile ibis perched on a tree branch above me. His body feathers are starting to get their adult white coloring.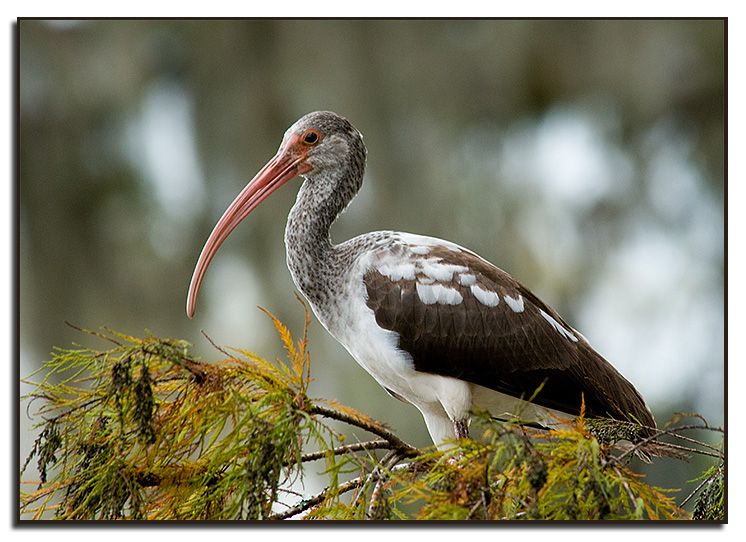 There was a similar juvenile on a lower branch. As I got closer, they flew together a short way downstream, where I caught up with them.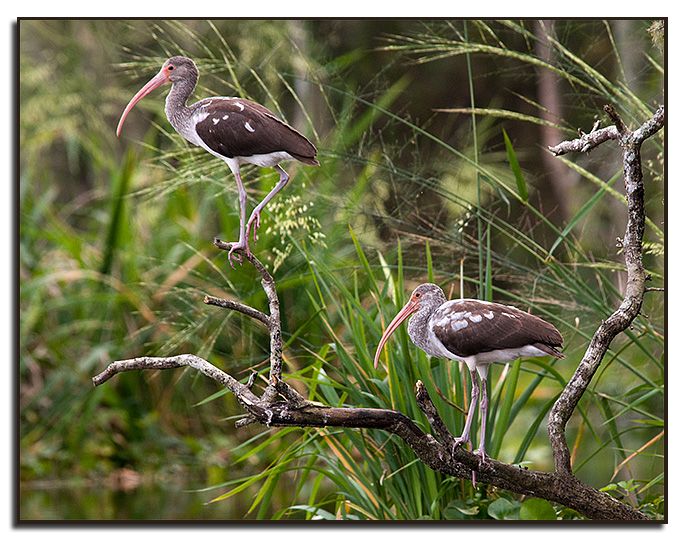 They were very close to an adult ibis, which may have been one of their parents.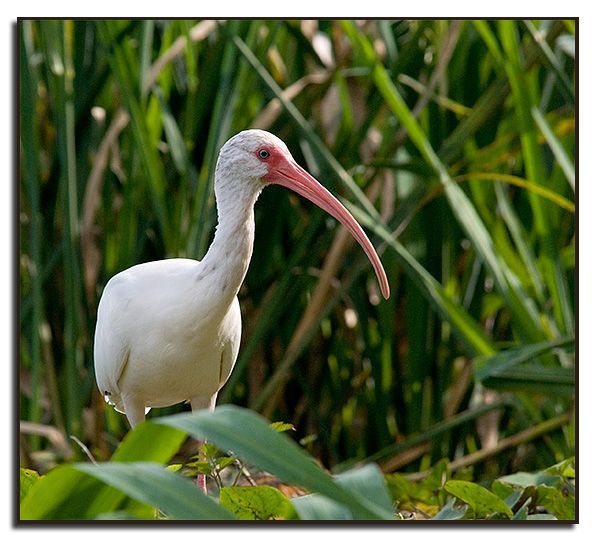 I turned around shortly after passing them.
There are yellow wildflowers lining the river on both sides. When the sun shines on them, they seem to be lit from within. Very nice effect.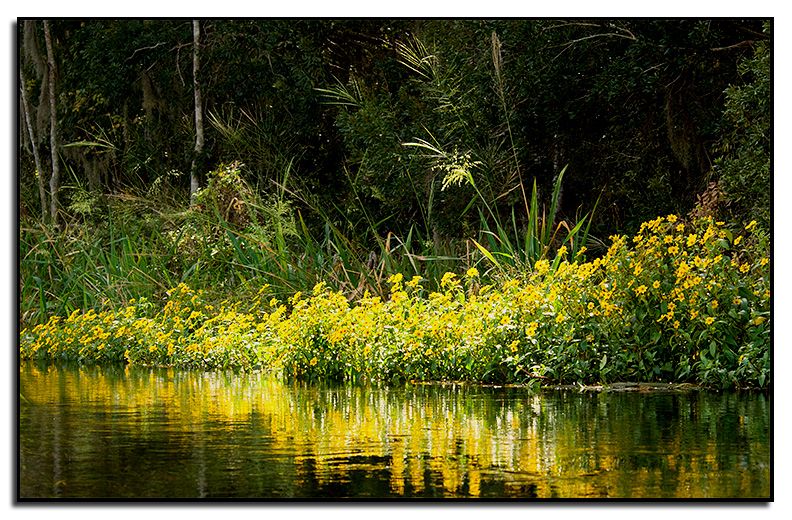 There had been an egret standing in one place for a long time--I spotted him across the river when I was photographing the ibises. He stayed standing as I approached him. Maybe he was meeting an egret friend there and was waiting patiently.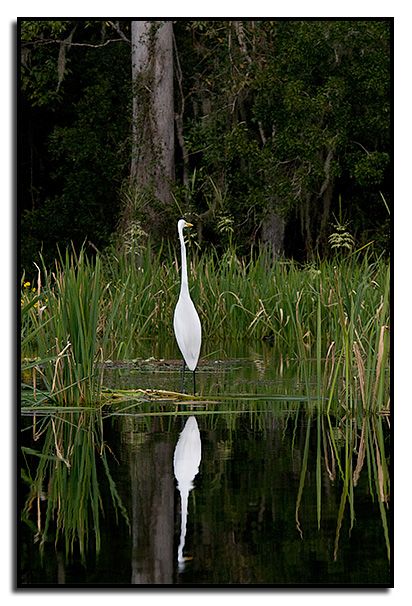 I decided to work my way over to the other side of him. I gave him a wide berth as I did so, but I guess he started to wonder what I was up to. Or maybe he just got tired of waiting.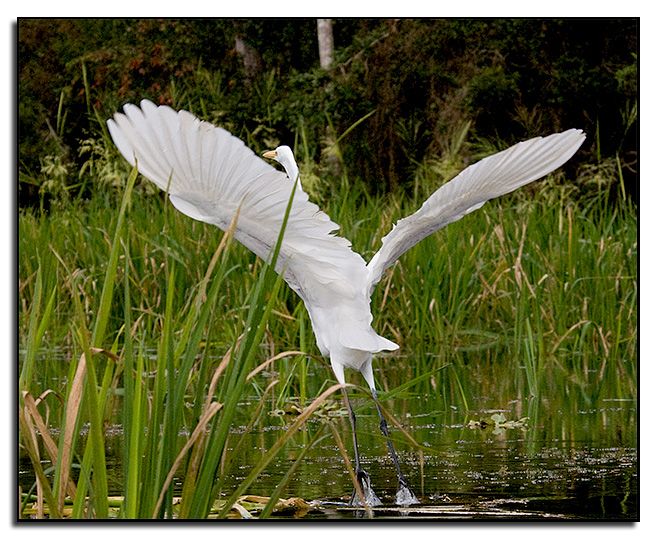 And so I paddled back upstream toward the boat ramp. When I was in the top section, which has a lot of surface growth on it now, I saw a sign that winter may actually get here this year--the lesser yellowlegs are back on the Wacissa.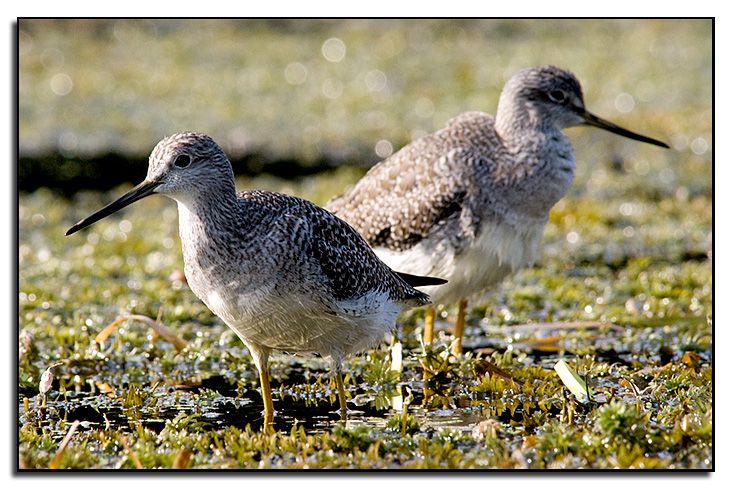 As I was approaching Duck Island, which is nearly across from the boat ramp, I saw the shadow of a large flying bird cross the tree tops just ahead of me. I looked up to see what it was. Imagine my surprise!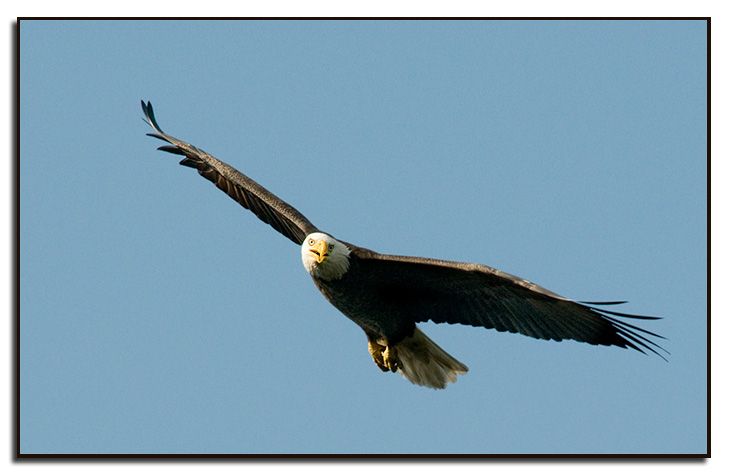 The eagle continue to circle right above me and fairly low. I took many photos of it, needless to say.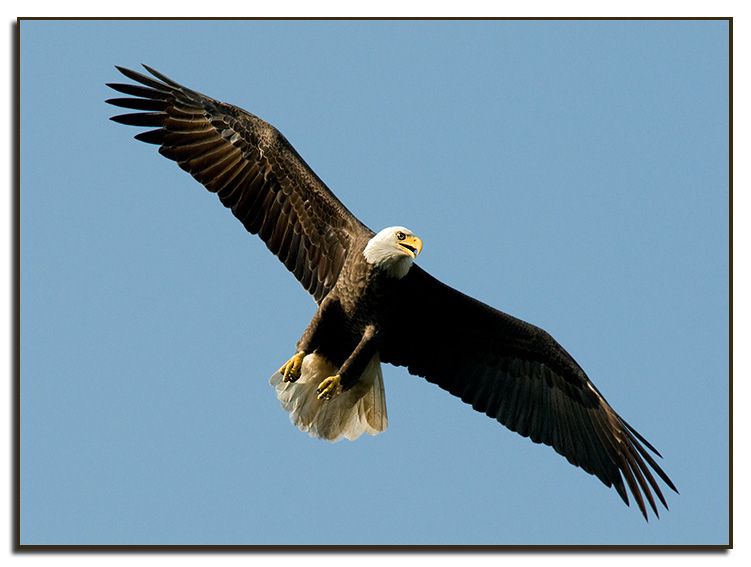 It swooped lower with each spiral and I wondered if it was going to dive for something. I had just enough time to back off on the camera zoom and find it again in the viewfinder to get one photo as it splashed down and then lifted off with its prey.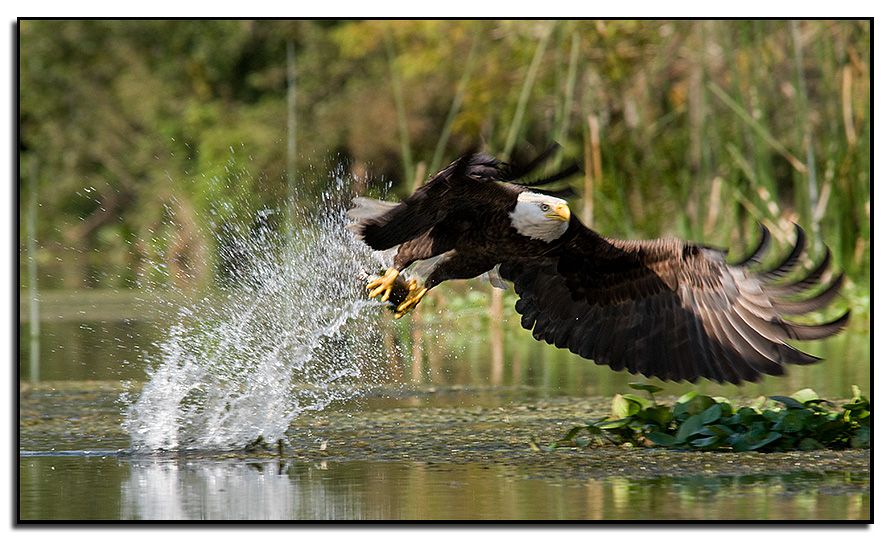 Now that's a fine ending for a paddling trip!
The forecast promises cooler weather next week. I hope to not have such a long time between trips any time soon. Stand by.
Friday, October 02, 2009
Back to Lake Seminole From Three Rivers State Park
Travel only with thy equals or thy betters;
if there are none, travel alone.
~The Dhammapada

I was amazed to see a sudden drop in the forecast of overnight temperatures, and so of course I immediately made plans to return to camping, which I have missed. There has been a change in my camping dynamic. I was a tenter for many years but decided to upgrade to a camper. I always enjoyed the coziness of my tent and felt no need for much more space, so I went with a small 13' Scamp. Having a door that closes (with a latch, not a zipper) and a sink and a stove (and lights!) seems like the height of luxury and suits me just fine. However, this created a problem with the kayak on those camping trips that also include paddling. I did not relish the idea of having to wrestle my boat on top of my (tall) Xterra by myself (particularly in the event of a strong wind). The logical solution was to purchase a boat that would fit
inside
the Xterra, and so that's what I did. I ended up with a 10-foot-long, bathtub-wide Santee 100. This worked out extremely well, although I can't recommend a 10' boat to anyone not faced with serious transport issues. Here's the new gear at the campsite (this is Florida; of course I got the optional screen door for the camper!):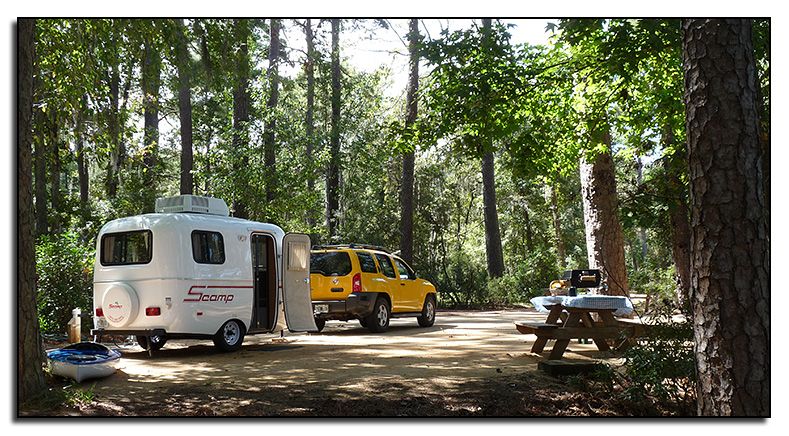 It was too windy to paddle the first day, so I spent that time reading and relaxing. The next day I was able to get out paddling and was out for over 3 hours. I have missed paddling on this lake, though wildlife is usually pretty scarce. I was fairly lucky on this day.
My first bird sighting was an egret, standing in the sunshine.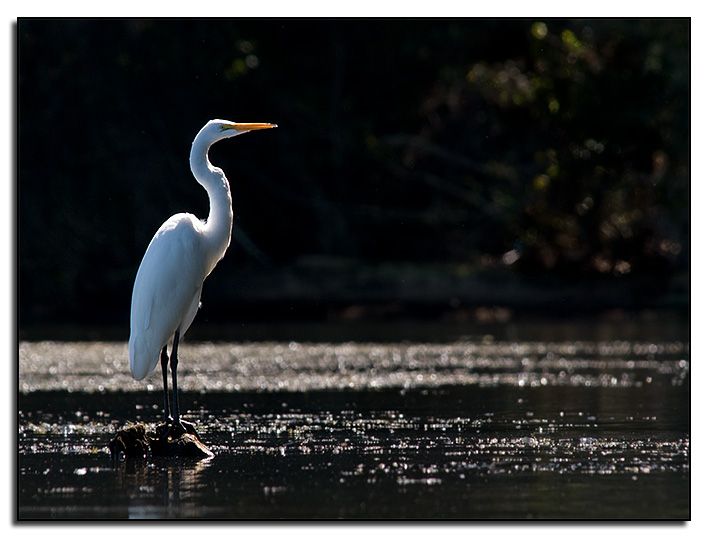 The birds on this lake are very skittish around paddlers. That one took off right after I got the above photo.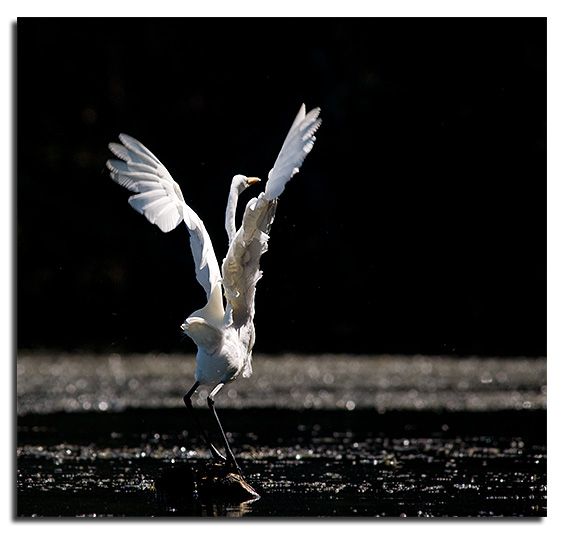 And off he goes.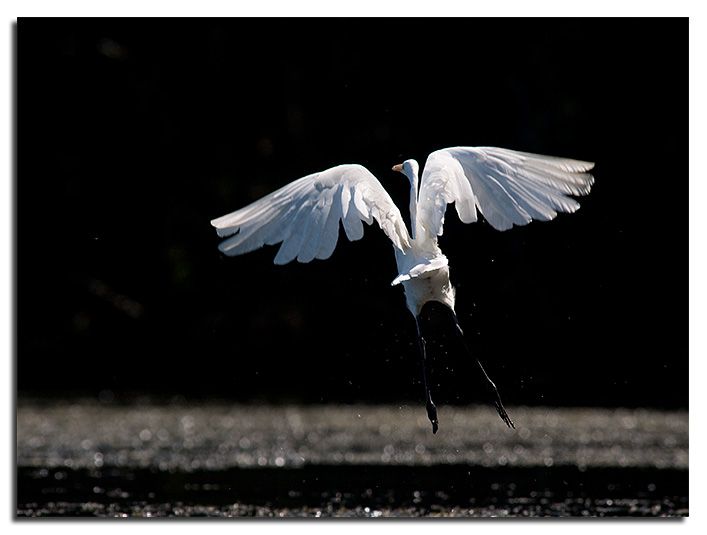 This anhinga was drying its wings as I approached, but folded them in while I drifted by.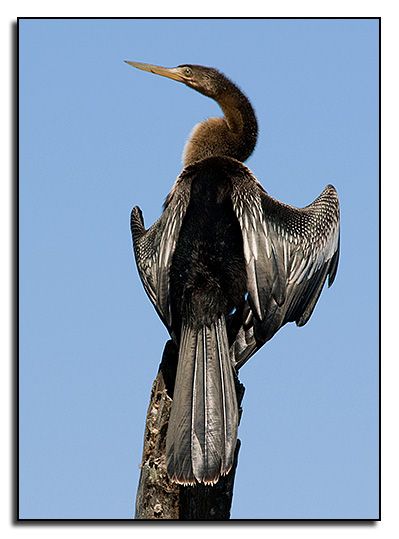 Great blue herons can be very difficult to see when they stand still in front of a gray tree trunk. Time after time I passed close by one and did not see it until it flew off in front of me. I was finally able to get a photo of one of them as it soared by.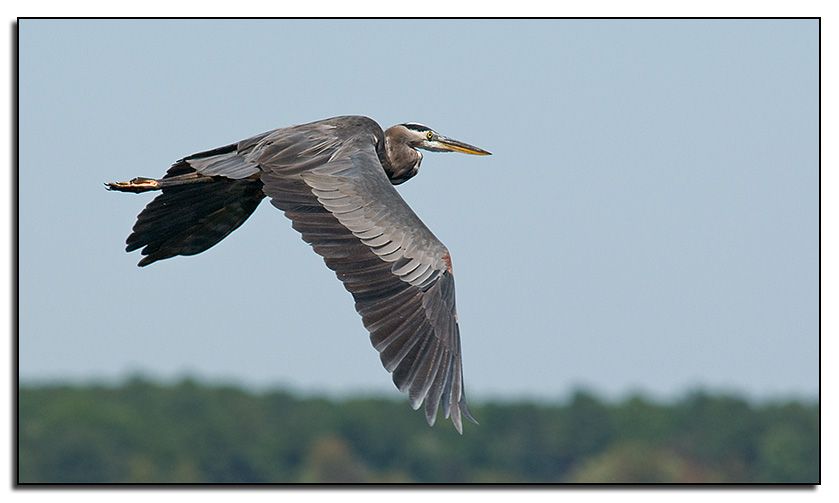 I love to watch egrets land. They are so graceful for such large birds with such a wide wingspan. This one flew past me and then landed on the walkway next to the public boat ramp (not the one I launched from, in the campground). The approach: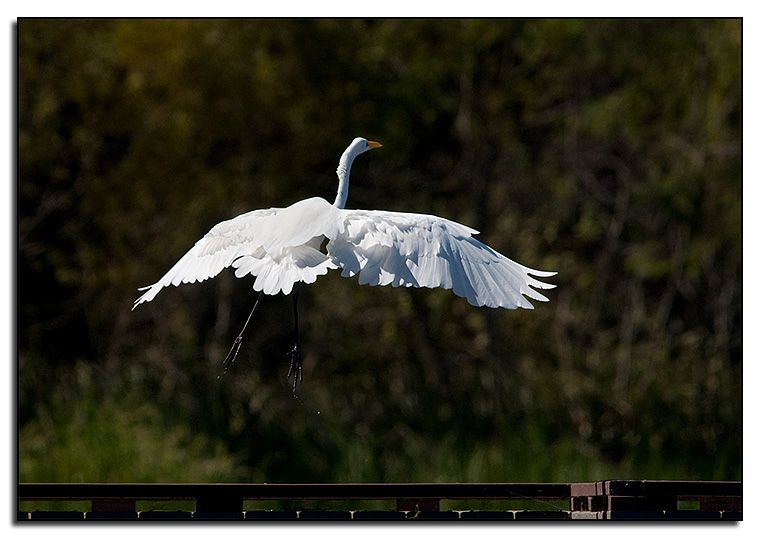 Landing gear down...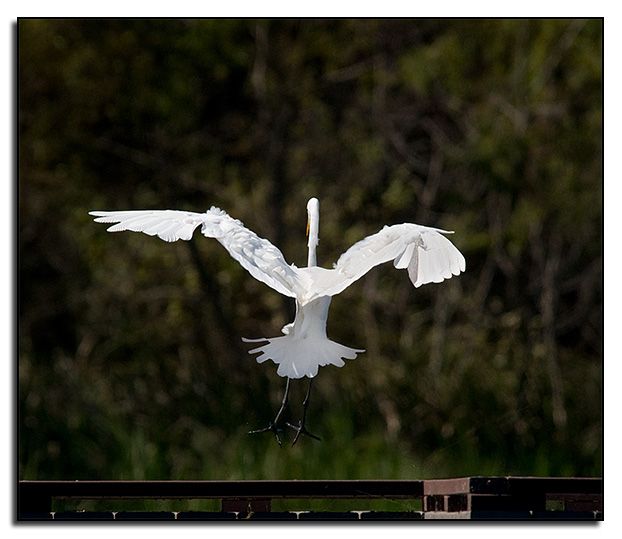 And touch down...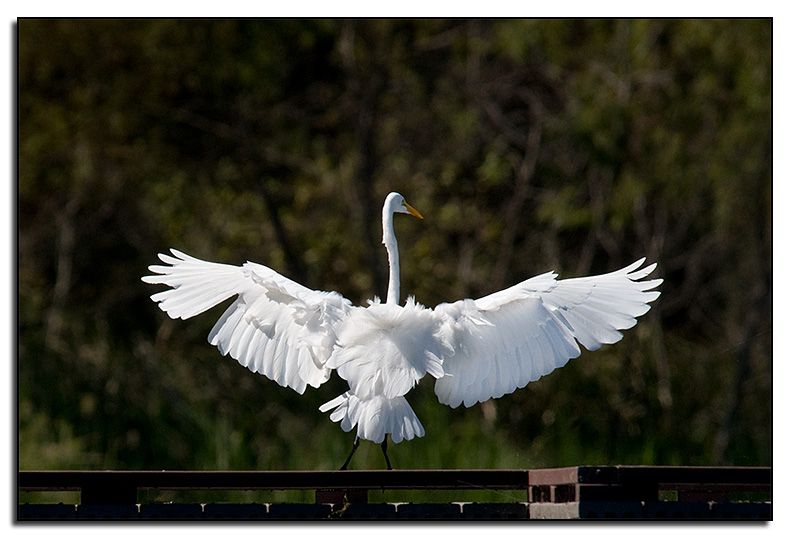 There's a little inlet next to the campground, and coots and moorhens hang out there (their calls are wonderful and eerie in the dead of night). As I was crossing it on my way back to the site, I saw a coot to my right. I had a feeling that it was going to make a mad dash for the safety of the inlet to my left and so I had the camera ready when it did.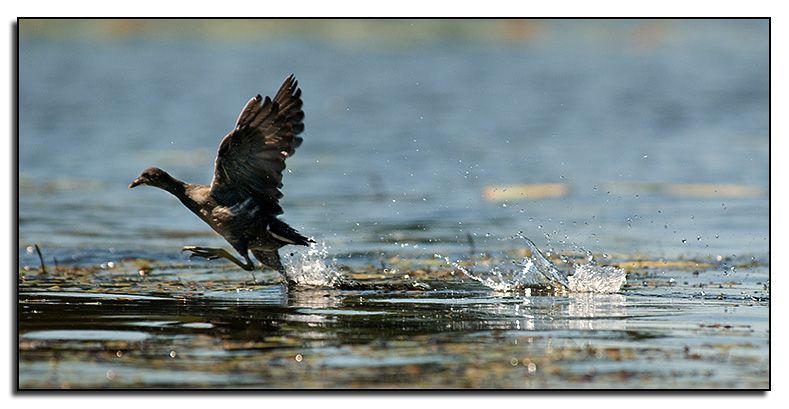 Running hard: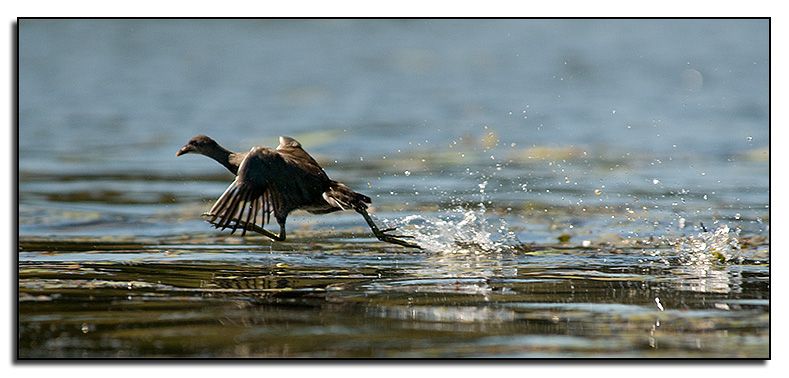 It decides that ought to be far enough and puts on the brakes.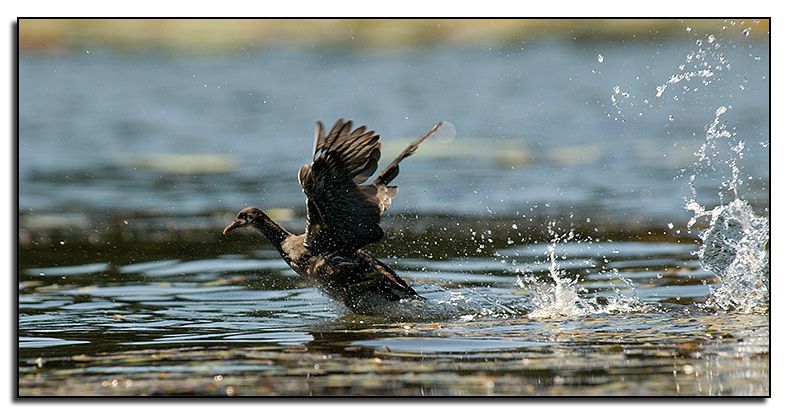 And back in the water...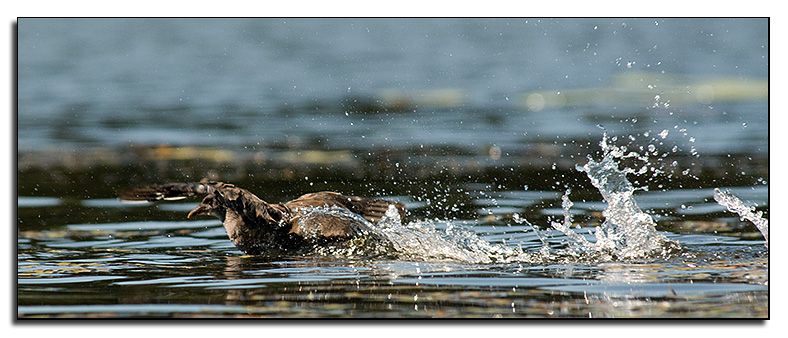 Later that day I hiked for about an hour and then had dinner. After dinner, as the sun was getting lower in the sky, I walked down to the lake and took a few photos.
This one was taken from the boat ramp, which was directly in front of my campsite (#8), so this was basically my view while I was there: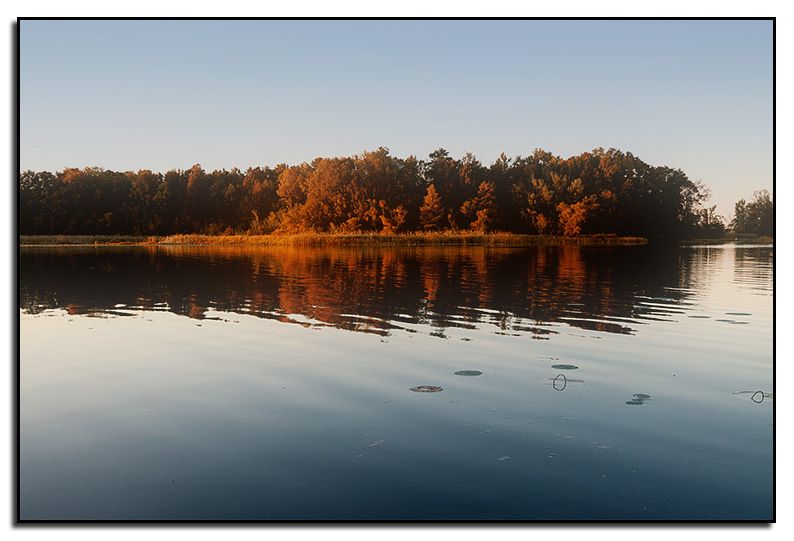 About 20 minutes later I got this one from the same spot, but looking to the right at a larger area of lake: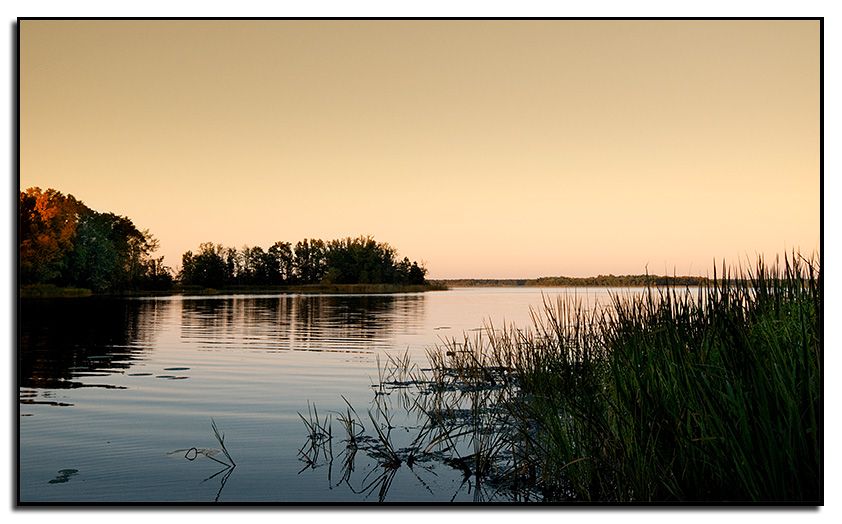 I have a long list of campgrounds I hope to visit this season, many of which include new paddling spots for me. Hopefully our lower temperatures will hold. Stand by.