It's spring fever. That is what the name of it is.
And when you've got it, you want - oh, you don't
quite know what it is you
do
want, but it just fairly
makes your heart ache, you want it so!
Back to the Wacissa, at long last! After, that is, giving the kayak a quick wash (our volunteer rooster has taken to standing on the bow from time to time), as well as the trailer, and switching out the camping stuff I have been keeping in the car with paddling stuff.
When I got to the river, there was a huge group from the Sierra Club who were waiting for their guide before starting a one-way float to Goose Pasture. I noticed that the water level at the launching spots was higher than I have ever seen it.
So off I went. There were no birds in any part of the channel leading from the head spring, which was very strange. In fact, I had gone nearly a mile before seeing any birds other than many little blue herons and some moorhens. This pair of blue-winged teals flew from downstream and landed near the edge as I went by.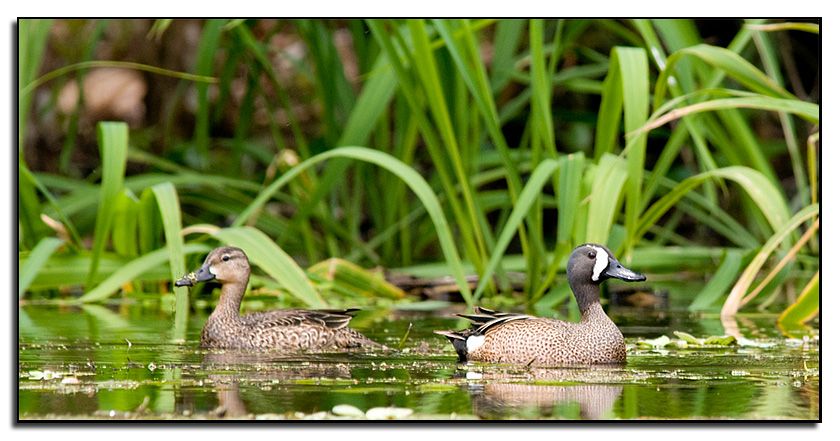 I paddled into Blue Spring. It was an overcast day, and between the high water and the lack of sun, the spring was not only not blue, but you couldn't see into it. I was sorry that the Sierra Club missed seeing it as it should be. They had caught up to me and were going into the inlet as I was coming out.
And then back to the main river. This guy was probably waiting for the sun to pop out: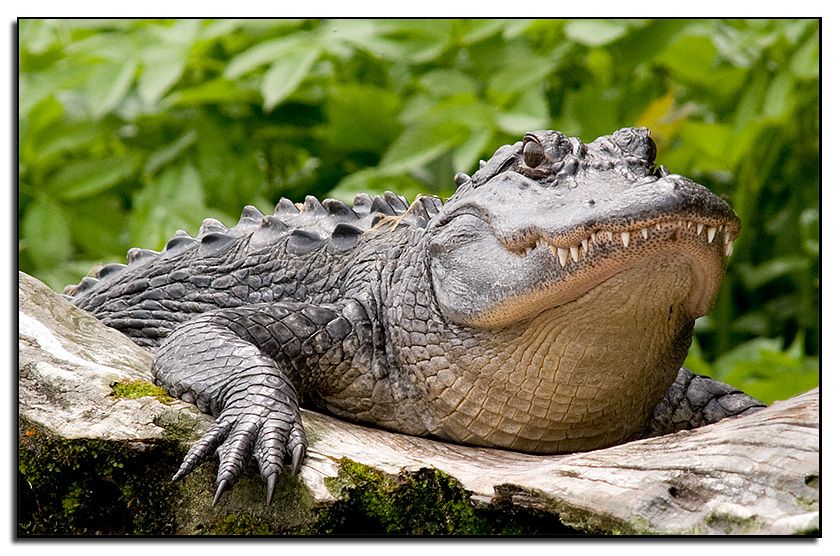 I continued downstream, still baffled by the lack of birds. Then one possible reason occurred to me. The water level was so high that it was much deeper than usual at the typical edge of the river, and in fact the water extended far into the woods. I think it was too deep for the birds to fish in their usual spots along the shore. Possibly they were out of sight in the woods, at the new edge of the water.
After drifting downstream a couple of miles, I turned around and started back up. As I approached the Blue Spring inlet, I passed a woman in a kayak who had been peering around through binoculars. I asked her if she had seen anything interesting. She said there was a night heron in the channel leading to the spring, but she was looking for limpkins. I said I didn't believe there were any limpkins around, since they are fairly vocal and I hadn't heard any. But maybe they were just being quiet...Anyway, I paddled back toward the spring, looking for that night heron.
Found it!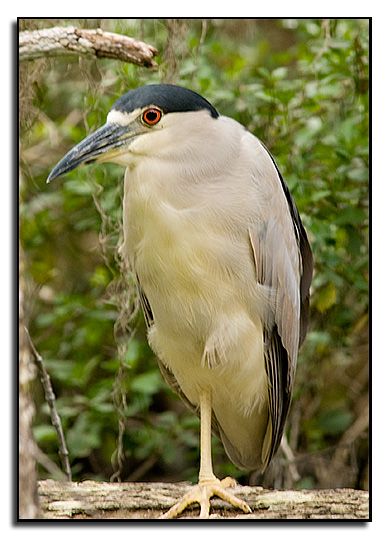 There were a few turtles here and there on logs.
As I got close to the boat ramp I spotted an egret across the river so I paddled over to that side (near the far side of Duck Island).
When I talk to people about photographing wildlife (or just about anything), I always suggest that they be aware of their background and, if it is busy or cluttered, try to take the photo from an angle that eliminates the clutter. Here, for example, is a photo with a too-cluttered background!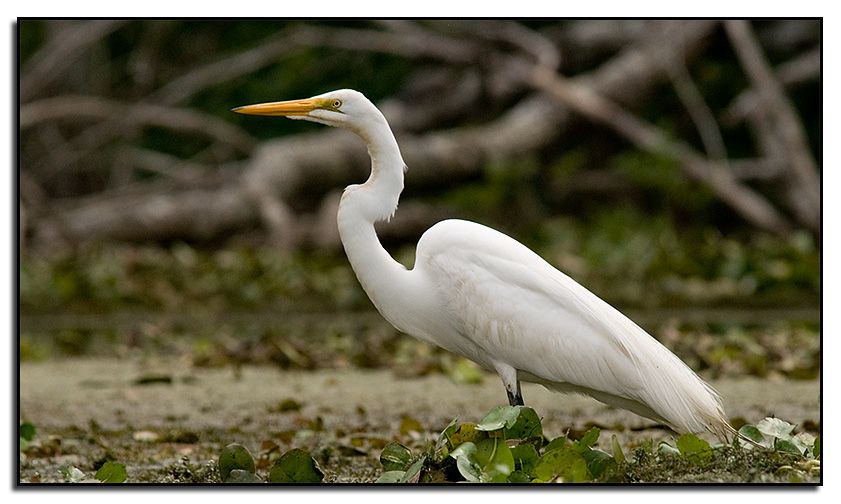 (I was so glad to get an egret photo that I can't resist posting it...under the guise of a photography tip...)
The egret left as the current took me too close.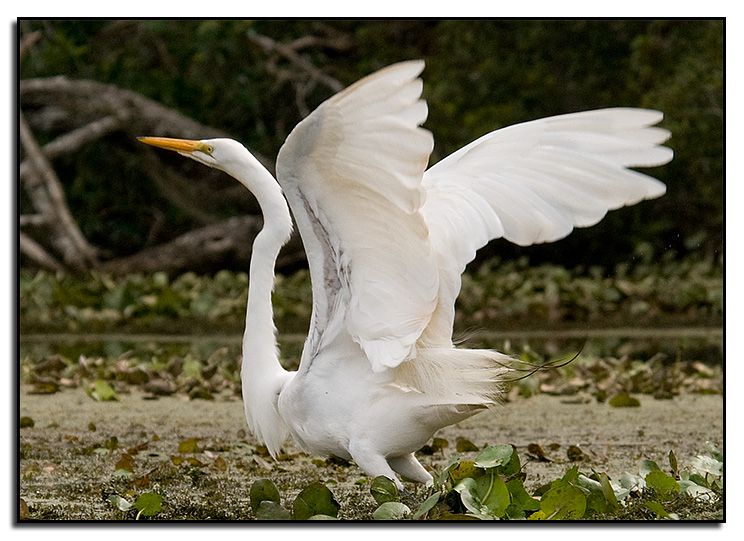 As long as I was over on that side, now about across from the head spring area, I decided to paddle upstream a little farther. I was pleasantly surprised to find this barred owl in a tree overhead.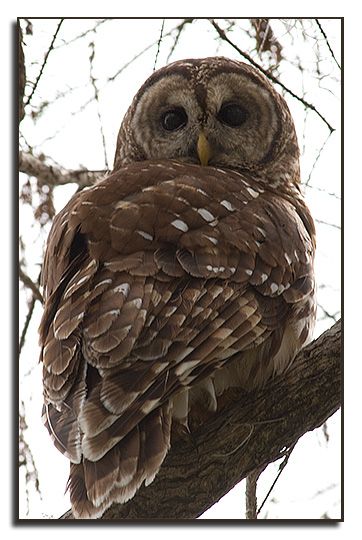 It flew to a tree a short distance upstream so I followed it and got a few more photos.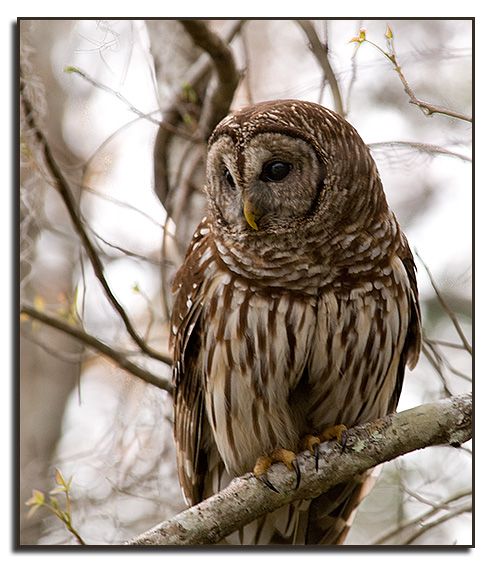 And then it was time to head for home. I'd like to get back to the river again this week; next week will be largely taken up with another camping trip. I hope that I am wrong about the reason for the lack of birds, since I don't think the river level is going to drop any time soon.
My friend Sandra commented on this post shortly after it went up, asking about a photo of our volunteer rooster (showed up one day over a year ago and decided to stay, runs down the driveway to greet us whenever we come home...) who has taken over my kayak lately. Well, he's a bird, he spends time on my kayak...seems like an ok fit for this blog! So here is Rex (whole name Rex Goliath):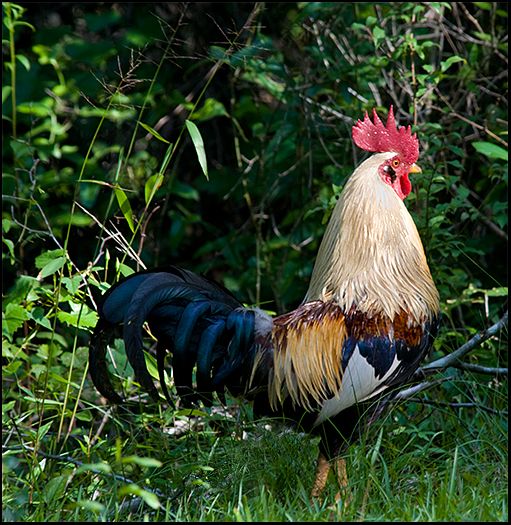 I'll let you know when I get back out. Stand by.