April is a promise that May is bound to keep.
It was time to go back to the rookery and see what was up. Even though these are never paddling trips, I traditionally post them here since they are all about egrets (and other large birds)!
So off we go! I took 163 photos. I reduced those in the camera (getting rid of obvious duds) to 141. I reduced those for 38 to post, and then further reduced those to 33. That's all the reducing I can do--I want to post all of these! But I don't want to be redundant or you-had-to-be-there. So now off we go...
Let's start at the beginning. This was during spring break, and there was a line to get into the place. No worries, I assumed those folks were all at the Alligator Farm to see
alligators
and not nesting birds. Good call. There were very few people at the rookery. Here's what you see as you approach the end of the boardwalk (and there are nesting birds all the way to this end):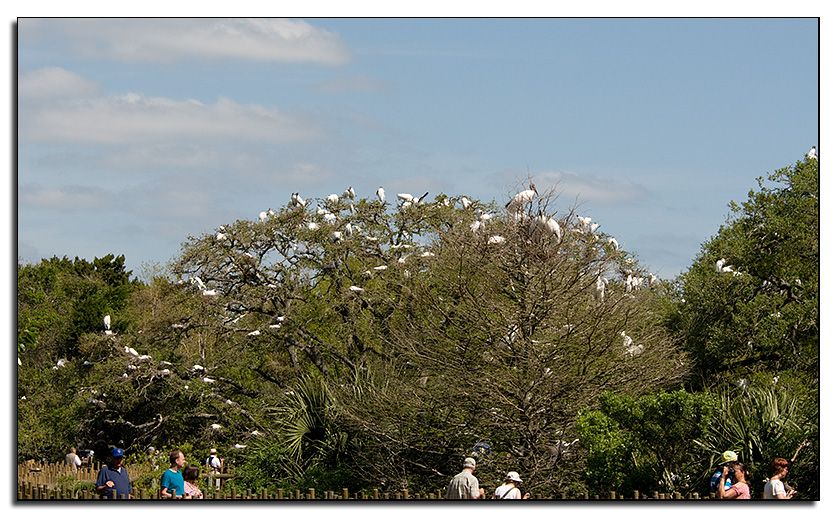 On the way to the end of the boardwalk, I spotted these tricolored herons. There are actually three of them here. Hmm, wonder how that works out?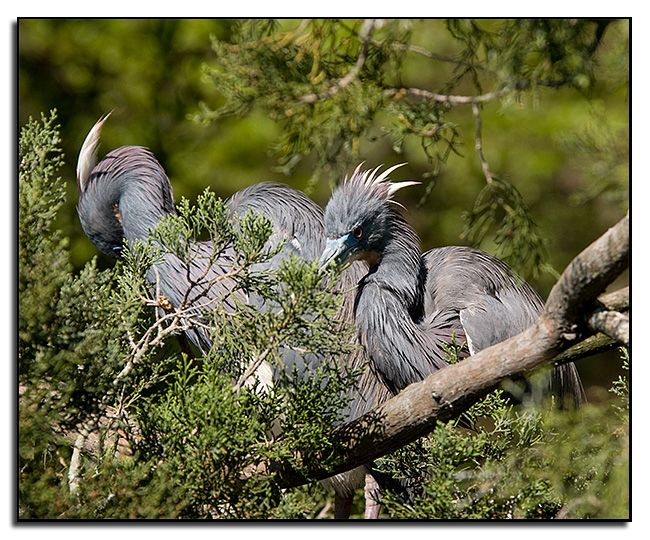 Later I spotted this snowy egret preening its beautiful feathers.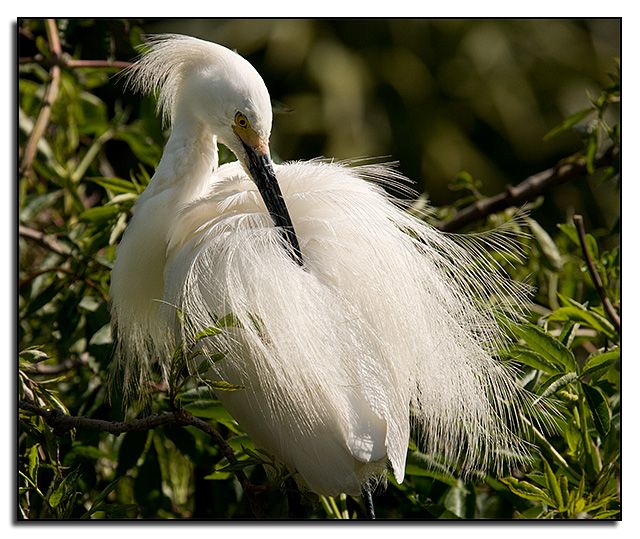 The Farm's website schedule had indicated that normally there were a lot of chicks in the nests at this time; however, there were only two chicks that had hatched, and they were both beneath their parents, so I didn't get photos of them. This was still mating and nest-building time for most of the egrets and wood storks. I watched this egret leave its nest to find a stick, and then return with it: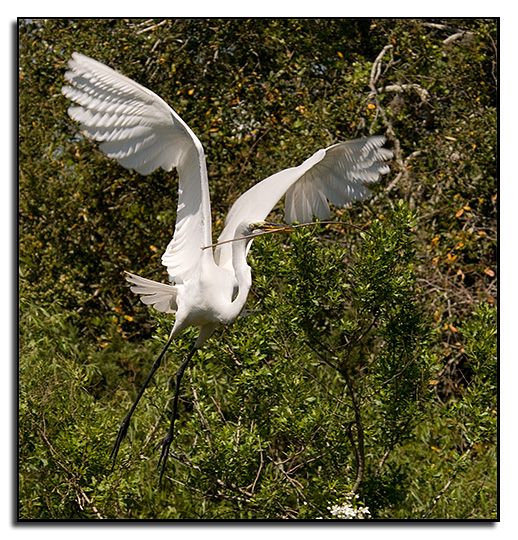 ---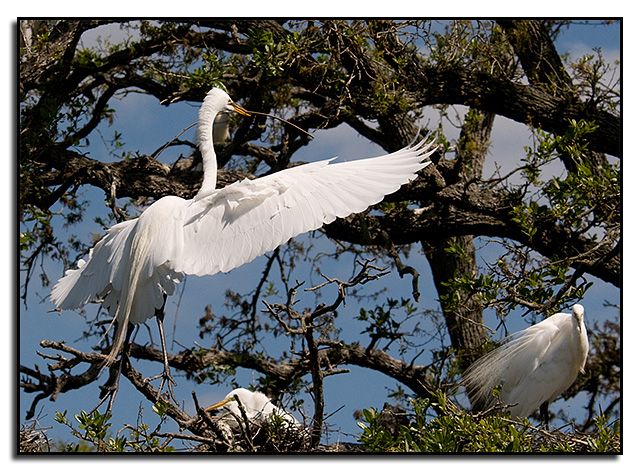 ---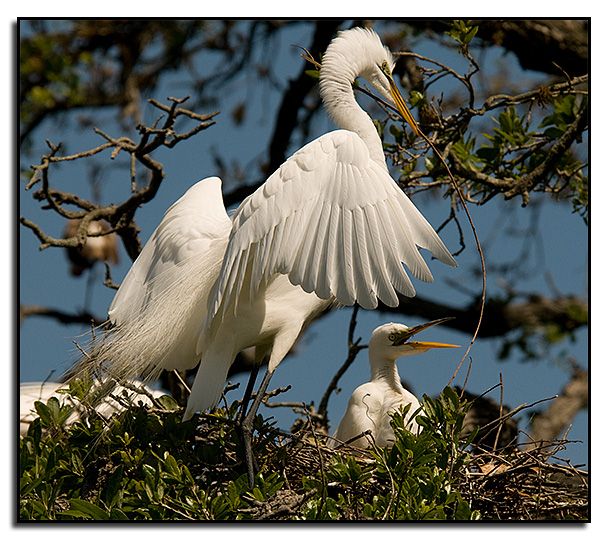 ---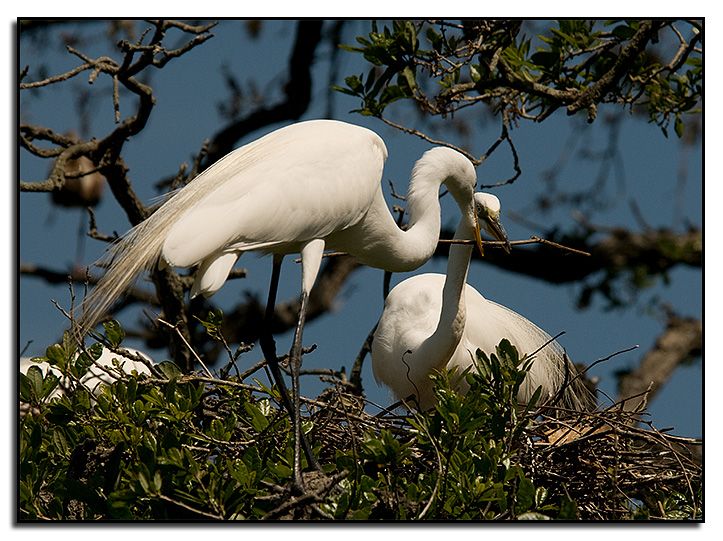 Here are two egrets on their way back to their respective nests: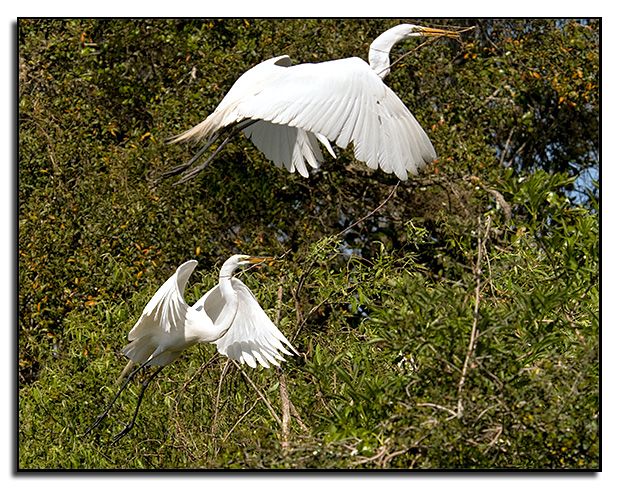 And the snowy egrets! Here's one thing--they were making a sound unlike I have ever heard before. I can't describe it, and I can't find it on the web to link to it for you. Some people said it was like "gobbling," but that's not quite it. It was the strangest sound, made me smile every time I heard it. Undescribable. I will be going back there in a few weeks and will take the sound recorder, but I suspect that by that time they will have moved on past needing that call. I wish I could compare it to something, but I can't.
Snowies are my favorite egrets, and there were so many more of them than there were last year when I was here in March. They have accepted that having people a few feet away is the trade-off for a safe nesting place, but I don't think they are completely happy with this arrangement. We photographers were very happy with it.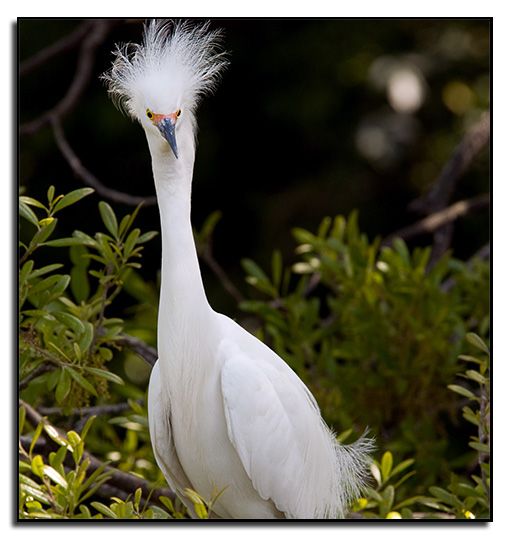 ---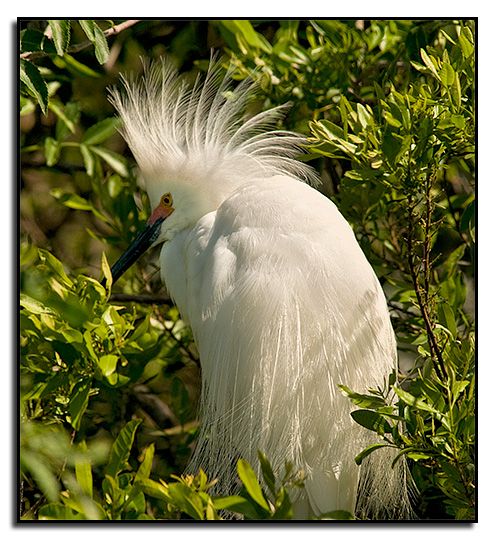 ---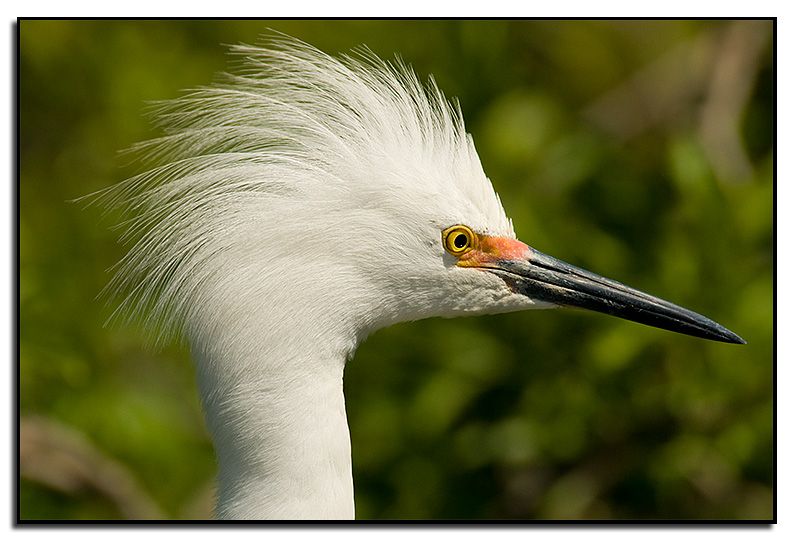 ---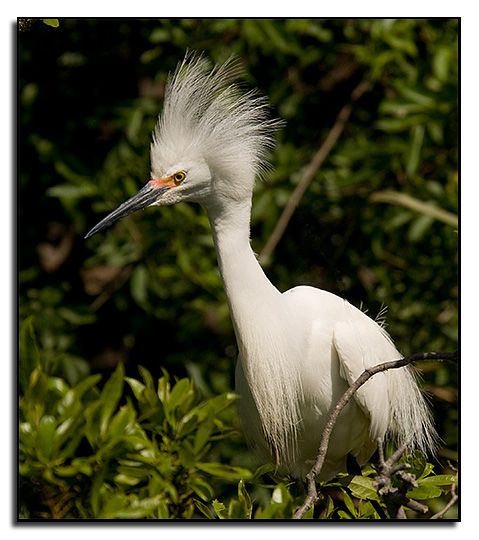 The roseate spoonbills were still very near the boardwalk area, which was wonderful! They were much more colorful this time than they were last month when I photographed them.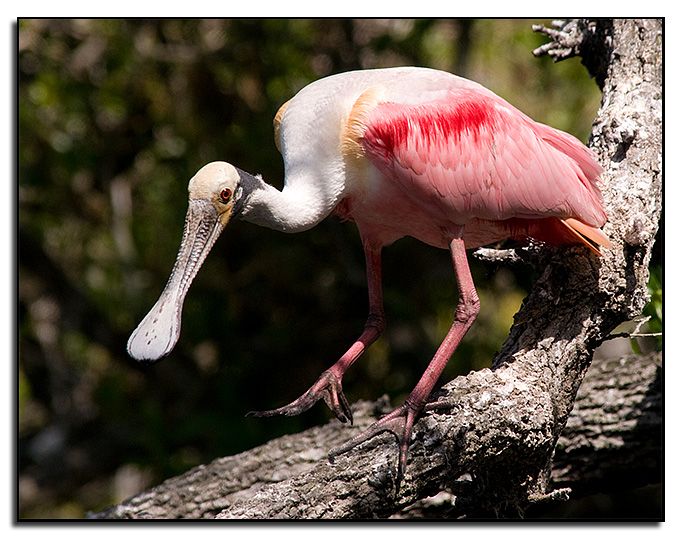 ---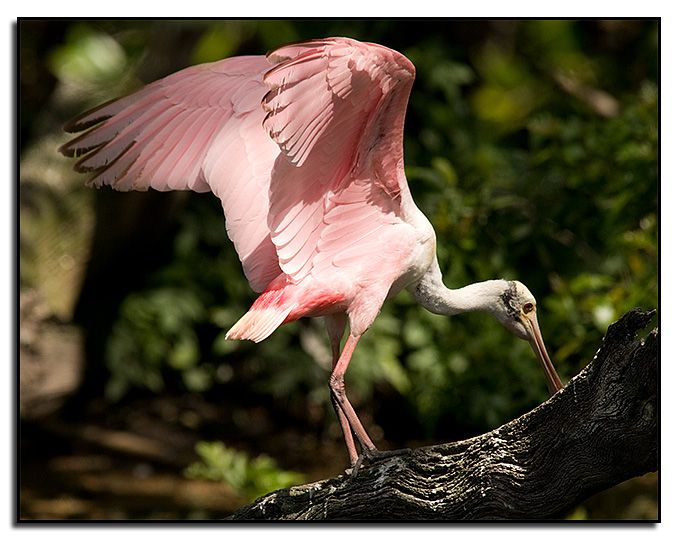 And the woodstorks! They were still busy nest-building as well, and could be seen flying hither and thither, and then returning (sometimes) with sticks.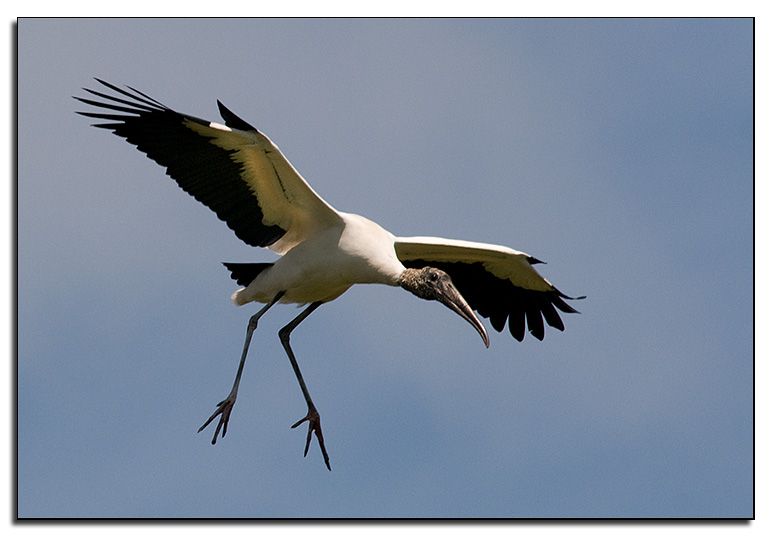 ---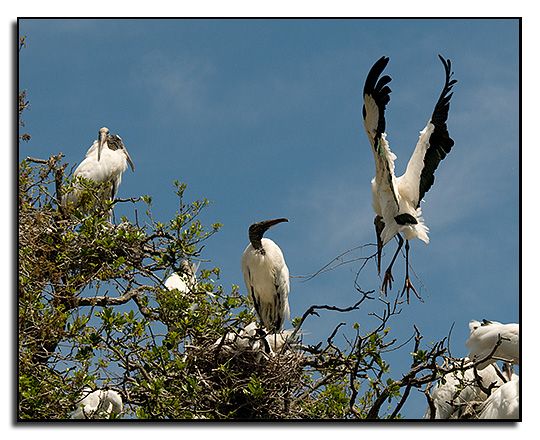 ---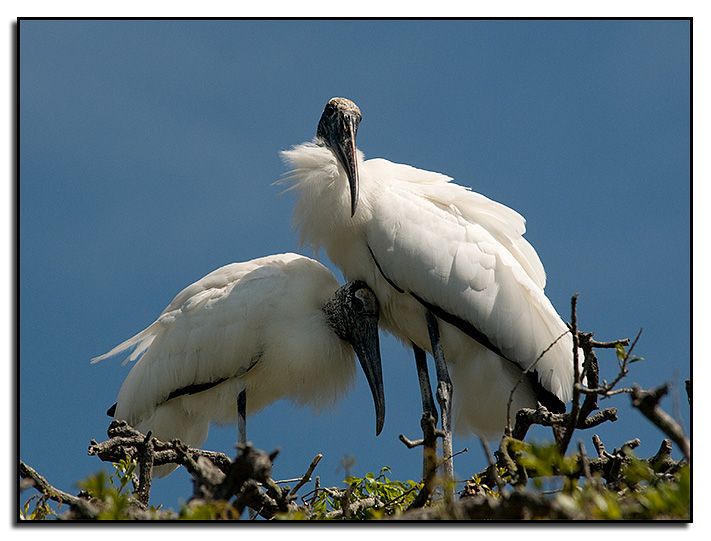 Not sure about this group, maybe they were the assigned guards for the rest...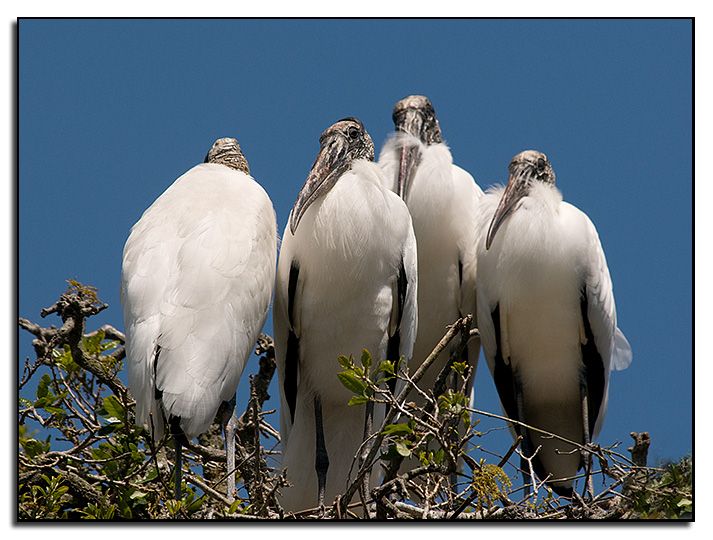 I took this photo as an egret flew directly overhead. A bit cut-off, but I like the perspective.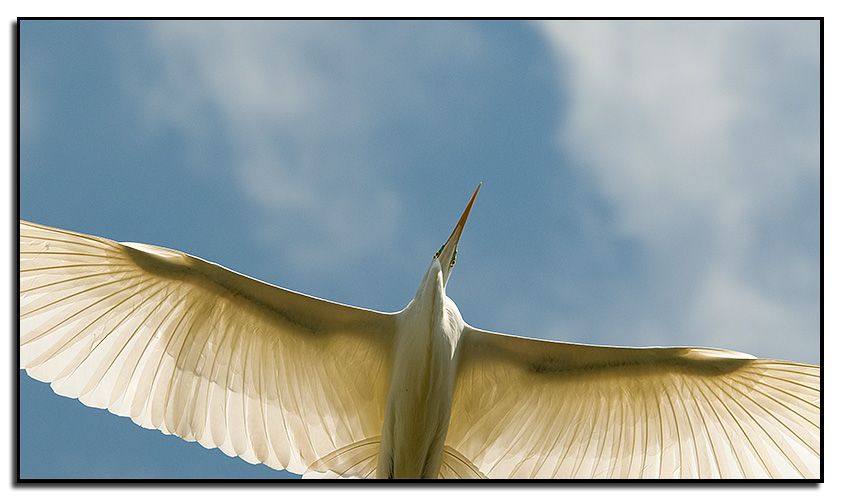 Here are some other egret images I got: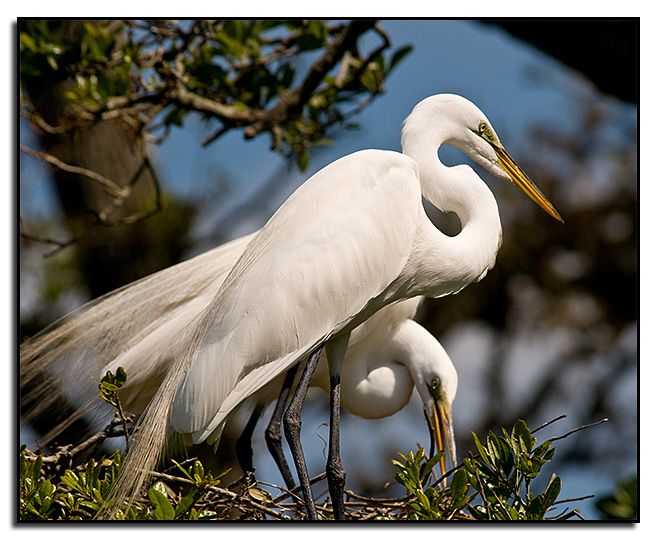 ---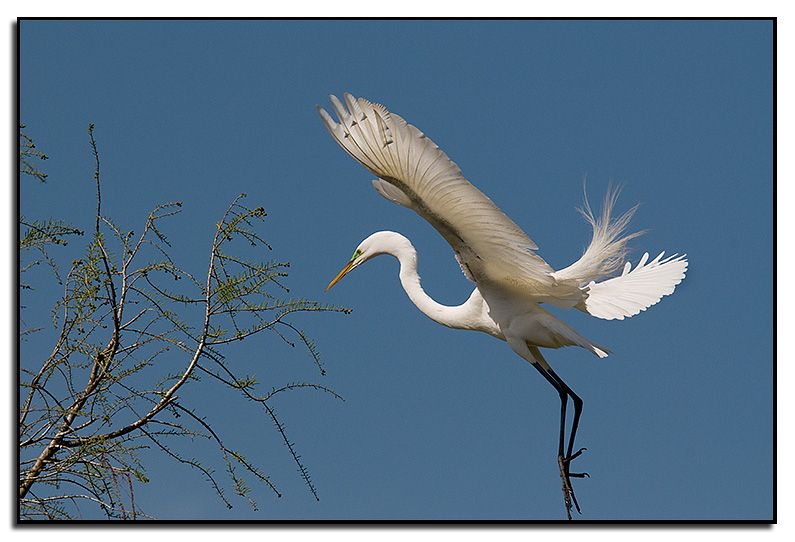 ---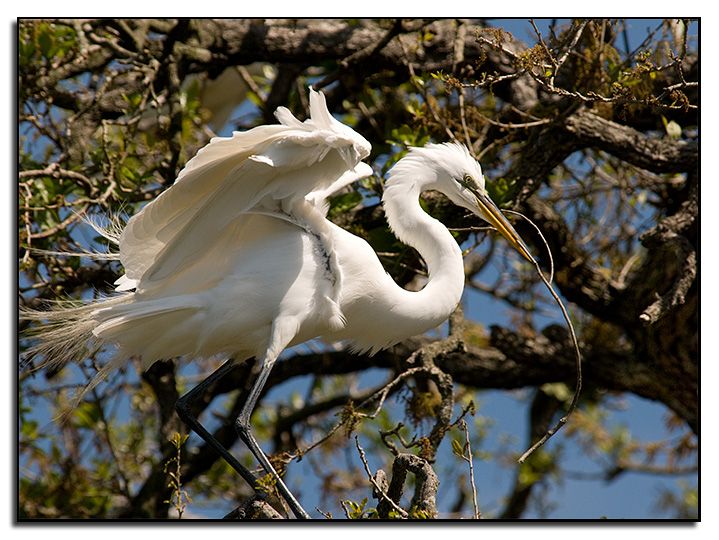 ---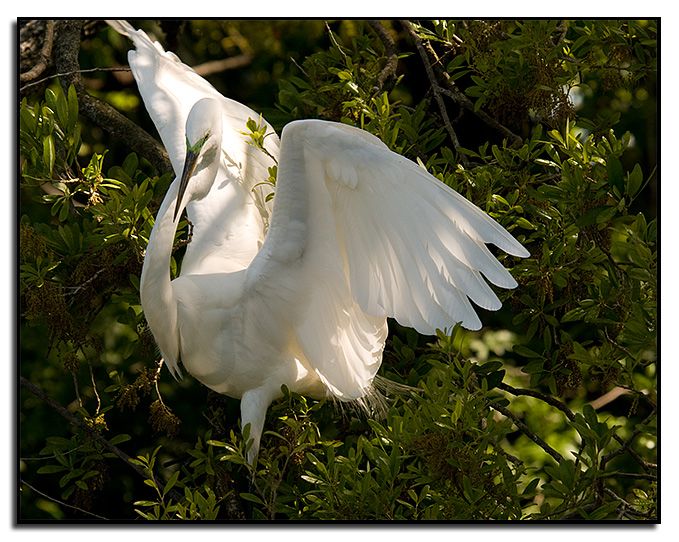 ---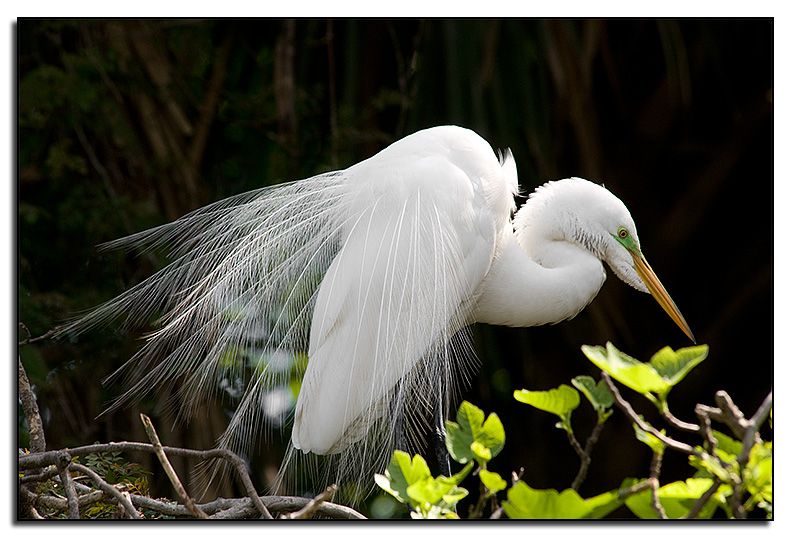 ---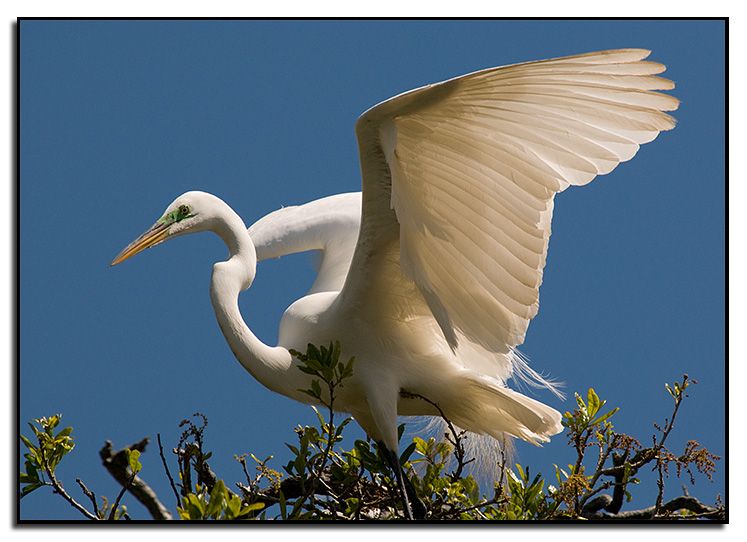 I completely missed the tricolored herons last time I was here, but there were many of them in the trees this time. This one was sporting a spiked look: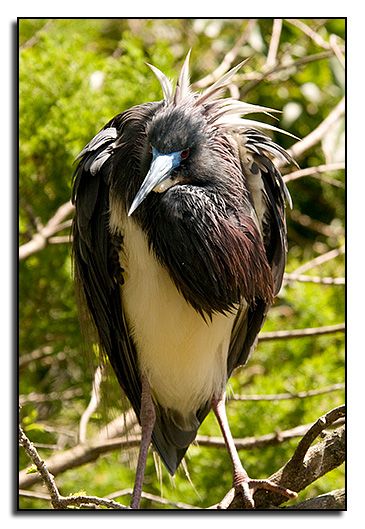 I got this one as I was heading out, not sure what the wing is protecting or doing like that, but it stayed like this a long time.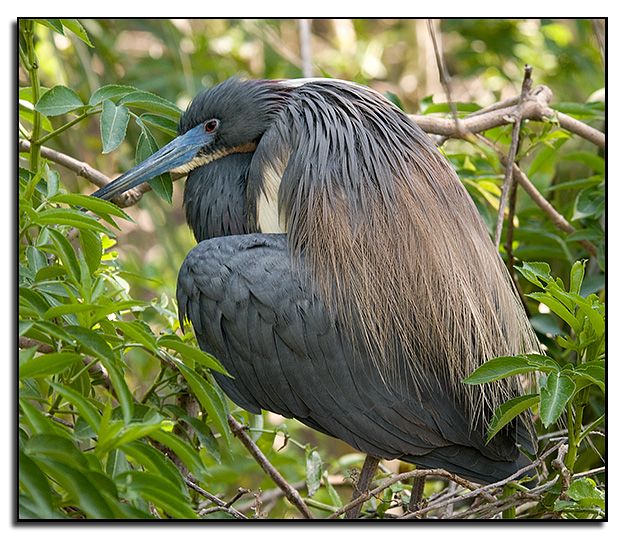 And now for the reason I already have reservations to return soon. I didn't see the two chicks that were in nests, but I saw chicks-to-be in several nests: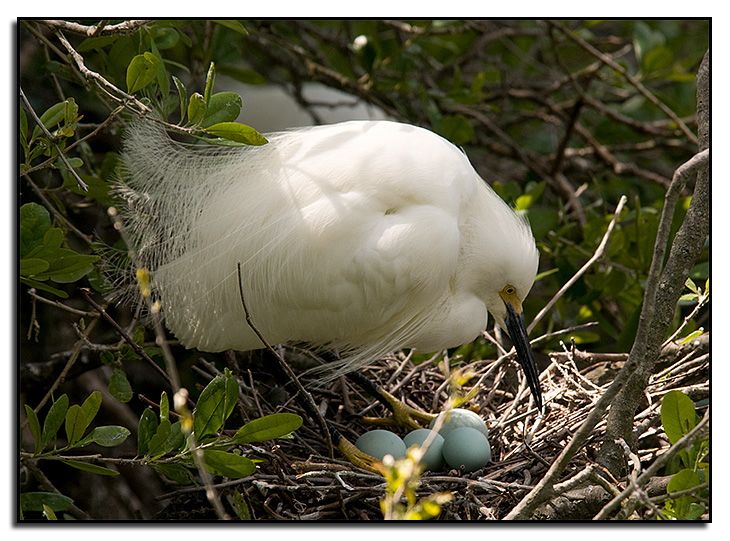 ---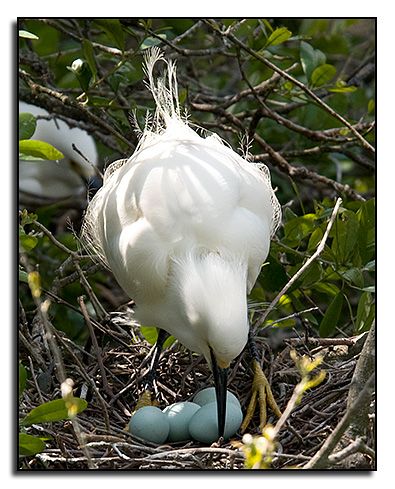 ---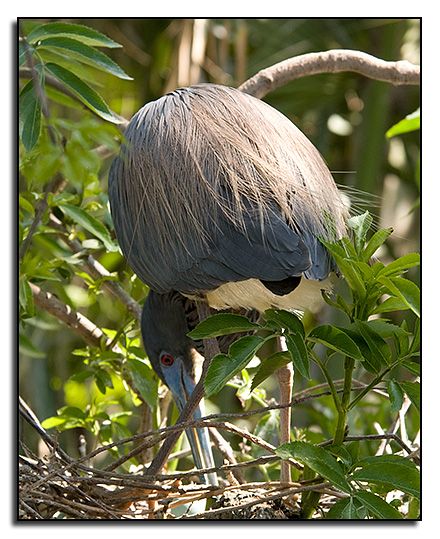 ---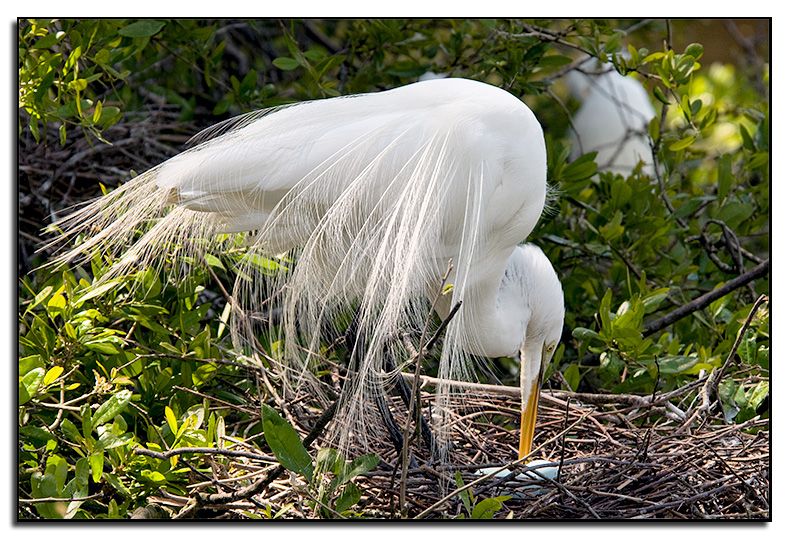 ---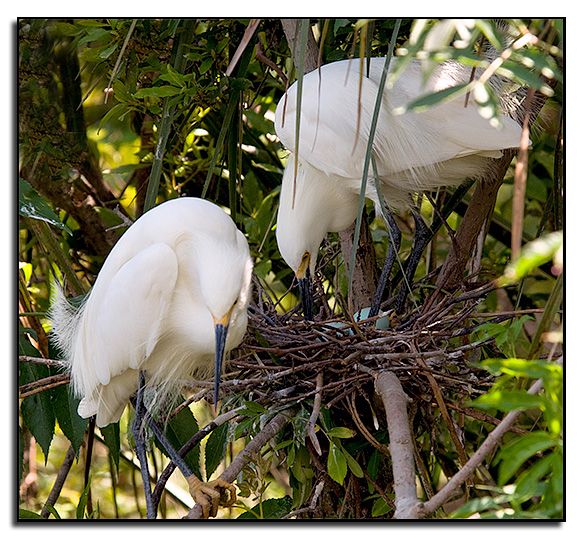 I hope to time it right to see the babies from those eggs!
This was the
Alligator Farm
so I feel compelled to include a photo of an alligator. This one is an albino, a living gator that they have under the shelter when you first enter the animal area. How weird is this?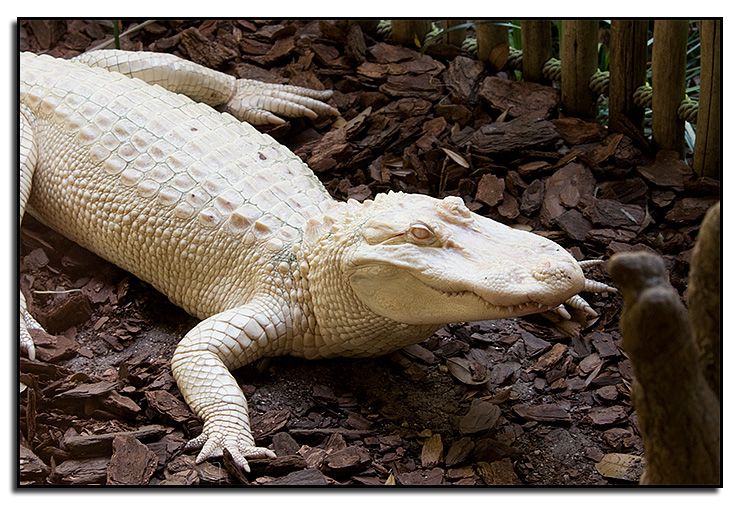 I certainly hope to get out paddling before my next trip to St. Augustine, but will also be posting photos from that, which I hope will include some young birds in the nests!
Stand by.