I walk without flinching through the burning cathedral of the summer.
My bank of wild grass is majestic and full of music.
It is a fire that solitude presses against my lips.
I decided it was time to head back to Seminole State Park in Georgia, this time staying in one of their cottages rather than the campground. I arrived at the cottage at about 2:00, kayak and bike in tow.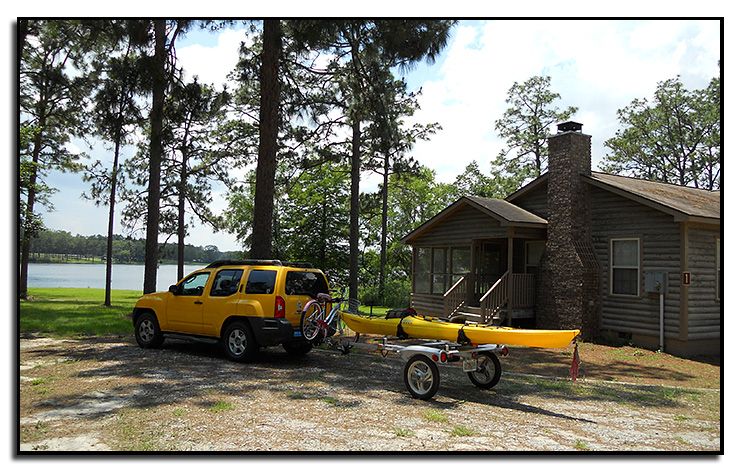 We are already having some intense daytime heat and humidity and I was not inclined to paddle after getting everything unloaded and in place outside and in the cottage. I was going to be there two nights, so I spent the first afternoon reading on the porch and enjoying the lake view. While doing that, a group of Canada geese showed up. I'm not sure how often it comes up in this blog, but I am very fond of Canada geese. I took the camera down to get some photos.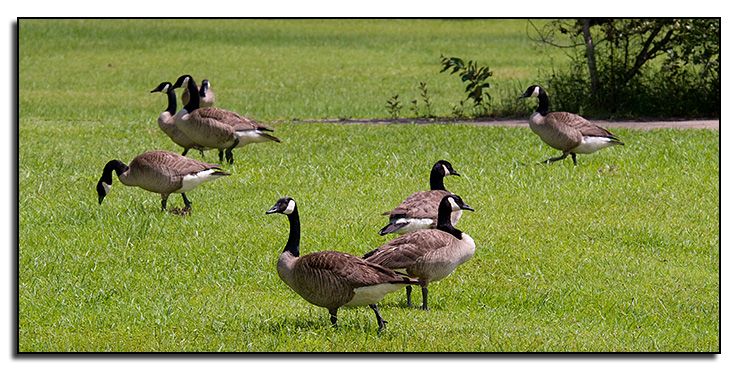 I had been encountering geese with goslings in recent camping trips, but I assumed when seeing these adults that perhaps it was too late to see any with babies.
It occurred to me before going to bed that night that the only way paddling was going to be comfortable would be if I got out ridiculously (for me) early. I am not a morning person, to the point of stubbornness about it. But there was no getting around this heat problem.
So, in an unprecedented event, I was heading down to my kayak the next morning at about 6:45. The sun was just hitting the clouds, and mist was rising off the lake.
I had a little trouble in the beginning with my glasses fogging up. When that was finally resolved, I discovered that the camera, which had been kept in the car so as to be in the ambient temperature overnight, had a very steamed-up lens. That took quite a while to clear up. I found myself in a little cove as the sun was climbing higher in the sky. It was very mystical looking, with steam still coming off the water around these trees.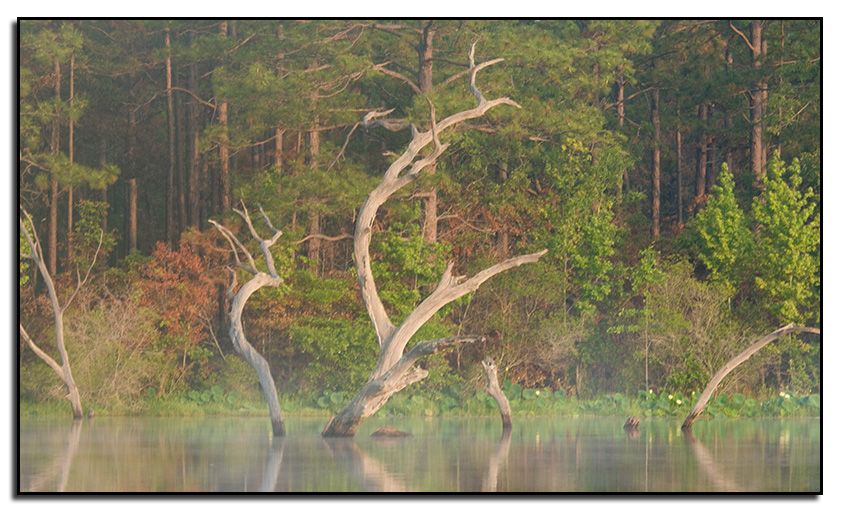 And again, as here at home,
there were no birds
. The only ones I saw were two coots. That was disappointing, to say the least. So, since I was out at that unreasonable hour with the camera, I turned it on the water lilies (or lotus?), which were blooming along the edge of the water. I got this one when the sun was just high enough to illuminate it: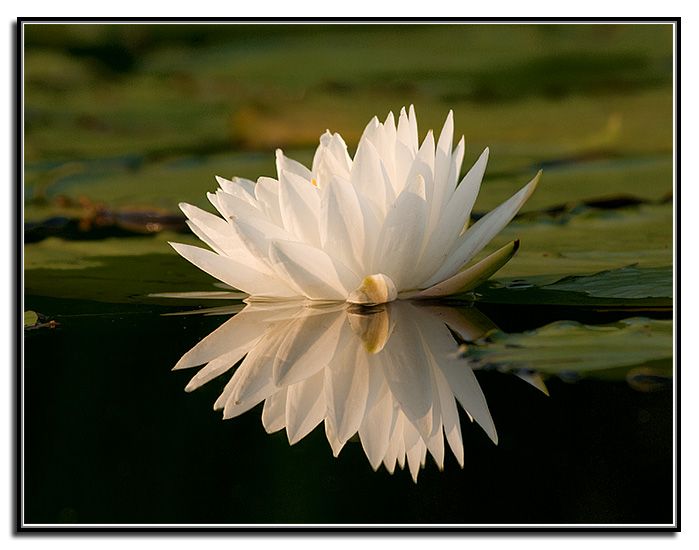 and this one later in the trip.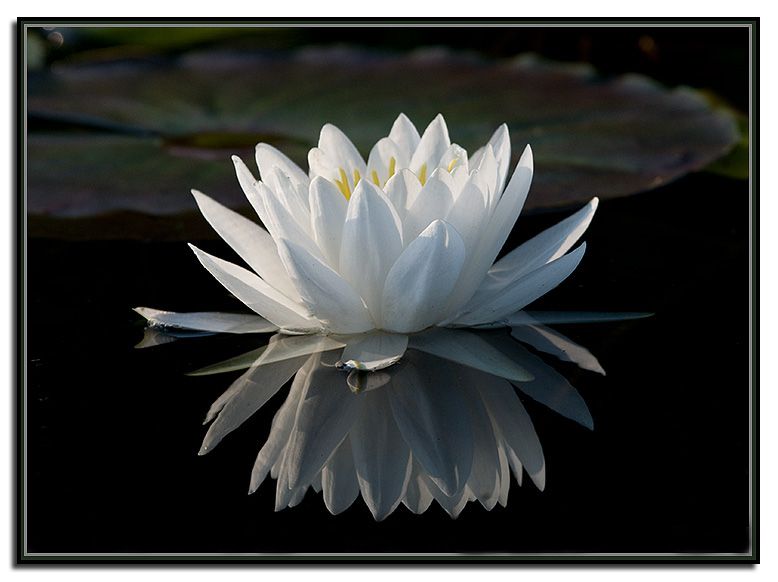 I was out about 90 minutes. It was getting warm and I was ready to have some coffee and breakfast, so that was it for the paddling trip.
I spent some more time reading on the porch. I happen to look up at one point and was more than pleased to see a Canada goose family walking around the side of the cottage! I waited for them to get far enough away that I would not startle them, and then went out to get the camera (back in the car). They saw me, and surprised me by all turning around and walking toward me.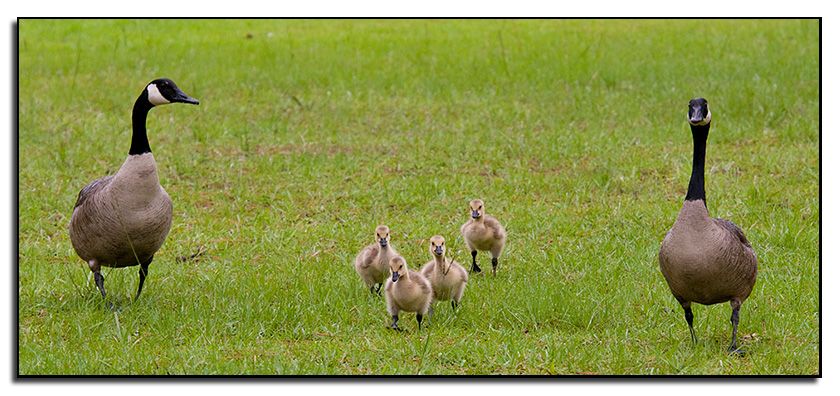 These geese are
very
protective parents and if only one had come my way, I probably would have retreated to the porch. But they were bringing the little ones with them....very odd. I had nothing whatsoever to offer them in the way of food, but I did get lots of photos of the babies!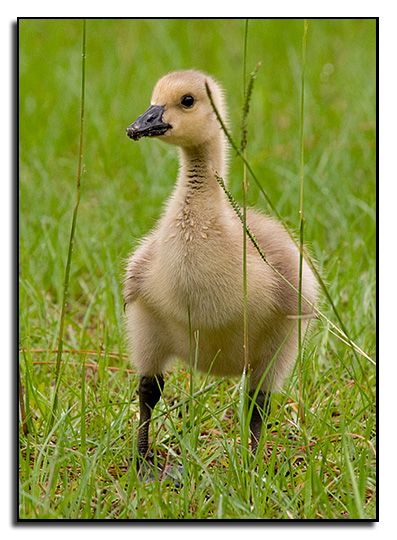 ---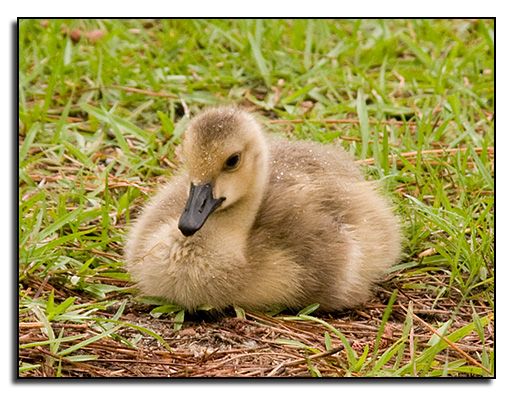 ---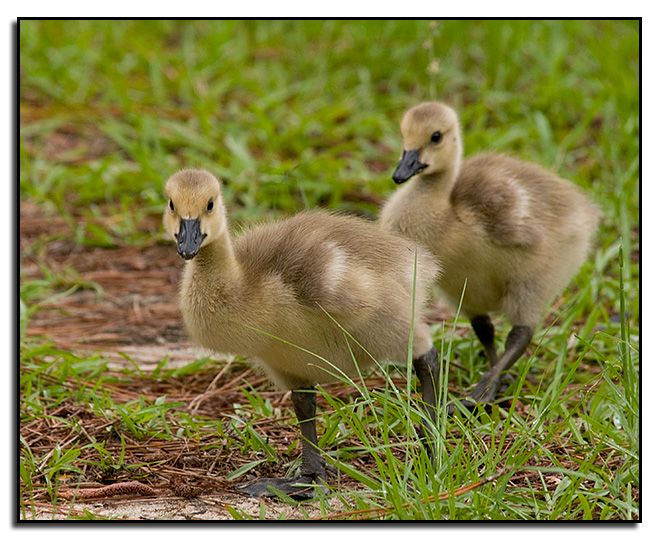 So cute!
I didn't get out paddling again, but I did get in some bike-riding, and took a long hike on a very well-maintained trail that led to some (bird-free) wetlands.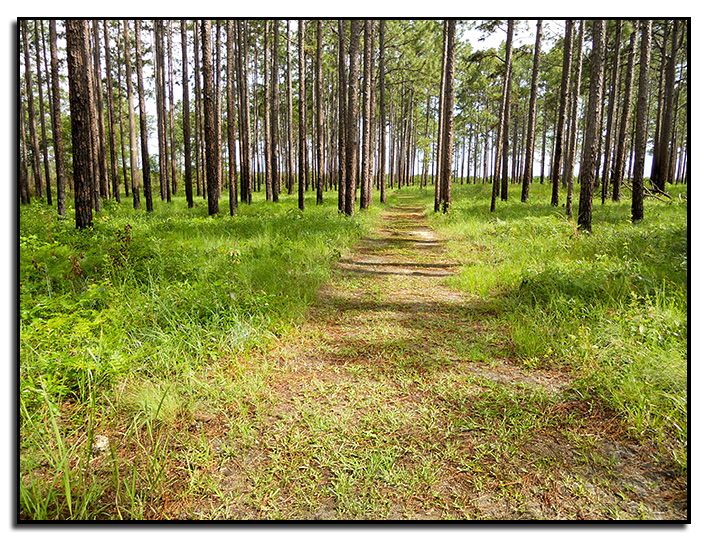 It's interesting--here at home, in a fairly woodsy environment, we can't go outside these days without covering head to toe to avoid bites from the dreaded and vicious yellow flies that are swarming. Given the heat and humidity, having to wear long pants and long sleeves is a bit of a problem. I found it very odd that there were no bugs at all, not even mosquitoes, and not even along the trail in the woods, at this park, which is perhaps a 90-minute drive from my home. The ability to be outside in shorts and short sleeves made this trip well worth it, even though the paddling was a little short.
I think paddling may continue to be something I do only occasionally through the summer. So the question is, do I let this blog languish, or do I stretch it to include trips near water that I
could
paddle but I don't? Hmmm. Something to ponder. Meanwhile, stand by.