The simplification of life is one of the steps to inner peace.
A persistent simplification will create an inner and outer
well-being that places harmony in one's life.


~
Peace Pilgrim
My last visit to Calderwood Lake was in 2005 (link to that post is below
). I have been waiting for five years to get back to this lake. And this time around I took a lot more photos (last time I was with someone who freaked out at the depth of the lake (400 ft.) and the water temperature (about 50 degrees) and insisted on getting out after about 15 minutes, hence the few photos)!
My friend Deb, a far more intrepid paddler, joined me in NC for some paddling. I was very excited at the prospect of finally returning to Calderwood to go farther than a few hundred yards. I made a point of warning her about the cool air temperature and bone-numbing water temperature I had encountered last time.
A quick note about the photos in this post: It's very green on this lake. The trees are green, the water is green, the foliage reflections in the water are green. If your monitor tends to favor green, these may look oversaturated. Not much I can do about that, but I did want to mention it in case these photos look strangely tinted. They look fine on this end.
We got to the lake and pulled up to the large, gradually-sloped boat ramp.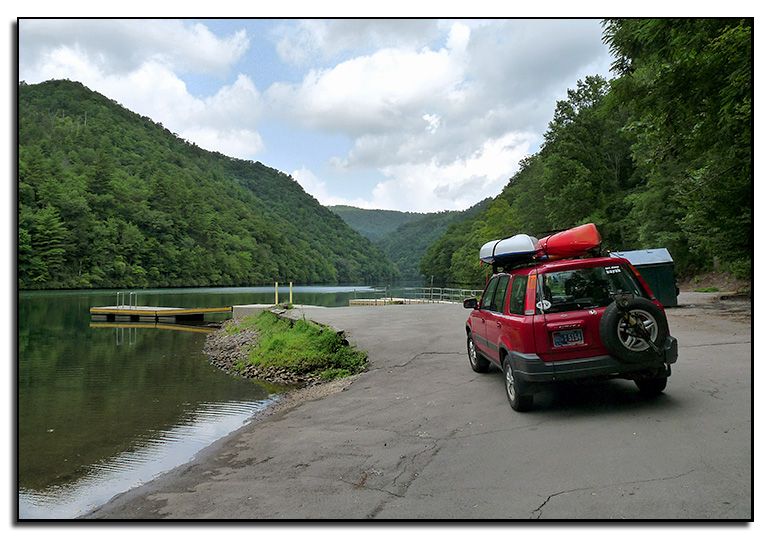 I hopped out of the car and walked over to put my foot gingerly in the water. Wait....what is this? The water was no colder than the Wacissa on any average day. I had also noted that although we got there at the same time of day and the same time of year as last time, the mist that had been rising off the water last time was also absent. Interesting, and I felt foolish for all my warnings about it.
We launched easily, with no worries about cold water. The bottom of the boat did not chill my feet, as it had last time (I recalled having to wrap them in my paddling towel--I always paddle barefoot).
Calderwood Lake is 8 miles long. The shoreline is completely undeveloped, with a few primitive campsites here and there. There is no discernible current. The water is supernaturally clear. Off we went.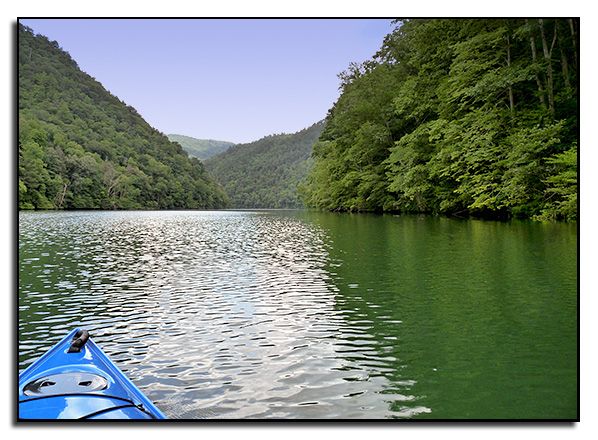 After a short time of paddling, we came to the sound of waterfalls coming from an inlet. We paddled down it to investigate. It was on the left side and turned out to be Slickrock Creek. The water gets shallow and the inlet is fairly narrow. Here are the falls as we approached them: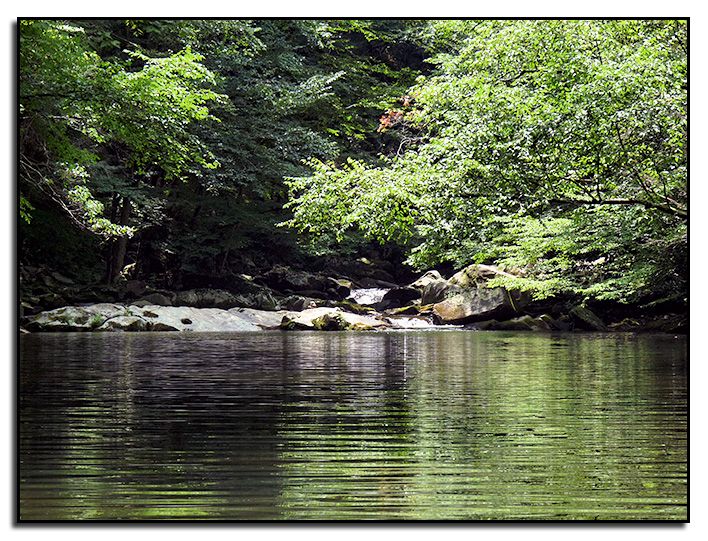 We had the little creek to ourselves and paddled closer to the falls, hovering around there just enjoying the sound and scenery.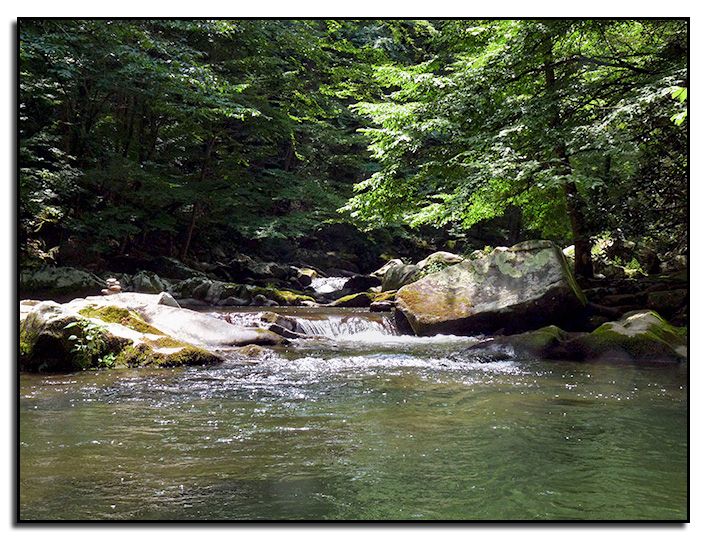 Deb decided to get out and maneuvered her boat into a rocky area. I have discovered that the shorter you are, the harder it is to get out of a kayak in water of any depth. I'm short; it was obvious that I was not going to be able to just swing a leg over the side of my boat and step out, so I stayed in the kayak and enjoyed the view from there. As I recall, Deb decided not to get out after all--there's a reason for the name Slickrock. We finally paddled out of the inlet to continue on the lake.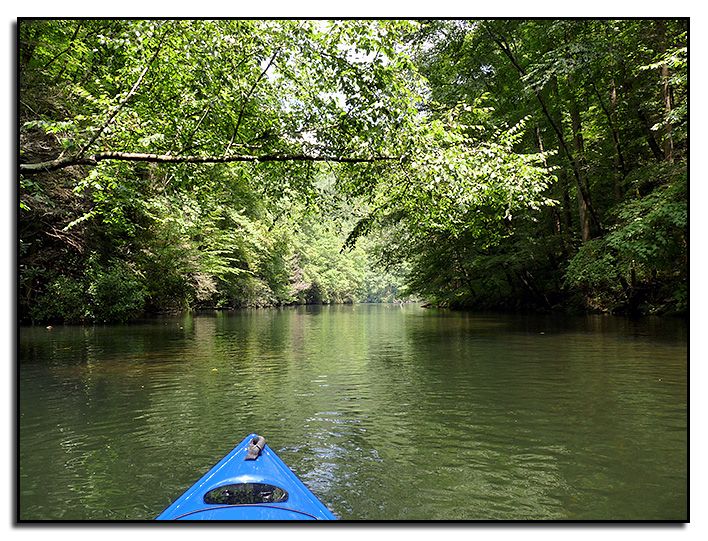 As I mentioned, this water is incredibly clear. I dipped my paddle in and took a photo of it to try to demonstrate this. You can't really tell, but my paddle blade is about two feet into the water.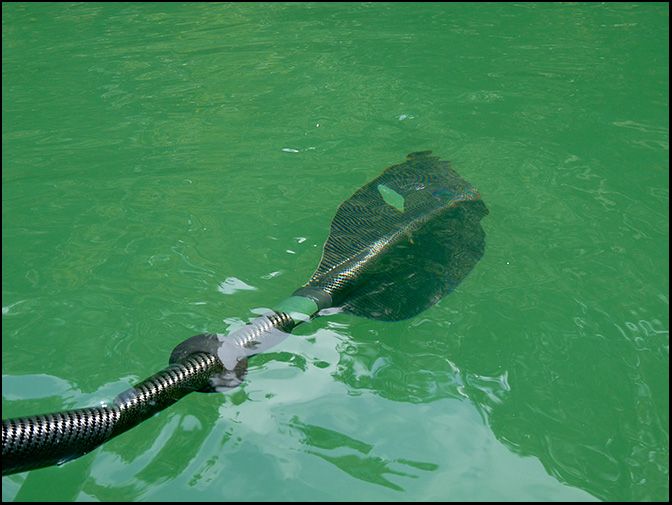 The shorelines of this lake are forest and slope steeply upward, with some very rocky areas.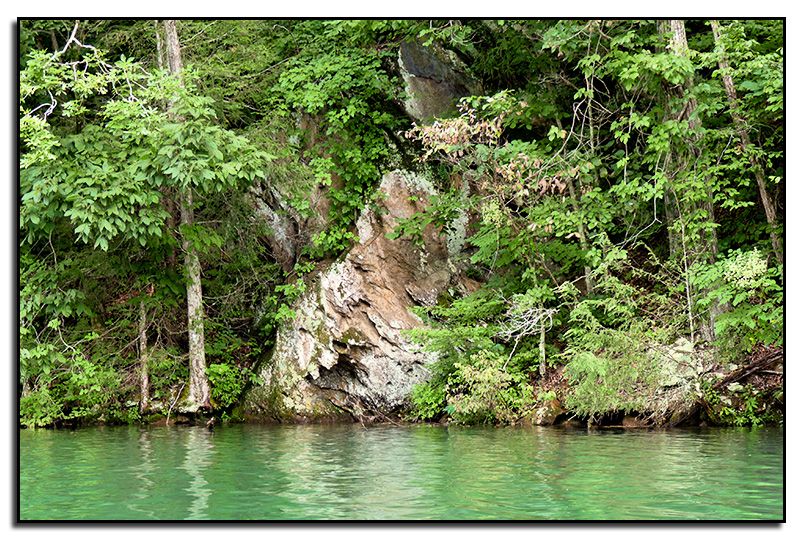 ---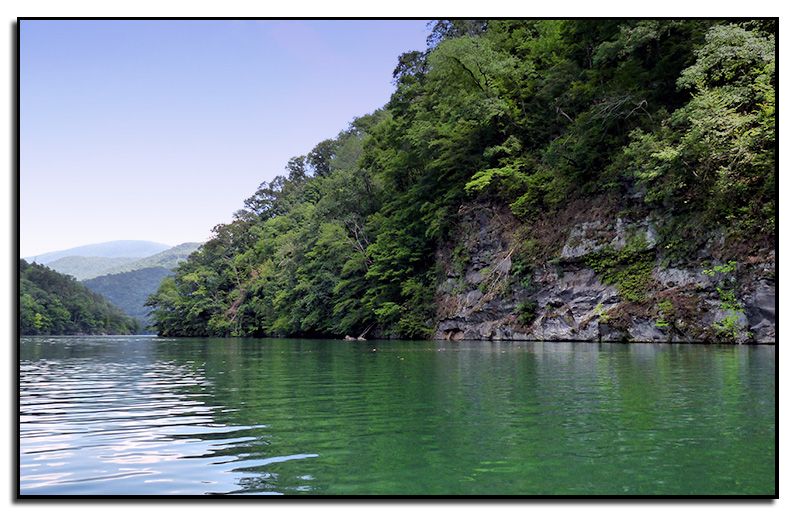 We passed what looked like a picnic table on the left side of the lake; we were paddling on the right. We turned around to head back shortly after that and pulled up to the spot with the table. It turned out to be a campsite, complete with the table, two tent pads, a metal fire ring, and a metal hanger that was not tall enough to keep food away from a bear, but might work against a raccoon. Not sure what that was for. There was even a rope by the water to tie up a boat.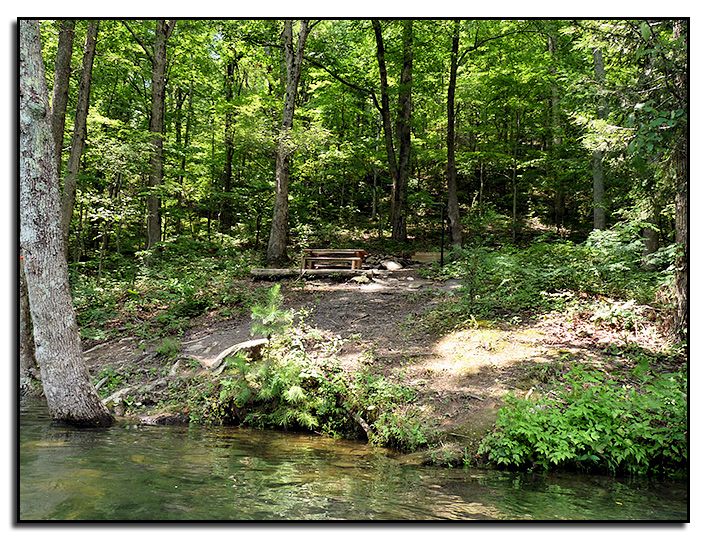 I would estimate that campsite to be approximately 3-4 miles from the boat ramp.
The views on this lake (which is really just like an 8-mile river with no current) vary with every bend and of course change completely when you turn around. It's a beautiful paddle for every minute.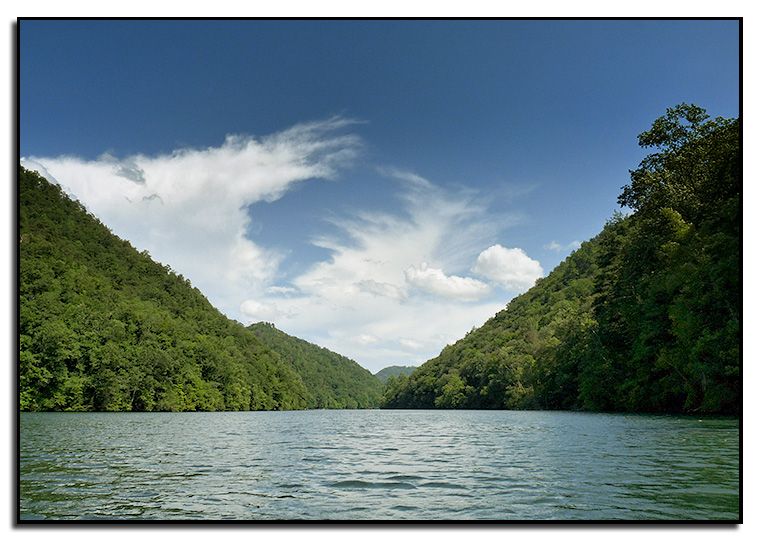 We stopped again in Slickrock Creek on our way back--I had noticed a very shallow area that even a shortie like me could get out in. This time there was a tent set up on what we now saw was a tent pad. There was a canoe on shore as well. We wanted to stretch our legs so we chanced intruding and got out. While we were sitting in the water (which was still Wacissa-temperature), a man and his dog walked back from the falls area. We chatted briefly (this was the gentleman who told us the lake was a mile and a half long and his dog, still sporting puppy fuzz, was six years old) and then got back in our boats and headed out. I would choose that as a camping spot because of the falls and shallow water, Deb preferred the other campsite.
Speaking of camping, you can set up a small camper right near the boat ramp, basically along the side of the road. When I was there in '05, the roadside was lined with campers (some people even had tents set up there). This time there was only one camper: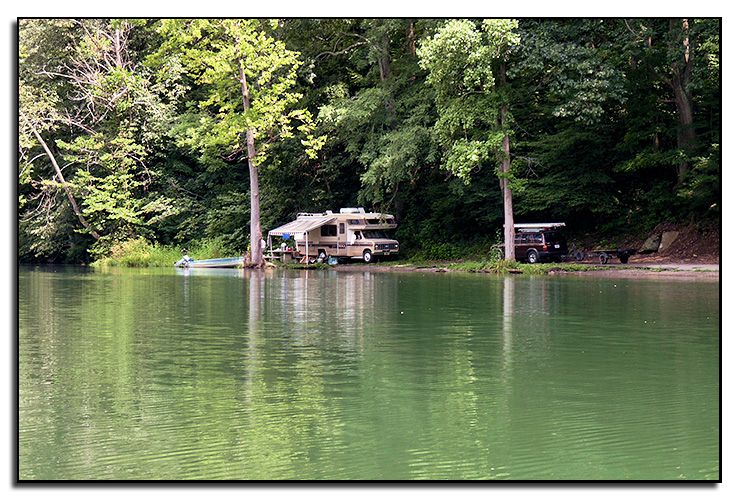 Here is the boat ramp as seen from the lake: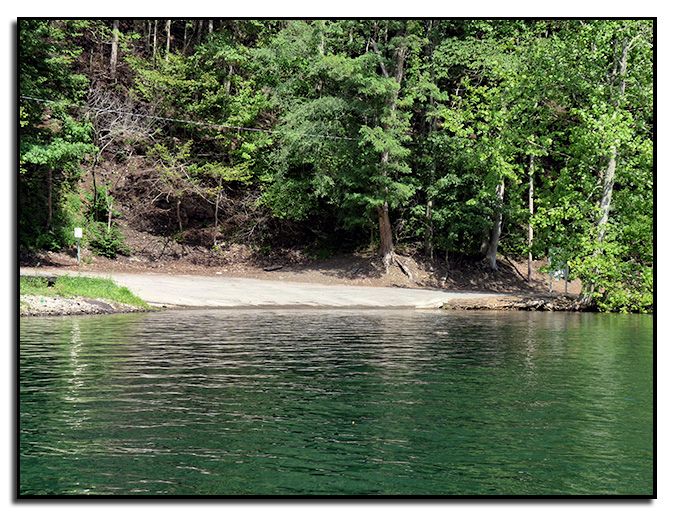 As we approached the ramp, still a short ways out, I noticed my feet getting cold. I put my hand in the water. It was
freezing
. The cold was coming through the bottom of the boat. We got out at the ramp and I walked back into the water. My ankles almost immediately stiffened up from the icy water. Ok,
that's
what I was talking about! Deb barely experienced it at all, which I see as a good thing. I mentioned this to several people over the next few days and the general consensus was that the power company, which owns and is located on this lake near the boat ramp, must have released warm or hot water at about the time that we launched, and that water, perhaps aided by the sun, warmed the lake near the surface for as far as we paddled, only dissipating at about the time we got back to the ramp. Very strange.
To get to Calderwood Lake from the south, follow Hwy 129 north towards Tail of the Dragon, heading north from Robbinsville. You will pass Tapoco Lodge (to reopen in 2011!) on your left. Shortly after that you will go over a bridge and see the large power plant on your right. Immediately after crossing that bridge (start braking when you are on it), turn onto the unmarked road to your left. No sign is visible from the road but after you make your turn, you will see a white sign to the left, and the lake to your left. This is how the road looks, though this is the view as you drive out toward 129: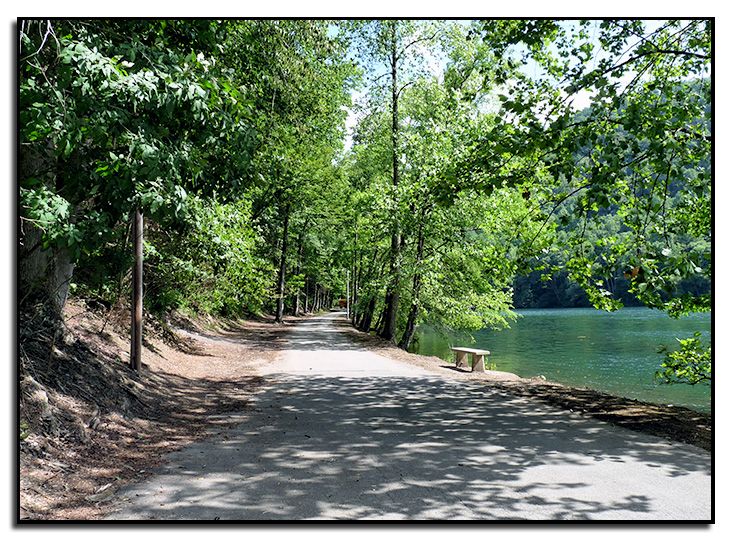 If you are coming on 129 from the north, first: congratulations on making it down Tail of the Dragon. I have never been farther north on 129 than Calderwood, so I don't know what landmark there may be to tell you that road is coming up on your right. Hwy 129 will be curving left at that point and it may be hard to spot. However, you will see the bridge and power plant and can turn around before or at Tapoco Lodge, if you miss the turn into Calderwood. When we were there this time, there was a porta-potty set up, and of course a woodsy trail. When I was there in '05, the cold air coming off the lake made a light jacket necessary.
The previous post from this lake is
here
.