Summer afternoon - summer afternoon; to me those have always been
the two most beautiful words in the English language.
DH is on vacation this week and we decided to go paddling on the Wacissa. We have had a break in the weather humidity-wise, so this seemed like a good idea. It might have been slightly better had we gotten an earlier start.
When we got there, around 2:00, we put my kayak in the water first. When it was settled nicely, the thunder began. Gray storm clouds appeared overhead. We stood around a while trying to decide what to do. Three-fourths of the sky was blue with white clouds...should we just look at those and ignore the others? At about that time a limpkin landed nearby. I was flabbergasted but thrilled--maybe they are returning to the river! The camera was still in the car, and we were deciding what to do, so no photo of the limpkin.
The thunder quit so we decided to head out but not go far from the ramp, just in case. We got the other kayak in the water and headed out downstream.
The first bird we came to was a tricolored heron. Given the lack of birds last time I was here, I wasn't going to pass any by without a photo, so I took one of this guy while I was still at a distance.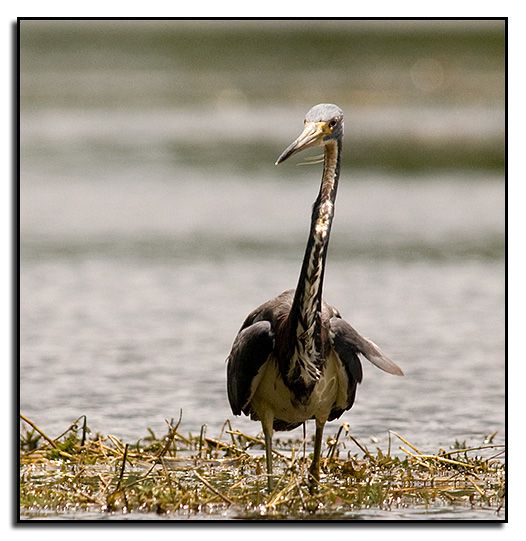 He stayed there (as you may already know, all birds are "he" to me, for simplicity) as I drifted past, showing off his gorgeous colors.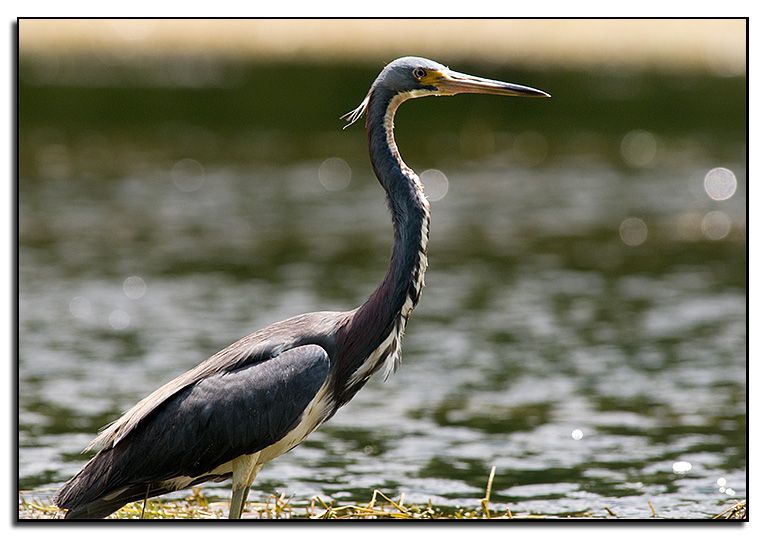 There were quite a few snowy egrets out and about--all of which seemed to be doing more flying than fishing. They may be new to the river and not used to boaters; and there were a
lot
of paddlers and motorboaters out today. We passed this less-timid snowy standing in a spot of sunlight while we meandered downstream.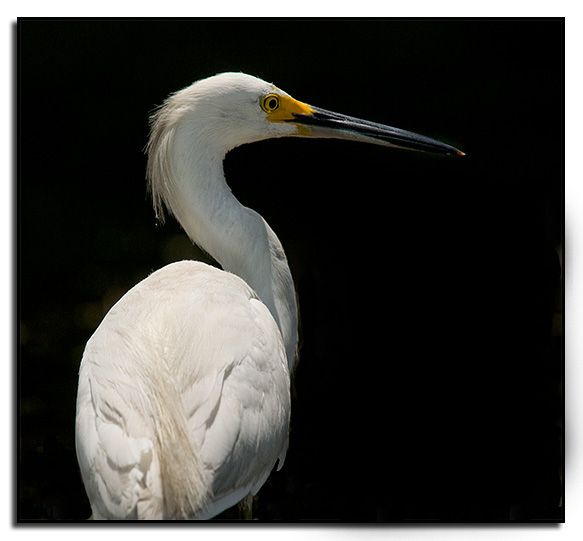 As we were passing a section of grassy reeds, I spotted a yellow crowned night heron near the river's edge and paddled into the lagoon-like area for a closer look. It was drying its wings, in that most peculiar pose they strike.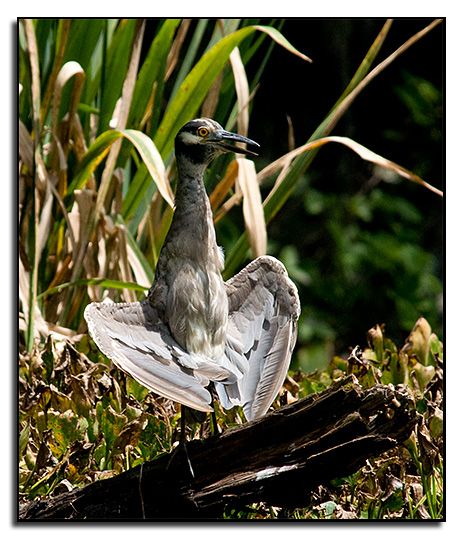 I thought I would try to get a little closer, so I continued forward. Over to my left I saw this very young little gator stretched out on a log, no doubt watching me out of the corner of its eye (while looking oh-so-unconcerned).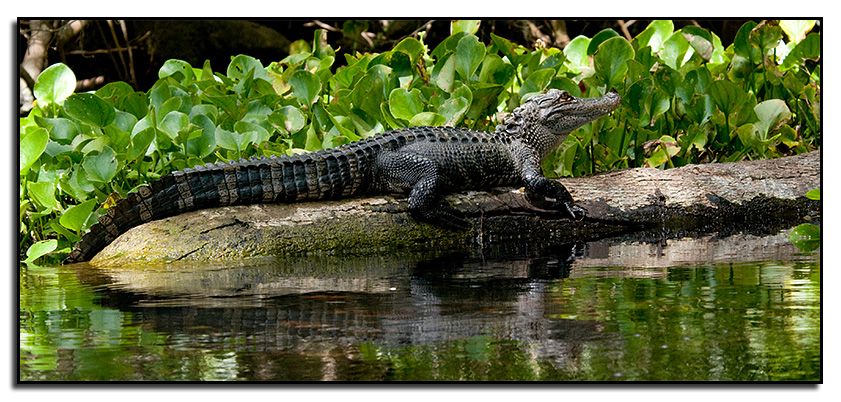 By the time I got to the vicinity of the heron, it had tucked its wings in and just stood there watching me, looking very skinny.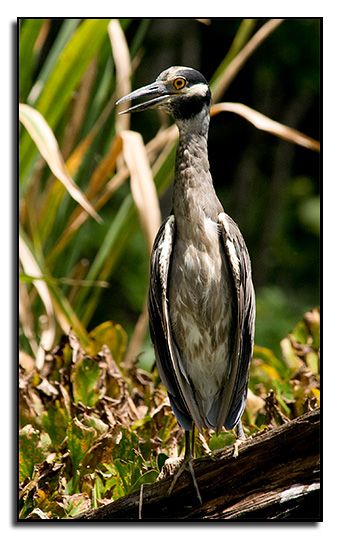 While there had been no more thunder, the sky was getting quite dark and it seemed like a good time to turn around and head back. So we did.
We came to another snowy egret fishing in some of the surface greenery. This was one of the more timid ones, and at about the time I got the camera up and ready, it decided to take off.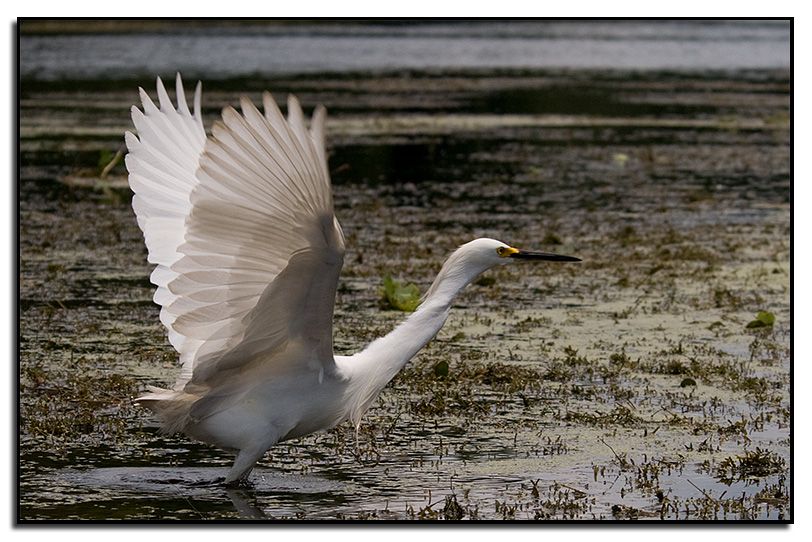 It headed across the river,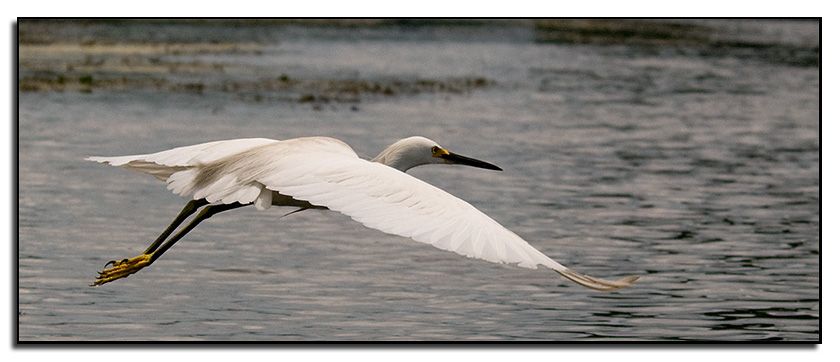 and landed on the other side, well away from us.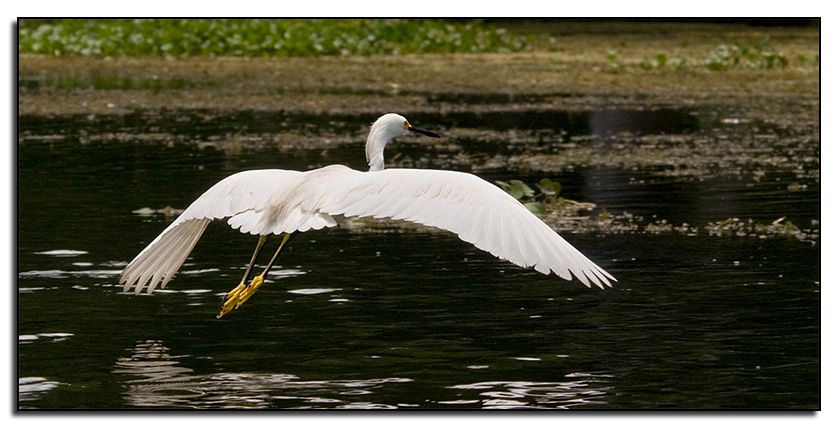 We heard a noise behind us and glanced downstream. We could actually
see
the rain approaching, a gray curtain drawn between the sky and the water and moving upstream. Paddling in a thunderstorm is a very scary thing. However, paddling in rain without thunder (or, hopefully, lightning) is wonderful, particularly on a hot summer day. The camera had to be tucked under the kayak deck, wrapped in towels, so I didn't get photos of the other night heron or any of the turtles we passed, but it was fun being on the river in the rain. It had quit by the time we got back to the ramp, but the sky was still very threatening, so we loaded the kayaks in the truck and called it a day. I looked for the limpkin but no luck.
DH seems to be in full paddling mode now and is talking about getting to the Wakulla River sometime this week, weather permitting. We'll see. Stand by.