If anyone had been paying attention to the signs,
they would have
realized that air turns white when
things are about to change,
that paper cuts
mean there's more to what's written on the page
than meets the eye, and that birds are always
out to protect you
from things you don't see.
The Peach Keeper
I have been meaning to get to Sanibel Island for a long time, for the sole reason that that is where J. N. Ding Darling Wildlife Refuge is located. I've been hearing about this refuge for a long time. I know that summer is not the ideal time to go in search of birds, but summer is when I have time for such things (because I'm not camping).
I stayed in Periwinkle Cottages, in Sandpiper cottage, which was ideal for me! It has a very small back yard that is next to a very small pond. The owner was there when I arrived and he pointed out the night heron nest in a tree branch over the pond--and the three young herons that occupied it! So I spent a lot of time the first day I was there photographing them. Unfortunately, the nest was well hidden behind the leaves.
While I was trying to find a spot to stand for a better view, I noticed this one watching me very closely...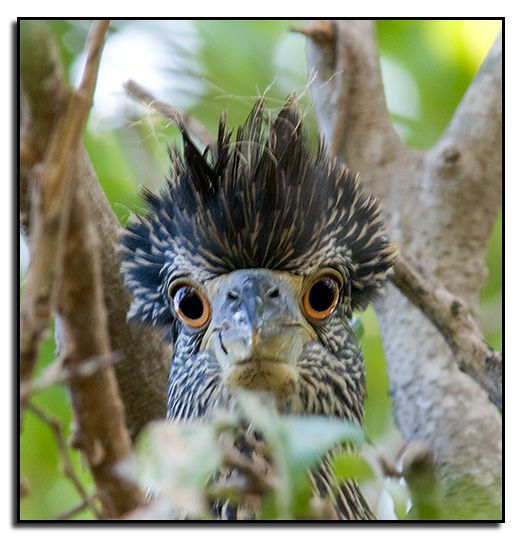 There was a dead tree trunk visible from the back yard that always had at least one red bellied woodpecker in it--more often two or three of them. Their tapping and calls were a regular background sound.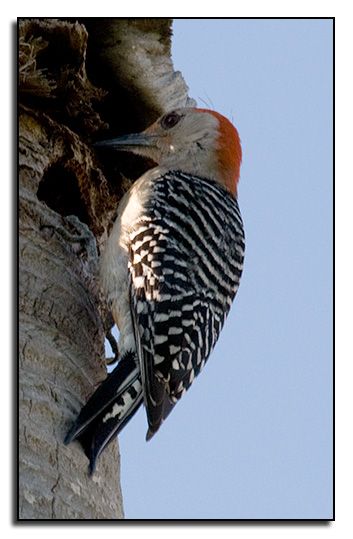 Early the next morning I took my chair down to the beach. There were the usual pelicans and gulls, and I spotted two dolphins swimming by. I was thrilled to see a rather large flock of frigate birds circling overhead for a while. I'm not sure where this great blue heron came from; when I looked to my right, there he was.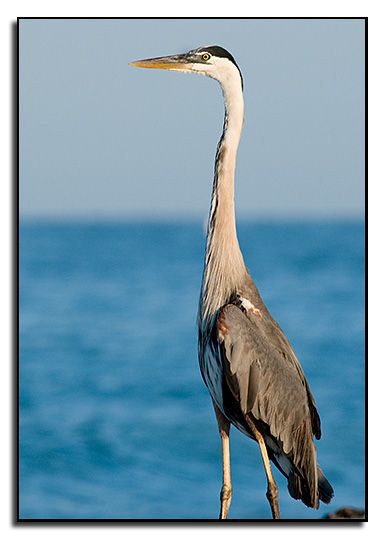 I watched him for a while; he was very interested in a guy who was fishing nearby. No fish appeared, so off he went.
---
And then I saw two ibis fly by me from left to right. They landed farther down the beach and began fishing around in the surf. I watched them for a while, trying to decide whether I wanted to walk over to see if I could photograph them. I finally decided that I should take a stroll down there, since ibis in surf is an image that has never appeared on this blog. I was surprised that they let me get fairly close....and in fact, they stayed there long after I was once back again sitting in the shade.
---
---
This is certainly a beautiful beach, but I have to say that I prefer St. George Island's beach--only because of the sand. The sand at Sanibel looks like ground-up cement blocks (which may be close to its real composition). So the beach isn't as pretty as St. George's white powder sand, and when the waves break at the shore, the grayish sand tumbles with them, which isn't as pretty to me as white sand doing the same thing. But the water color is the same gorgeous blue-green and it is just as clear. And of course there are a lot more shells on this beach!
When I got back to my cottage, I checked on the night heron babies. They were on the ground by the pond--this may have been one of the first times they left the nest.
---
This one was very shy and stayed back behind the bush.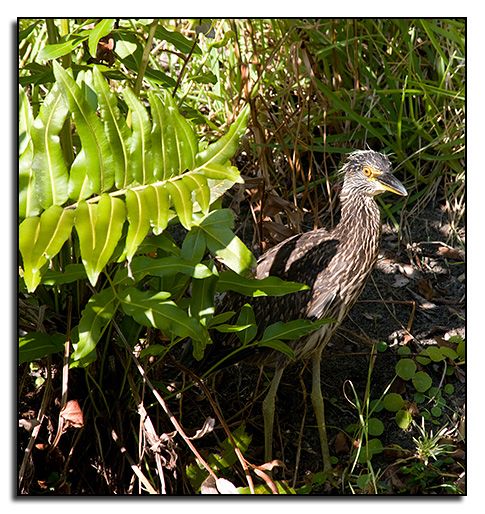 I saw one of the adults on a low branch, with its wings out in drying position. It was looking very intently at one of the youngsters.
Hmmmm, heron see, heron do, I guess!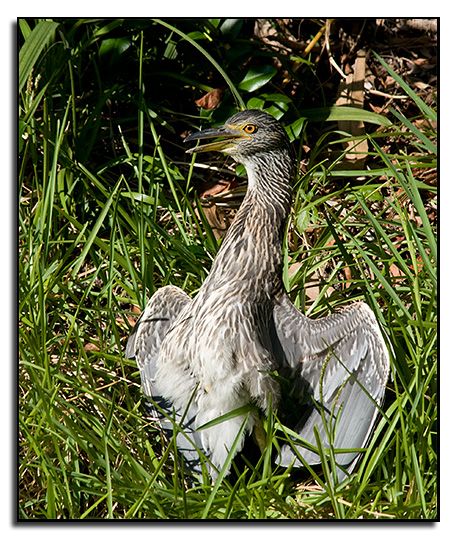 One more image of them, this one of a fuzzy young head: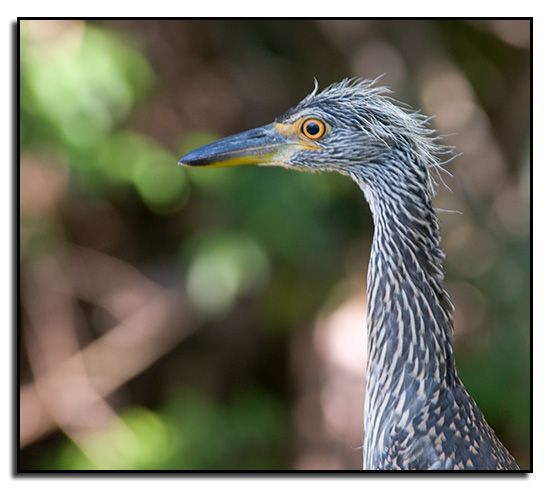 I had driven through the refuge on my arrival in Sanibel, before even checking in at the cottage. I saw a few cormorants and a great blue heron. This was at about 2:00 in the afternoon. I had been prepared for disappointment because of the time of year, but that was kind of sad. Well, on my last day I decided to give it another try, this one in early morning. They open at sunrise. I got there at about sunrise-thirty.
I saw an ibis while driving in, and several herons in some water. Then I passed an osprey in a nest on a platform.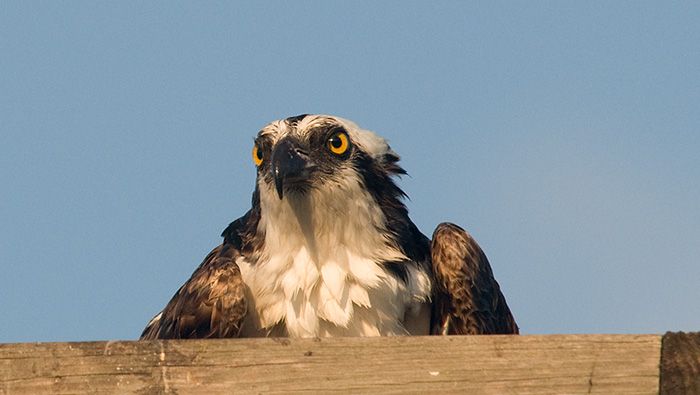 Ok, this was better! The bird I had most wanted to see was a roseate spoonbill. A group of five had flown overhead at the cottage (which is across the road from the refuge). Five spoonbills! So I knew they were here. If only I could find just one of them....
I took a turn and saw many cars parked at the side of the road near a spot with open water. At our refuge here, this is always a sign that there is something worth seeing....
Spoonbills!!
Lots and lots of spoonbills!
Maybe 40 or so.
I took a lot of pictures. No, really, a
lot
of pictures. I have taken out my favorites to post here.
Let's start with the bathing ones. Evidently spoonbills prefer to take their baths in the morning; there was a lot of splashing going on.
---
---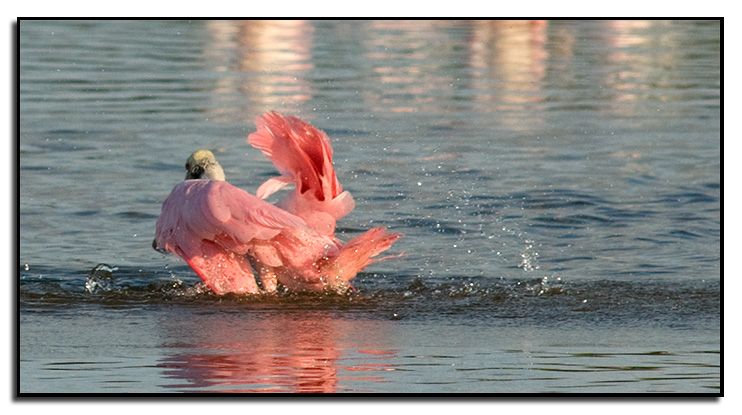 ---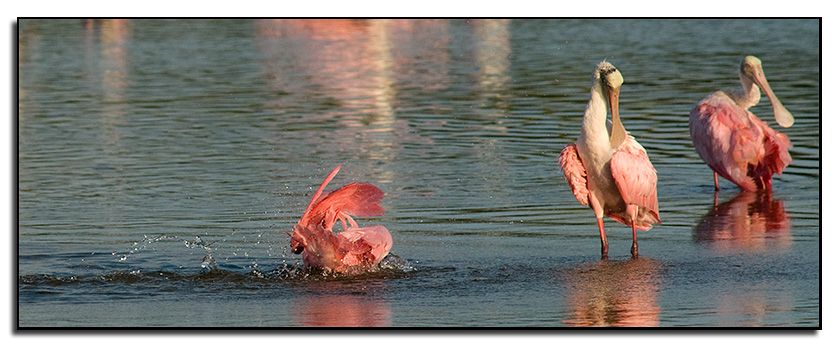 Suddenly...an interloper in the group. One of these birds is not like the rest...
Oh well, no reason to let that interrupt bath time!
And the egret left.
A little off to the side of the pink group, a little reddish egret (thanks, Caroline!) was fishing.
Later he showed up in the midst of all the pink, fluffing himself up, maybe to get some attention from the humans with cameras standing on the shore...
A spoonbill decides to leave the group.
And off he goes--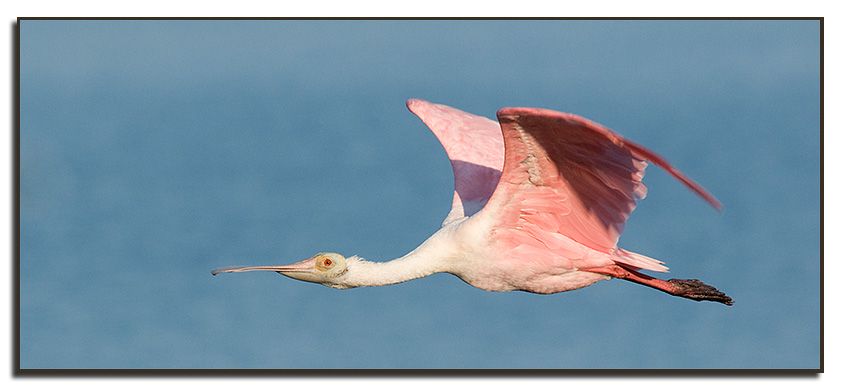 Meanwhile, this one started to make a fuss in his little section.
Still fussing, but with a smaller audience...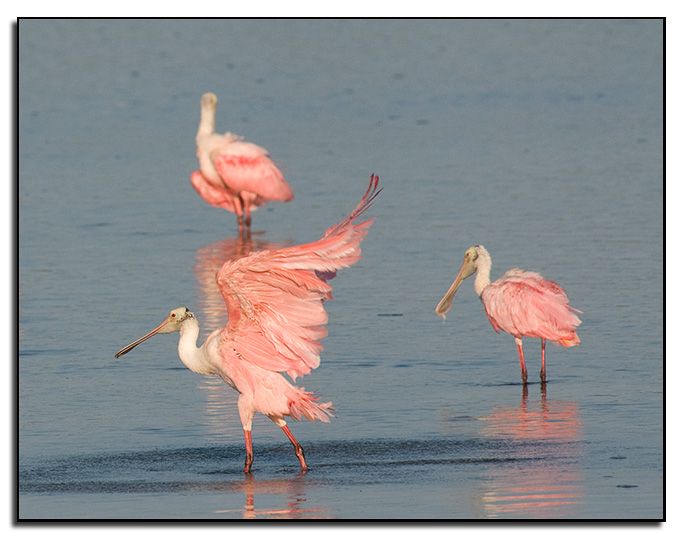 And he leaves as well.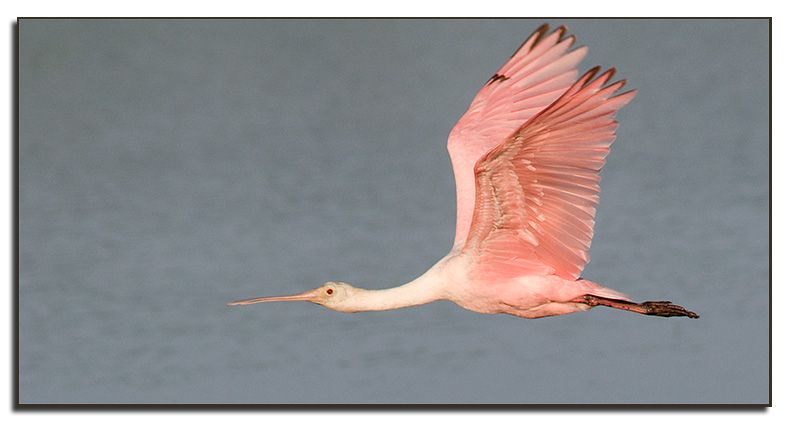 I really liked this little one, off by himself in the early morning sunshine.
While everyone was focused (literally) on the spoonbills, I saw this bird fly overhead. It seems like it has a lot of white to be an osprey, but perhaps that's what it was. I like this image because of the bird's symmetry.
I finally (finally) managed to tear myself away from the spoonbills, which was very difficult! On my way out of the refuge I saw this--I envy the woman in that car! She had stopped, and the two were just looking at each other for a long time, and then she drove away and the bird flew back to the water.
So this was a successful trip!
This blog isn't getting a lot of action these days since I am not doing as much paddling lately (but I think this post clearly belongs here). The camping blog is of course dormant until cooler weather returns. But I continue to take photos--they are just finding a home on my
Photo Miscellanea
blog. I hope you will pop over there now and then!
And continue standing by here...