Today is your day! Your mountain is waiting.
So...get on your way.
~Dr. Seuss
This is the third summer that has had me journeying to Lake Santeetlah near Robbinsville, NC, and while each one was a joy, when it comes to lodging, clearly the third time is the charm! More on the house later.
I spent the first afternoon sitting in the shaded gazebo down by the water. I was pleased to discover that a large family of ducks lives in this little cove. Of course I had to photograph them!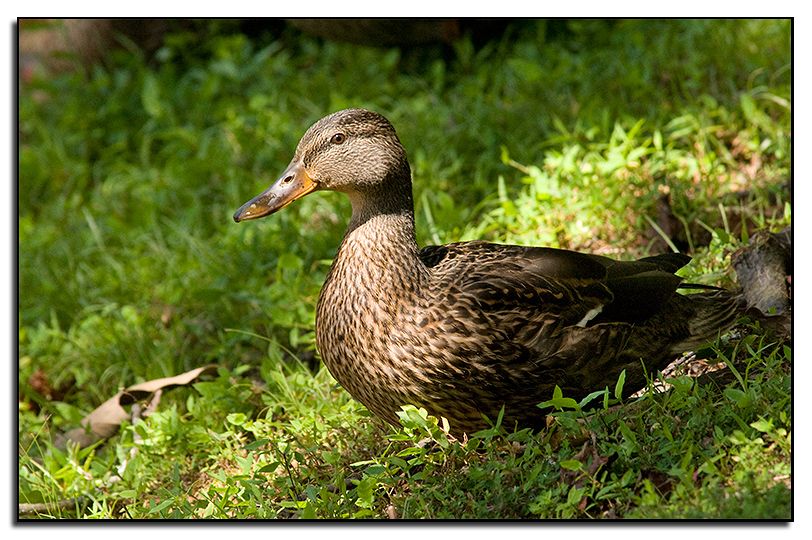 The lake slopes gently up to the shoreline here. The water is very, very clear, as you can perhaps tell from this photo of a duck swimming by.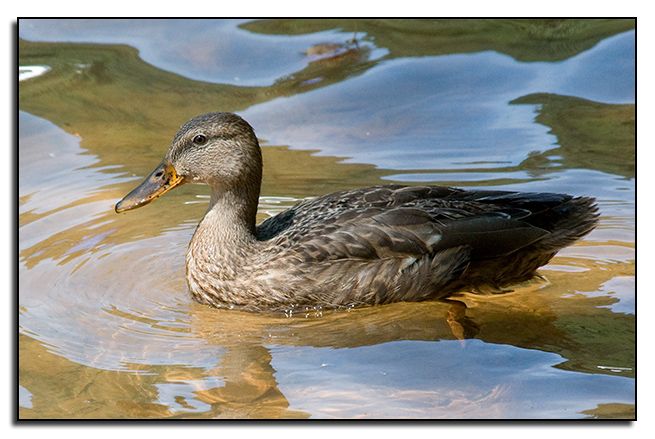 The next day I took the boat out. This group of ducks came to see me off...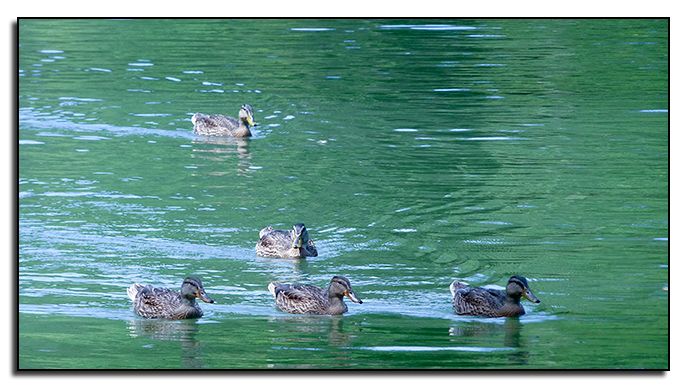 At the opening to the cove, I had to go either right or left. This house is in a new area for me, so I wasn't sure what I would find at that opening. Hmmm, to the left is another small cove and an end of the lake.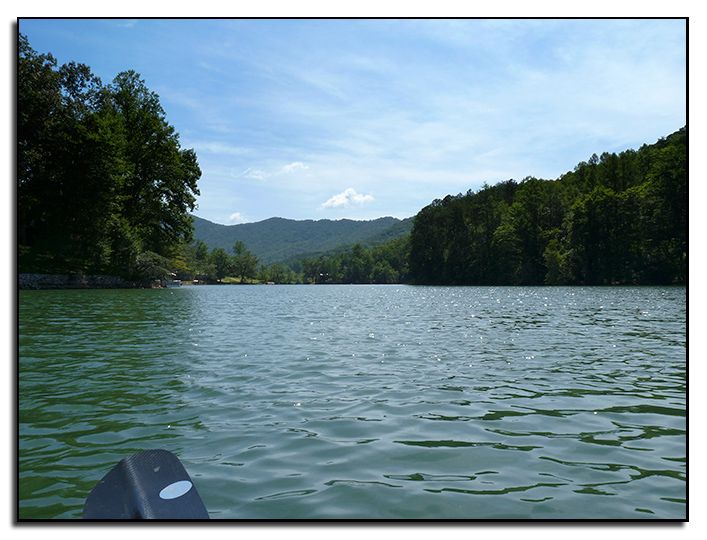 So that leaves going to the right, which would take me under Ted Jordan bridge (which is part of Hwy 129).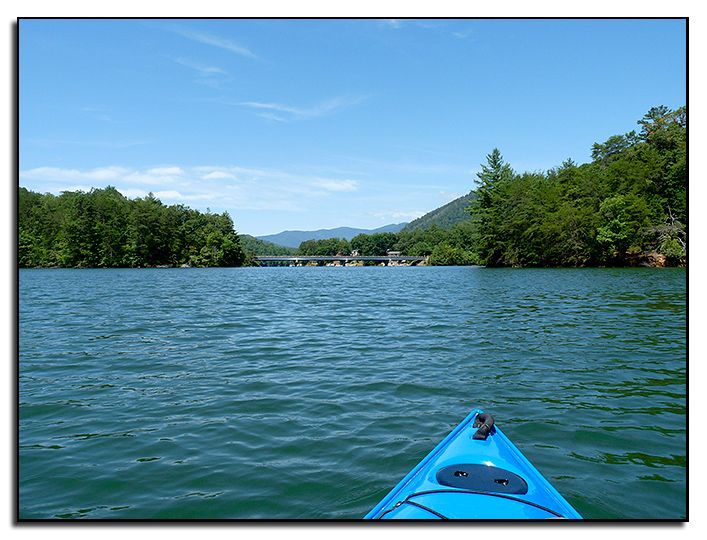 Lakes are funny...one minute they are smooth and then for no discernible reason you will find yourself paddling through waves. And then they smooth out again. Keeps it interesting. This lake is a fantastic place to paddle. There's very little wildlife, but since more than half the shoreline is national forest land, there also are more trees than houses. The combination of wooded shoreline and a backdrop of mountains no matter which way you turn makes for some very relaxing paddling!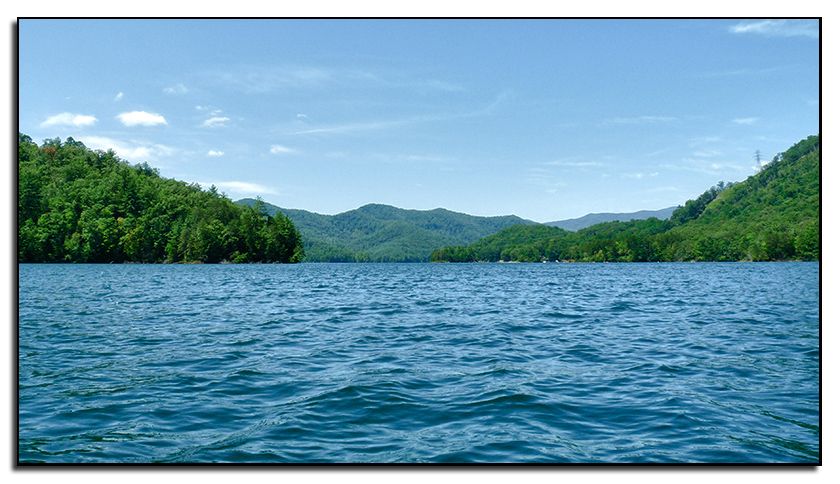 I was staying fairly close to the shoreline. And what's this I see? Shades of my last trip to this lake--is that a noodle over there, far from any house?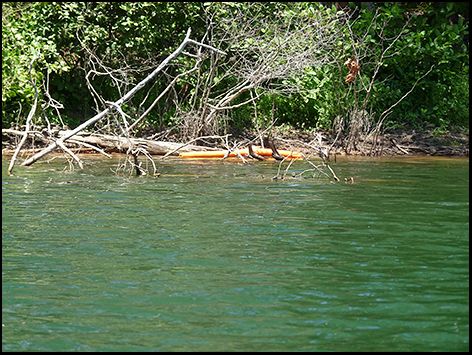 Of course I paddled over to get it, just in case I decided to stop for a float before returning to the house. And then off I went, my prey strapped to the hood...
(I didn't get around to using it, but I did leave it at the house in case anyone else might want it...)
Back at the house, I caught this duck at bath time.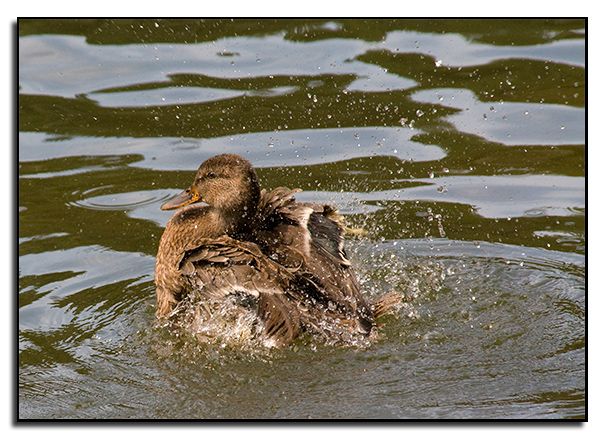 More splashing....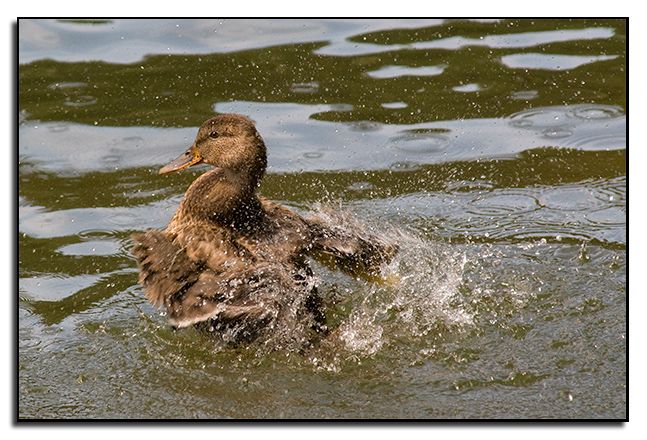 And then a final tail shake to wrap it up...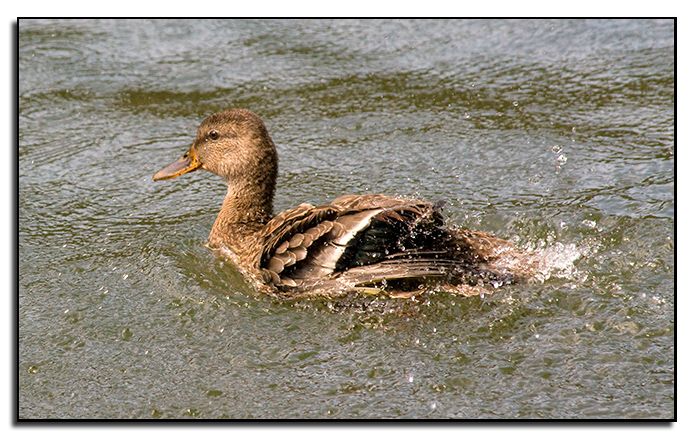 The next day I drove over to Cheoah Point Recreation area. I took some lake photos from the boat ramp area.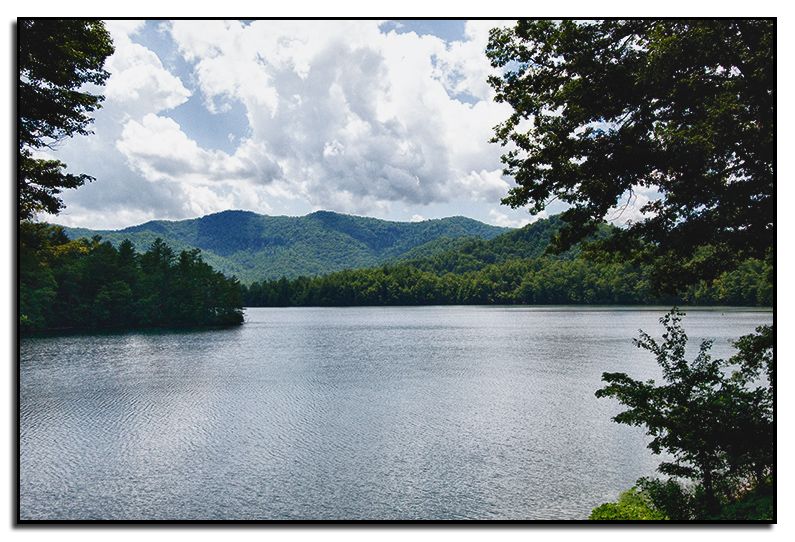 ---
---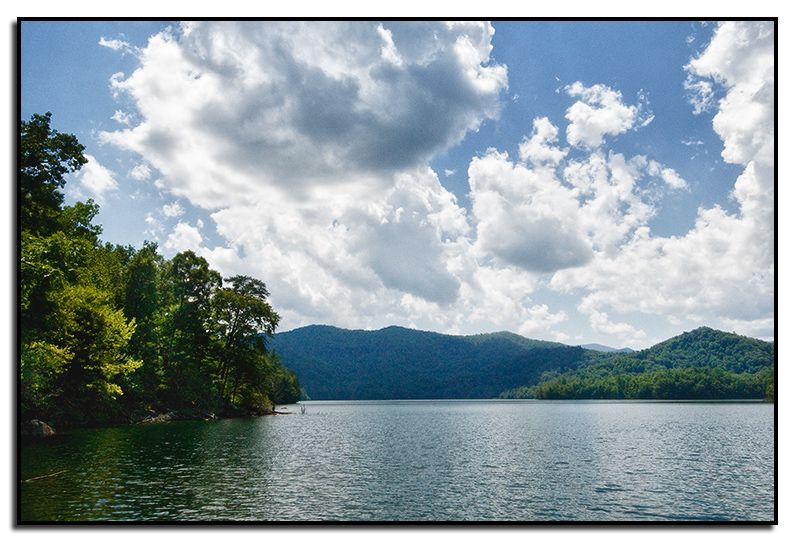 Part of this recreation area is a beach.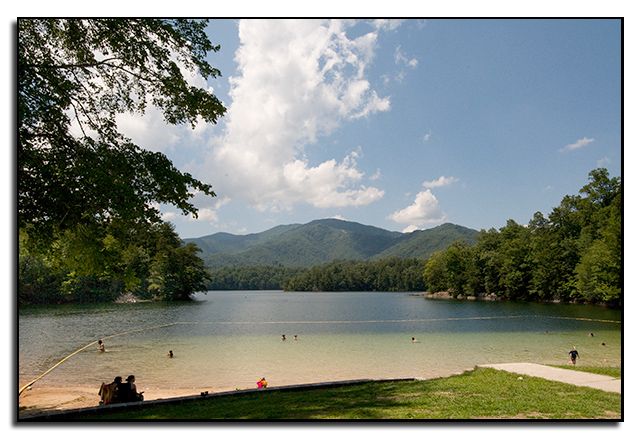 There is a sign that says "No Launching," but I recalled that on my first trip to this area, I did in fact launch my kayak over on the right side of the beach, outside of the roped-off swim area. It didn't seem to bother anyone.
I was surprised to find a campground here,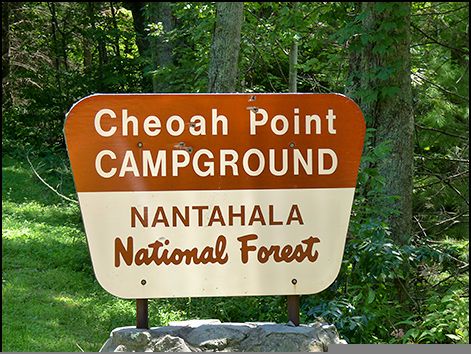 and even more surprised to find that (a) it was nearly full, with mostly tenters but a few RVs--while the weather was far, far cooler than here in Florida, it still seemed a bit warm for tenting (to me), and (b) there were power hookups at each site. Water is not provided at the sites, but there are at least two spigots in the campground for use by campers. There was also a bath house with toilets and showers (I came across a website when I got home that indicated that there are no showers at this campground, but I saw them through an open door). I took a photo of one of the campsites.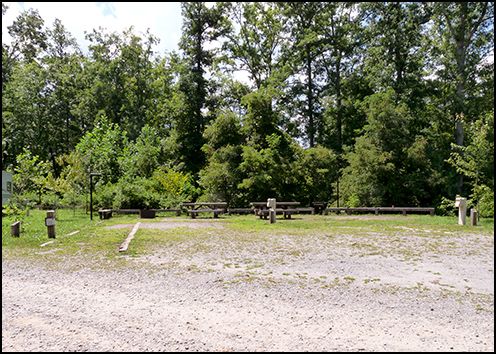 This campground is located far above the lake. I believe there is access down steps, or you could walk, bike, or drive to the beach area pictured above. But there is no lake view from any site; the height and the trees obscure it.
When I got back to the house I decided to spend a little time floating in the lake, one of my favorite activities of the last trip here. I made these travel plans several months ago and have been talking somewhat endlessly to various email friends about how I looked forward to spending time just lolling around on my water hammock in the lake. I'd really like to share photos of me doing just that....what a shame there was no one there to take those photos. However, through the magic of Photoshop, I can provide a representation of me floating in the lake on my water hammock. This is the area in which I did this floating--near the dock, with the gazebo over on the left--and this is exactly what my water hammock looks like, even the color. People who have met me in person are probably astounded by the degree of similarity between me and the (not-me) person on the hammock....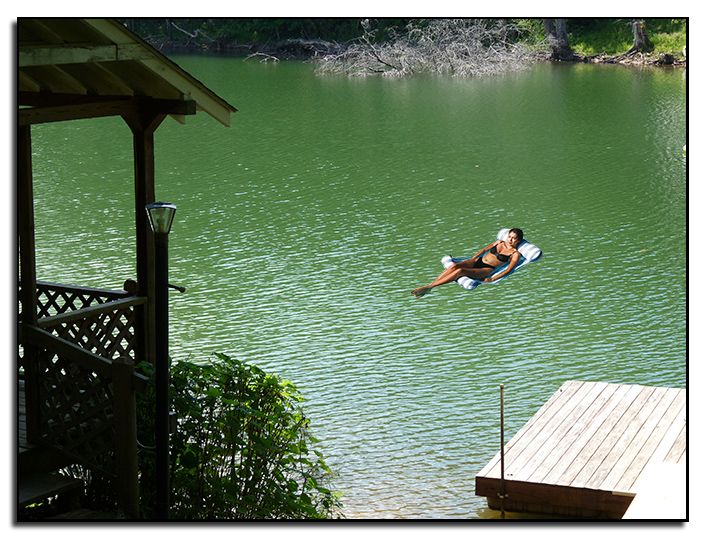 (You may interpret "degree of similarity" as you wish.)
The next day I took a trip to Stoney Hollow Farm, which is quite near the rental house. I had fun there! I hand-picked ripe peaches, nectarines, and concord grapes. I discovered how easy it is to get carried away with the fun of picking fresh fruit (I brought home a lot of fruit).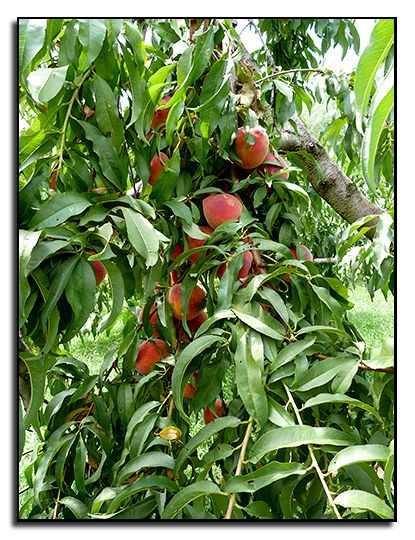 I also bought locally-made blueberry jam, a jar of local honey with some of the comb in it, and a bar of homemade soap. The farm had a lot of things growing that I did not pick--blueberries were ripe, they had tomatoes, and they also had a large garden of colorful flowers that could be cut. They make fresh bread in the kitchen, but I got there too late to nab any of that--it's a very popular item. I highly recommend a visit to this farm if you are in the area.
Last summer I posted here about my trip, and someone wrote to ask me about the rental house I had been in. I replied that I honestly could not recommend that house (and in fact it seems the owner no longer rents it out). This year it's a different story. This house was fantastic. Click
here
for a link to the rental site (if that doesn't work, the agent is Diana Hutto, the house is called "Hilton's Lakefront"--that should get you there). The site has so many photos of the inside and outside of the house that I did not take any myself. This is a larger house than I usually rent for myself (and slightly more expensive than usual as well). Two couples could easily be comfortable sharing this house, or even 3 couples. It is extremely kid-friendly (almost to a fault). The living room chairs are comfortable (and it's well-lit....not always the case), the bed was comfortable, the AC worked well. Very easy access, no steep hills or one-lane winding gravel roads to navigate. (I do, however, suggest you back into the driveway, you'll be glad you did when it's time to pull out.) There is a garage to park in, but like others I have encountered, it was too short for my Xterra to fit into. The house is ideally situated in terms of neighbors--the houses are staggered in such a way that while the lots are small, you can't see either neighboring house from the deck. I believe the one on the left may be a vacation rental as well; the one on the right was occupied by the owners while I was there but I do not think they live there year-round. The house is close to Robbinsville and its grocery stores, the
Cherohala Skyway
entrance is not far down the road (or up the road, in this case). Calderwood Lake, an excellent paddling spot, is also close by.
A note: In attempting to view this blog on my other computer, I see that Photobucket, which is where I presently store my photos (and then link to them in my posts) is failing to deliver several photos in this post. Reloading the page will bring some missing ones in, but others will not appear. If one (or more) is missing, it's not actually missing, it's just not showing up when the page loads on your computer. I am tending to blame Photobucket rather than Blogger since I had a very hard time uploading the photos to them this afternoon. If this continues, I'll just switch to another host site for future posts.
I'll let you know when I get back out paddling! Stand by.