Believe me, my young friend, there is nothing- absolutely
nothing- half so much worth doing as
simply messing about in boats.
What? A paddling post on this paddling blog? Inconceivable!
Duke Power finished their new boat ramps, and we headed to Lake Glenville to try out the one (actually there are two) at the Pine Creek Boating Access Area.
It would seem that there wasn't a paddler to be found in the crew that designed and built these ramps, which consist solely of corrugated cement with very large rocks on either side. About as kayak/canoe-unfriendly as you can get. But once you have launched and torn a bit more of your hull, the lake is a joy. Here's the view right after launching: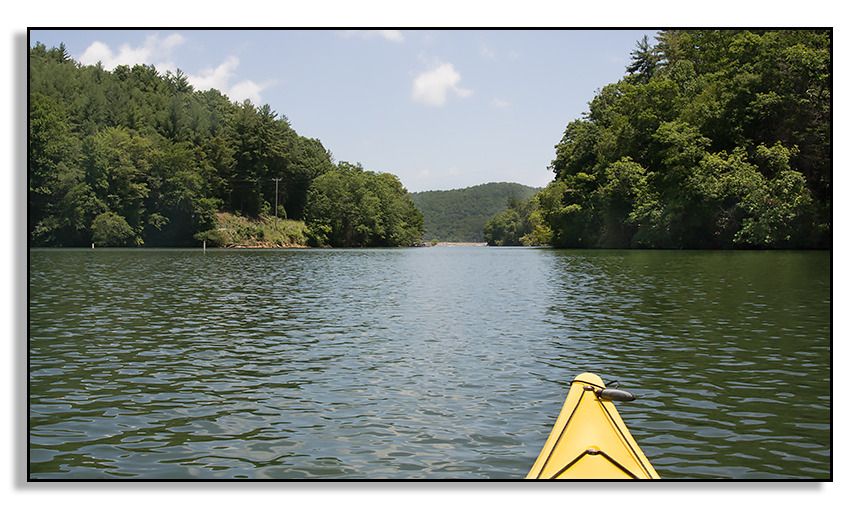 And looking back toward the ramp area--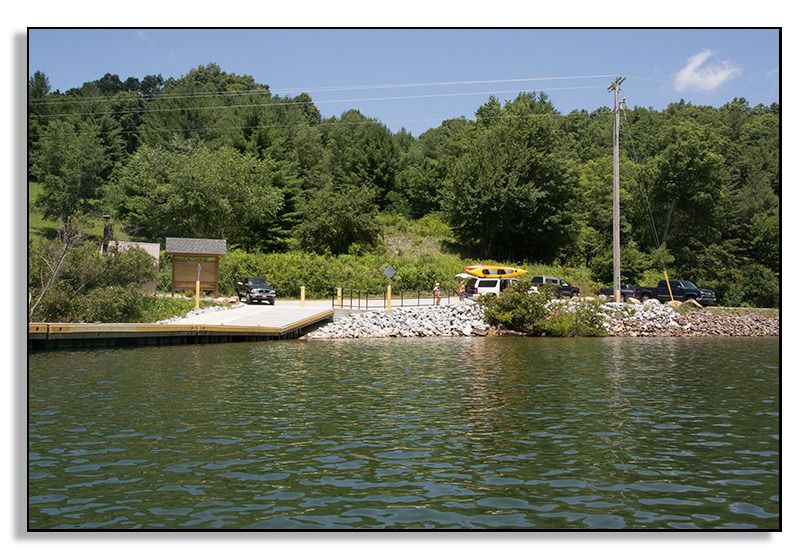 This part of this lake is a series of fingers and coves, which I like better than Chatuge, it's a more cozy feel even though the lake is large.
If you pass that boat ramp and continue on the road (coming from the Franklin direction), you will come to a park that has also been renovated. The park has a large picnic area and a sandy beach. This is how it looks from the water as you paddle by.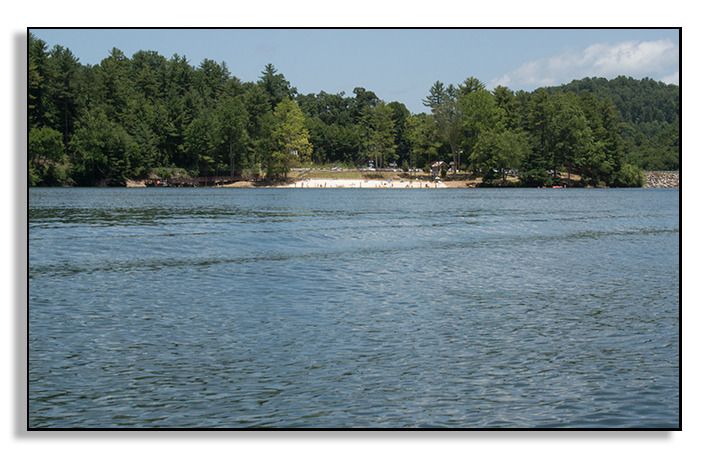 There is no good place to launch from that park. The sandy beach area has a large floating tube-like thing going all the way around it, which you cannot get over or under in a kayak. This would have been an ideal place for a canoe or kayak launch area, simply moving the tube thing over 3' or so would have given us a sandy bottom. If you continue on the road, you will come to yet another ramp, also corrugated cement with no paddler accommodations. All three of these areas have restrooms.
Looking straight out from the beach area, you see an island with a sandy perimeter.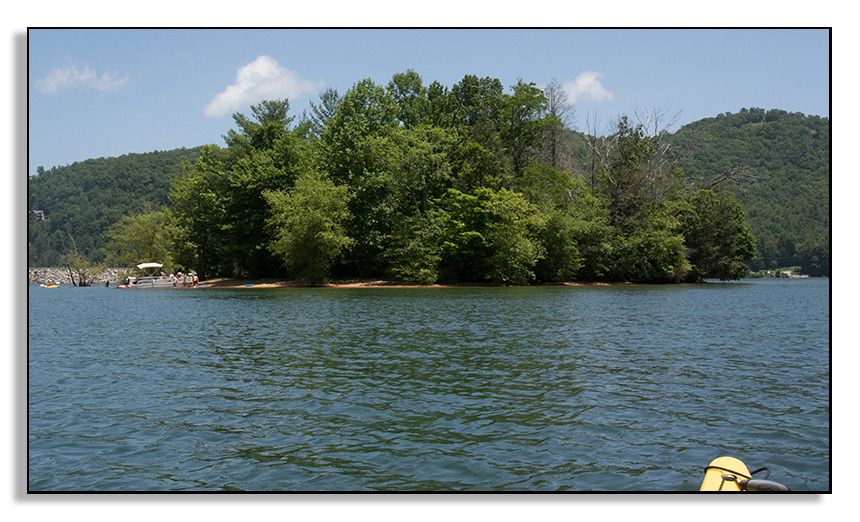 More on this later.
We were paddling along, enjoying the scenery and the cool breeze coming off the water, when I spotted what seemed to be shallow shoreline up ahead. Most of this lake has deep edges with the greenery coming right down to the water. I thought this looked like a great area to pull the boat up to and maybe get out for a swim. But no..... what looked like a sandy bottom was actually solid rock, more of which came into sight as we paddled around a curve.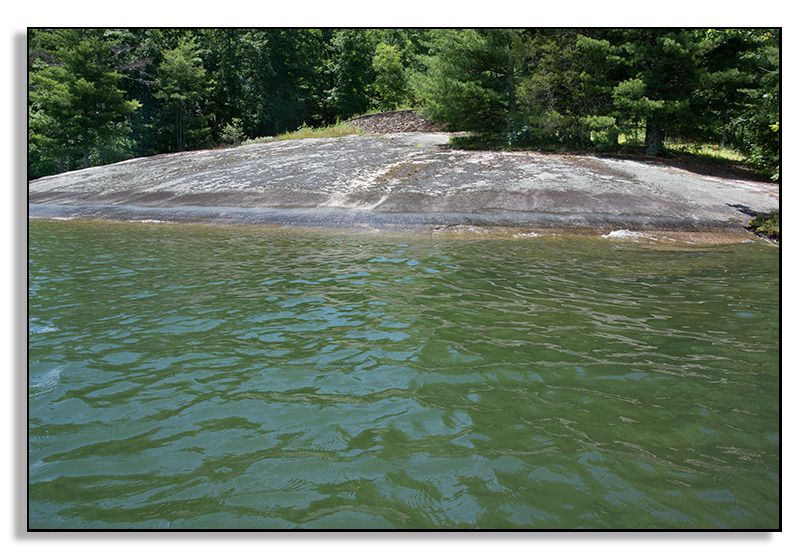 I've never seen anything like that coming out of a lake, it was interesting. And the rock continued for quite some distance along the shore. No getting out there!
We followed the shoreline for another hour or so, with a stop on the water to have some lunch. It was a warm sunny day. We came to a house (there are far more houses along the shoreline here than where we launch on Lake Chatuge) with large For Sale signs both on the lawn and on the dock. And just beyond the dock, an actual sandy beach. There were no indications the house was inhabited, and no signs warning us to keep off the property, and the beach was TOO inviting....
So we pulled up and DH got out to stretch his legs while I got out to loll around in the cool water for a little while. As we were getting ready to leave, a pontoon boat headed for the house. We were sure it was going to be the owners, asking us just what we were doing. But it didn't come all the way to the house. A woman in it was watching us with great interest; I imagine she knew the people who owned the house and was debating whether to investigate this trespassing further. But since we were clearly leaving, they moved on. BTW, I found the house on the realtor's website when we got home. The asking price is $2.4 mil. (Call now! Don't let this one get away!)
We decided to head back to the boat ramp. Remember that island? I wanted to get back in the water once more before we headed home, so we headed over to the island. DH is not the swimming type, so he paddled off to investigate a smaller island nearby, while I pulled up to this one.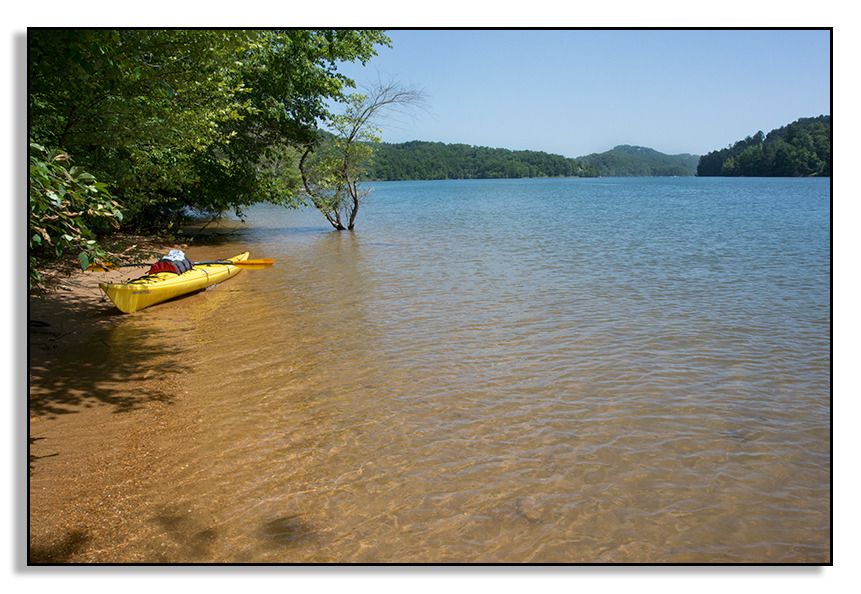 That water feels wonderful! If you get out of the kayak alongside Lake Santeetlah, near Robbinsville, you will have little minnows swimming around you. Oddly, no minnows in this water, at least not where we were.
I took the camera into the water (this is the waterproof camera, not the big one....) when I saw DH coming back.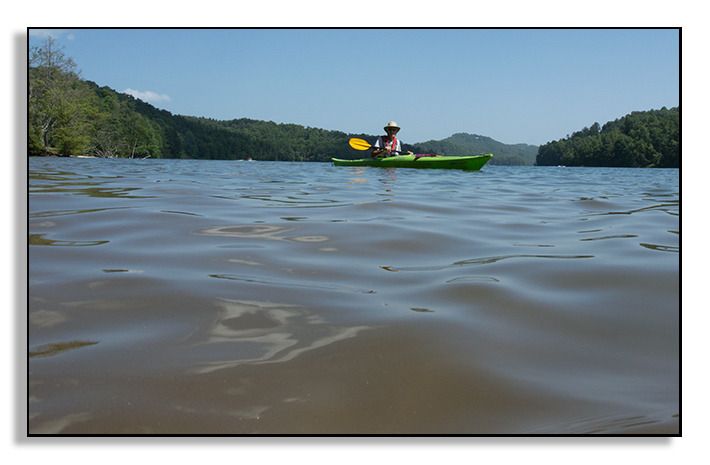 As I took that, he was saying "You brought a change of clothes, right?" Ah yes, we had made the trip in his beloved truck and he was concerned about the seats getting wet. (Not to worry, I had made sure we had a lot of towels for just such a situation.)
It was a good day, and we will be returning to that lake again. It's going to take me awhile to get used to paddling with no shorebirds to be seen, but having the mountain backdrop helps a lot. And no gators! I think I will pick up a swim noodle to take along next time.
Stand by.