The first river you paddle runs
through the rest of your life.
It bubbles up in pools and eddies
to remind you who you are.
This is my favorite lake of all time. Crystal clear with a woodsy shoreline and surrounded by mountains. Doesn't get better than that.
Nonetheless, after living a little over an hour from this lake for two years now, this is the first time we have made the drive to the Robbinsville area so I can stick my feet in it again. Distances can be deceptive here--a 30-mile drive can take an hour if it is over winding 2-lane mountain roads. So we decided to do a recon trip to the lake before taking the kayaks.
We chose the slightly longer but less twisty route, using mostly 4-lane roads. We turned left off of Rt 129 onto Thunderbird Mountain Road, a very familiar area for me. I have stayed in several vacation rentals on this lake, all in this vicinity. We passed the marina and turned in to the little recreation area with a sandy beach and swimming area and an ideal launching spot to the right of it. We had a picnic lunch and enjoyed the breeze coming off the lake.
This is the view from the launching area, looking across the designated swimming area: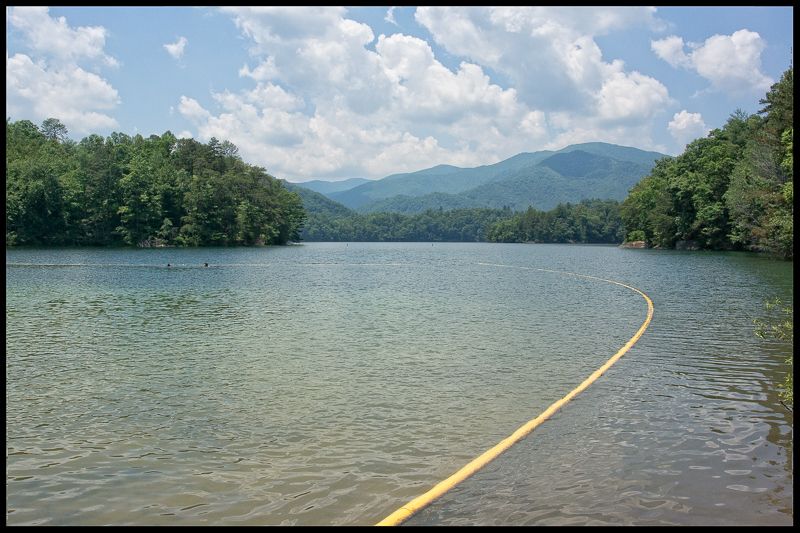 Now here is what you want to be doing on a hot summer day...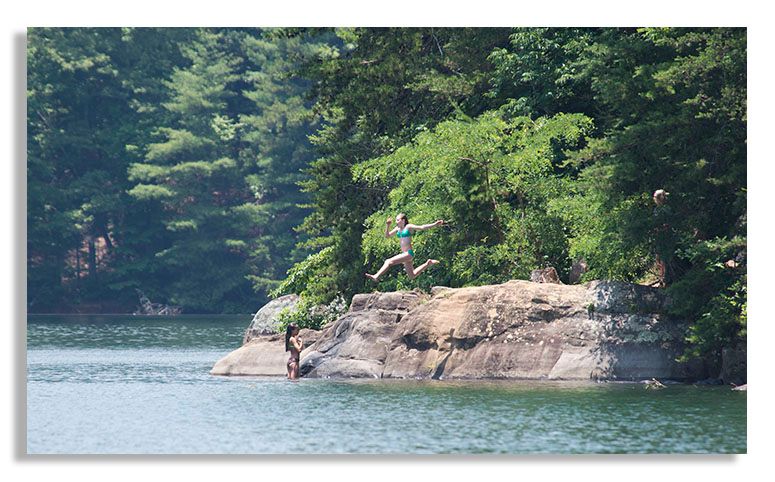 Looking out across this section of lake showed a couple of paddlers returning to the launch area.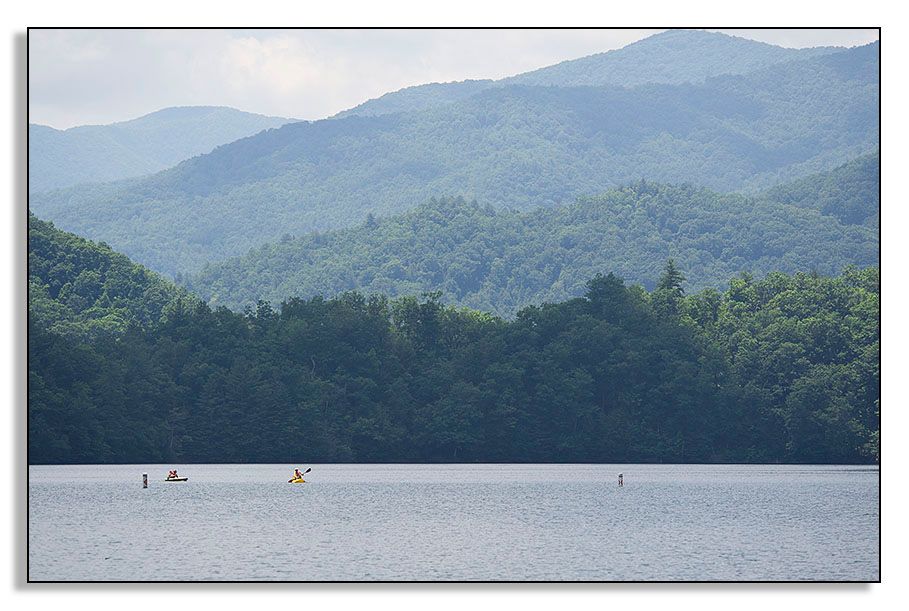 When we left there I decided to drive a little farther on Rt 129, with the thought of possibly seeing Tapoco Lodge again, and beyond that Calderwood Lake. But it was getting late in the day and after driving a while we decided maybe to save that for another trip, so we headed home.
We noticed several boat ramps on Lake Fontana on the way home, which would be even closer than Santeetlah. So that makes two more lakes to add to our paddling plans in addition to hopefully getting back to Chatuge and Glenville. We were unable to paddle (or pretty much do anything--long story) for much of last summer and all of fall, and with everything else there is to do in this area, we are slow getting back to it.
The bluebirds returned and raised a family in bird house #1, while the swallows raised their family in house #2. We now have swallow nests in both houses.
I'll be back when we get to one of those lakes. Stand by.